Why Russell Westbrook can work in Washington.
Wizards back in the playoffs?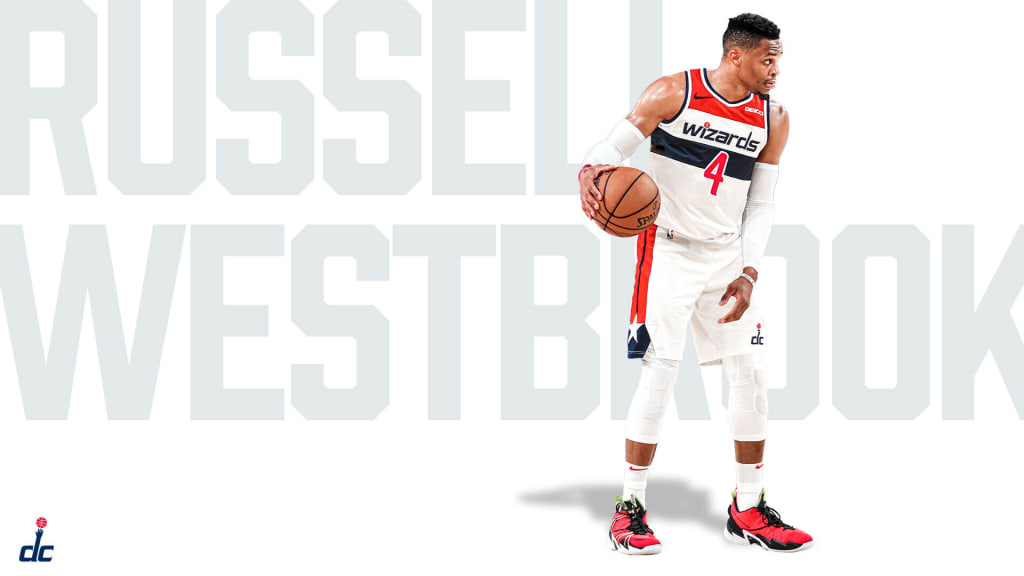 Westbrook in a Wizard's uniform (Photo courtesy of sportingnews.com)
Everyone in the sports world is well aware of the Houston Rockets trading Russell Westbrook to the Washington Wizards for John Wall and a first-round pick. There's been talk from different sport shows about who won and lost the trade and does this trade even makes sense. Well, in my opinion, I believe the Wizards can benefit from gaining Russell Westbrook in a couple of different ways and even make it back to the playoffs. The NBA championship may be a different story with teams like the Milwaukee Bucks, Brooklyn Nets, Boston Celtics, and the Miami Heat being their competition. However, a superstar at the level of Russell can make the playoff birth of the Wizards a reality.
In the 2019-2020 regular season, Russell averaged 27 points, 8 rebounds, and 7 assists. It's not exactly the triple-double he averaged the 2018-2019 regular season (23 points, 11 rebounds, 11 assists), but playing with another superstar like James Harden while also being the second option can do that to one's production. Nonetheless, that kind of production was good enough to make him an all-star and be named second-team all-NBA. The Wizards are adding a second scorer, a good rebounder, and a good facilitator in Russell Westbrook. He averaged more rebounds and assists than anyone on the Wizards 2019-2020 roster! If John Wall was able to post 19 points, 4 rebounds, and 10 assists in the 2017-2018 regular season when the Wizards last went to the playoffs (keep in mind also that John Wall played 41 games in the regular season that year), you can comfortably infer that Westbrook can fulfill a similar role to that Wall and see similar success.
Usually, there's a transitional period to get used to your teammates, coaching staff, front office, and other things when you arrive at a new team. In terms of on the court, Russell Westbrook will be reuniting with his old coach from Oklahoma City in Scott Brooks. During Brooks's time in Okc with Russell, they went to the playoffs from 2010-2015 and became Western Conference champions in 2012. This means that Scott Brooks is not only familiar with coaching Westbrook, but he's also had success in going to the NBA playoffs with Russell as the point guard. Of course, you can't ignore some of Russell's teammates like Kevin Durant and James Harden all being there for some (or all) of those years. Recent history shows that the Eastern Conference is not as tough and/or talented in comparison to the Western Conference, so it is safe to assume that Scott Brooks doesn't need that much talent around Westbrook in order to make the Wizards a playoff team. Plus, Bradley Beal may not be the player that Durant and Harden are, but he was one of the elite scorers of the 2019-2020 regular season averaging 31 points on 58% true shooting percentage and 52% effective field goal percentage.
Bradley Beal is one of Russell's better teammates now in his new location, but lets' touch on some of the other players and why they can fit around Westbrook. As of December 9th, 2020, the Wizards still have Thomas Bryant, Davis Bertans, Raul Neto, Ish Smith, and Issac Bonga. All these players are either around or higher than the league three-point percentage of 36%. With shooters like these, this allows for Russell Westbrook to stick to his strengths of driving to the basket and passing out to shooters if the defense helps. Not to mention that Beal can definitely take some of the offensive pressure off of Westbrook if he's in need of some rest. This potential of open shots being created should help raise the Wizards middle-of-the-pack offensive raising from 111 (15th in the league). Rui Hachimura could also take the next step in his development and can prove to be a valuable third offensive option after averaging 14 points his rookie year.
Russell Westbrook did recently turn 32 and is not getting any younger. However, with the rules of today's game reducing the physicality of the sport, you shouldn't see that much (if any) regression in Westbrook's game this upcoming season. As long as he can stay healthy, the Washington Wizards' chance at a spot in the playoffs appears to be a reality sooner rather than later.
basketball
My name is Allen. I know a little about a lot and a lot about a little. I'm here to express my opinions in a few different areas.