Why Conor McGregor Needs to Vacate His UFC Title
The Irish star has been holding the Lightweight division hostage for over a year now.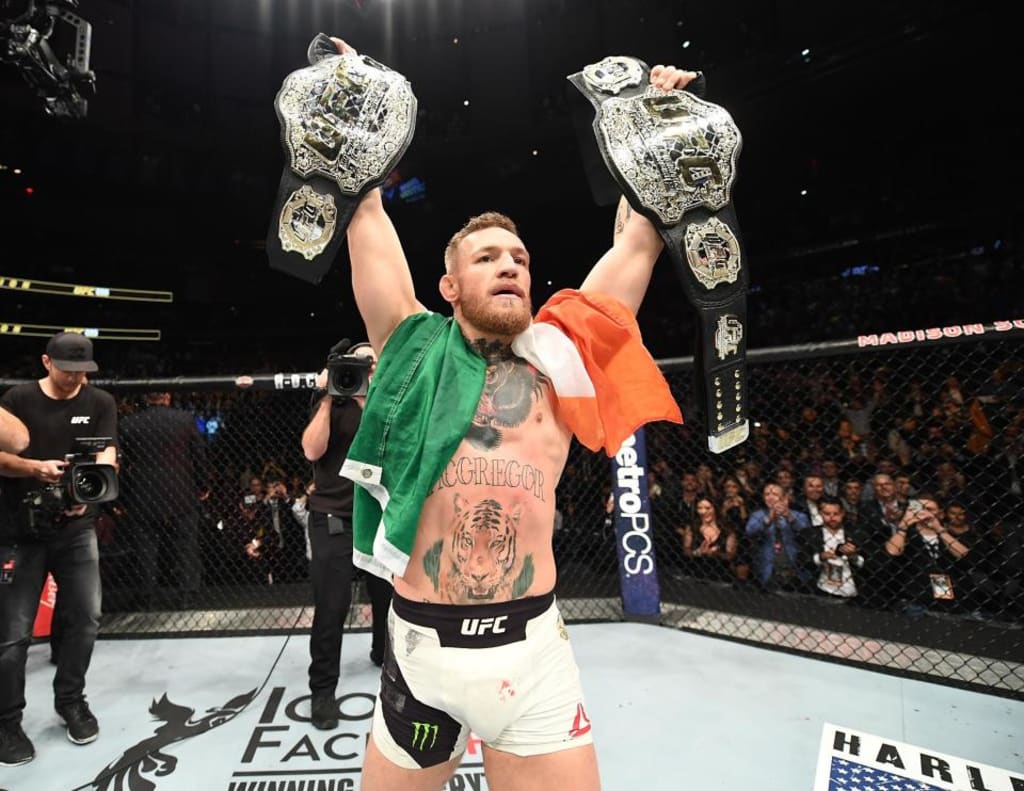 McGregor after winning the UFC Lightweight belt from Eddie Alvarez at UFC 205.
Conor McGregor has been holding the UFC Lightweight Division in limbo for over a year now. His last fight was in November 2016 where he miraculously defeated Eddie Alvarez to become the first person to hold two belts at one time. Since then, McGregor has gone off chasing the big money fights, and competed in his first professional boxing match in 2017 where he was defeated by Floyd Mayweather Jr. In his absence, the UFC Lightweight division has become one of the best and most stacked divisions talent wise, that we have seen in a long time.
The fight that everyone wants to see right now is Khabib Nurmagomedov against the interim champion Tony Ferguson. Nurmagomedov is 25-0 in his professional career and Ferguson currently has the longest winning streak in the history of the lightweight division. Both are on unstoppable runs as of late and a match-up between the two of them has been made and fallen through a numerous amount of times now. The most recent one was in early 2017 when Nurmagomedov had to pull out due to a botched weight cut, and this left fans wondering if we would ever see Khabib vs Ferguson.
Tony Ferguson won the interim belt against Kevin Lee at UFC 216, and continued to call out McGregor to defend his title against him. Ferguson certainly felt as though he had done enough to earn a title shot now that he was the interim champion and the only people that didn't agree with him were McGregor and Dana White.
Khabib's most recent fight came at the end of 2017 at UFC 219 where he produced one of the most dominant displays over three rounds the Lightweight division has ever seen. Khabib mauled Edson Barboza who many predicted would be a tough match up for the Dagestani. Nurmagomedov won the unanimous decision including one score from the judges that read 30-24. Khabib has called out McGregor previously, after his mauling of Michael Johnson, he called out the Irish star and referred to him as a chicken. The problem with Khabib has been his weight cutting difficulty, but that problem seems to have been ironed out now and he is even talking about moving down to the 145 division to make a potential super fight with Hawaiian Max Holloway, after he has won the Lightweight belt.
This is not the first time that McGregor has held a division hostage. After winning his Lightweight belt in 2016, he still held the featherweight belt despite not having any intentions to have any more fights at 145 pounds. This left guys like Jose Aldo, Frankie Edgar and the current champion Max Holloway without any ability to get that belt, as McGregor would not vacate and Dana White would not strip him of it quickly enough.
As we are in 2018 now, and as both Khabib and Tony Ferguson have huge momentum behind them, it is only fitting that we see this fight made for the actual belt and not the interim belt. No one should have to defend an interim belt, especially if the champion is fit and healthy.
The UFC cannot even use the excuse that Conor holding the belt is good for the company financially, because the belt doesn't enhance McGregor's stocks more than they already are. Without the belt, Conor could make just as much money for the UFC in a fight against anyone else, because of who he is. There has even been rumours about a super fight between McGregor and one of the greatest mixed martial artists of all time Georges St.Pierre, which would probably be the biggest selling pay-per view of all time.