Is Darren Till the Next Big Thing in MMA?
Till Faces Stephen 'Wonderboy' Thompson on May 27th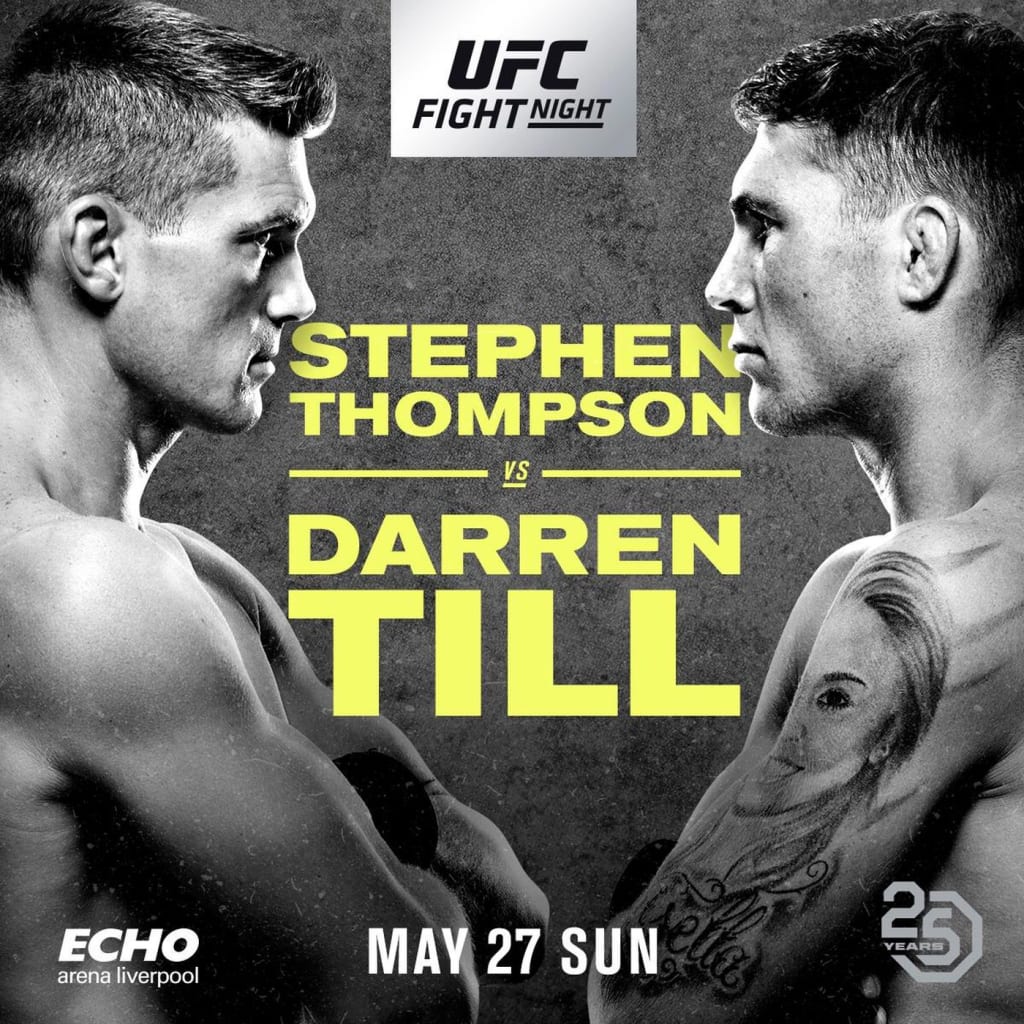 This coming Sunday on May 27th, the UFC will be hosting its first ever event in Liverpool, England, with 25-year-old scouser Darren Till as the headliner, facing off against one of the best welterweights in the UFC, Stephen "Wonderboy" Thompson.
Till is currently one of the most talked about fighters in the UFC, and one of the brightest prospects, boasting a record of 16-0-1 in his career to date. His most recent win was a very impressive first round TKO of UFC veteran Donald Cerrone which really shot Till into the realms of potential stardom. This has now resulted in him getting the main event spot in the first ever UFC event in Liverpool which is a historic moment for Till and the city of Liverpool.
Fans have gravitated towards Till because he seems to have the same aura about him that Conor McGregor had when he was first starting out. He has supreme confidence in his ability, and has no qualms in telling people that his goal is to be the greatest fighter in the history of the sport. Right now, Till's focus is on legacy, which was once what McGregor fought for, as well. Time will tell whether that changes, but you sense with Till that he has a genuine love and passion for the sport, and loves the competition.
If Darren Till beats Stephen Thompson on May 27th in the Echo Arena, there will be no doubts that a superstar has been made. Thompson has beaten some of the best welterweights out there and also boasts an impressive victory over the current UFC Middleweight Champion, Robert Whittaker. He had two title shots, but fell short on both occasions against Tyron Woodley and now seeks to put an end to the hype of Darren Till and mark himself as a challenger once more. There is definitely a lot of risk involved in this fight for Wonderboy, as he is taking the fight in his opponent's hometown, and against someone whom the UFC is looking to be their next big star. You sense that if Thompson loses this fight, then his chances for another title shot are slim, especially as he is now 35 years old.
The fight itself will be very intriguing in terms of a stylistic match up. Stephen Thompson is an elite Karate fighter who also went unbeaten during a kickboxing career that spanned over 50 fights. Darren Till, on the other hand, is an elite Muay Thai fighter, and thus this matchup is being deemed a Karate vs Muay Thai fight. Various kickboxing coaches who have trained with Till have said that he really is something special and unique, and perhaps we will see him exhibit that talent in the fight against Thompson. It will be by far the toughest challenge of his career, and there certainly would be no shame in losing to a guy like Thompson.
England has only really had one big MMA star in Michael Bisping, but as MMA is rapidly growing in the UK and becoming one of the most followed sports, we can expect to see many more up and coming prospects out of England in the future. Till is the next big hope for England, and will look to follow in the path of Bisping in becoming one of the biggest names in the sport, and becoming a future champion. Fighters from the UK and Ireland are just notorious for being exciting and entertaining during their fights, and also having a tremendous amount of heart and bravery while they're at it. If Till's rise and potential dominance can kick-start the surge in British MMA athletes, then we will very likely see the UFC dominated by British champions in the near future.
Reader insights
Be the first to share your insights about this piece.
Add your insights