Who We Checkin'?
Five Women's Basketball Players to Watch in 2021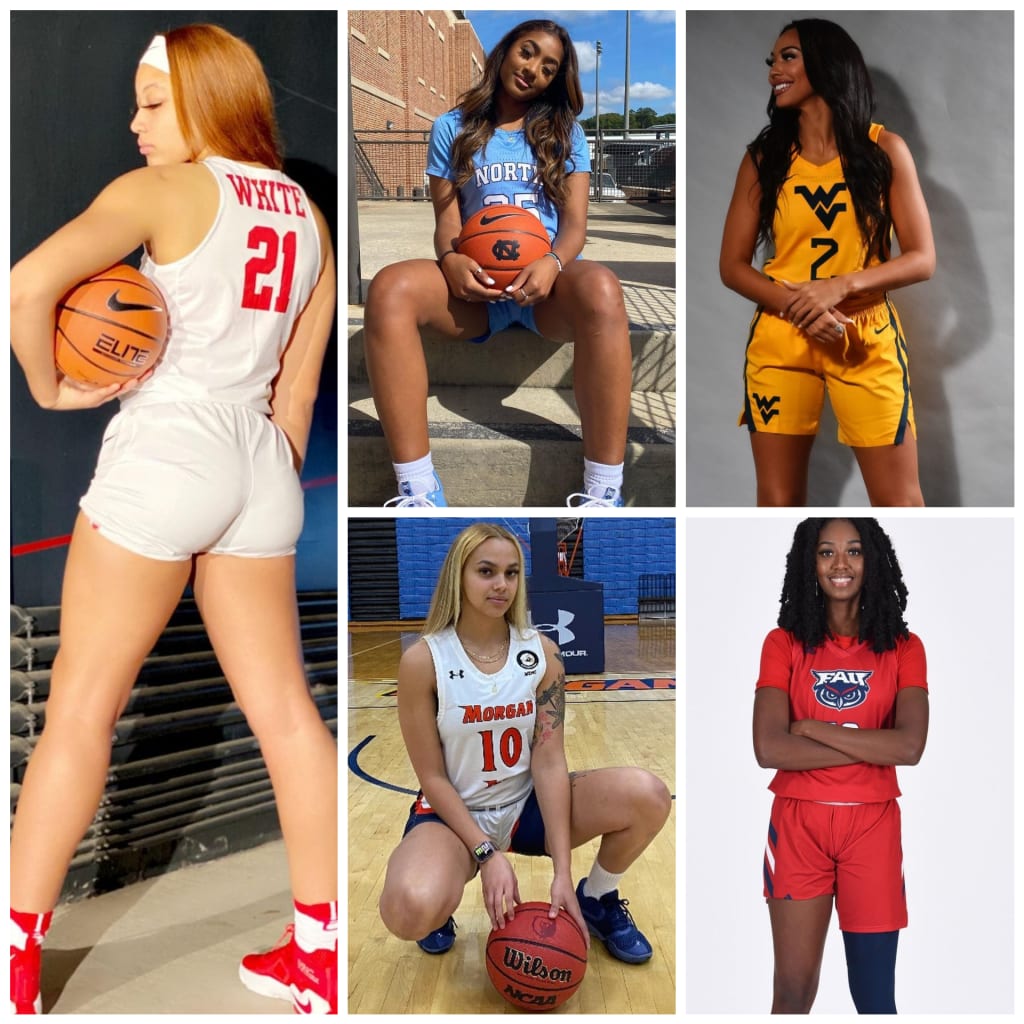 Daphane, Deja, Kysre, Desiree, Amber
Welcome to our new series, "Who We Checkin'?" This is where we feature women's college basketball players that we think may be on to bigger things during the 2020-21 season.
For various reasons, women's basketball has the opportunity to really explode over the next few seasons and we're going to do our best to let you know about the amazing women that you may not know but should as we share their basketball journey and growth as student athletes.
Kysre Gondrezick - West Virginia - Senior - Guard
A 5-9 guard from Benton Harbor, Mich., Kysre Gondrezick bounced back in her first full season since her freshman year at Michigan. She led West Virginia in scoring at 15.3 points per game. Gondrezick led her team with a 19-point and six-rebound performance in a late season 71-69 win over Texas Tech. She posted 21 points, six assists and four steals. Over the first 61 games of her career she's averaged 14.3 points per game and has been named All-Big Ten in 2017 and All-Big 12 Honorable Mention this year.
Daphane White - Houston - Junior - Guard
This season will be interesting for Houston as it will feature 6-5 transfer Daphane White at guard. White arrives from junior college Mississippi Gulf Coast where she posted an average of 15.7 points on 59 percent shooting. She also averaged 11 rebounds and 2.5 blocks per game. She led her team to a 17-8 record and was named NJCAA All-American. She scored 26 points with nine rebounds and five blocks in 20 minutes during her final win last season in the NJCAA Region 23 Quarterfinals.
Desiree Allen - Morgan State - Grad Student - Guard
Remember the classic book "Men are from Mars, Women are from Venus? Well this woman is from Neptune. Yes, Desiree Allen is really from Neptune. Before this season she played basketball for New Jersey Institute of Technology where she was an important role player that posted averages of six points and four rebounds per game over two seasons. The Neptune, New Jersey native has now journeyed to Maryland to compete for Morgan State and help its program build off of a 17-13 finish in 2019-20.
Amber Gaston - Florida Atlantic - Junior - Forward
Will this be the big season for Amber Gaston? The long 6-2 forward has shown some flashes over the past two years. Her biggest game as a freshman was a 21-point performance against North Texas on 50-percent shooting. That year she averaged 7.7 points per game. Last season her numbers dipped a bit as her minutes decreased but she did have some promising moments. Gaston debuted her sophomore season with a 10-point effort on 4-5 shooting, with six rebounds against Big Ten foe Iowa. She also rocked Western Michigan with 19 points on 8-10 shooting in 27 minutes of action. Perhaps the coolest bit of info on Gaston is that she is a two-time Conference USA Commissioner's Honor Roll honoree.
Deja Kelly - North Carolina - Freshman - Guard
We are interested to see how Deja Kelly's freshman season will contribute to the success of the North Carolina Tar Heels. The McDonald's All-American was sought after by Notre Dame, Duke and Minnesota. Kelly was this year's Texas Gatorade Player of the Year in high school basketball. Her athleticism, smarts and leadership on the floor leads many experts to believe that she's got a big time collegiate career ahead of herself.
This list is brought to you by the Track Stars App.
Click the links below to download the world's first women's track and field video streaming app for iPhone and Android users.
Track Stars App, available for iPhone and iPad users: https://apps.apple.com/us/app/track-stars/id1489617224  
Track Stars app is also available for Android users at: https://play.google.com/store/apps/details?id=com.app.trackstars