What this duo has done that no other duo has
An important lesson for current and future players.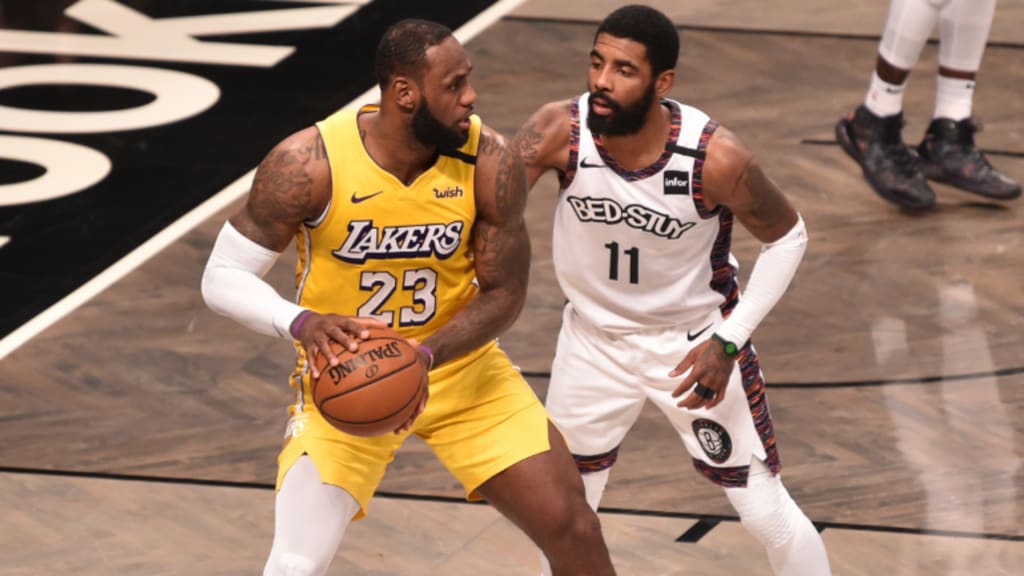 Playing in the league is an accomplishment in itself , but being mentioned amongst the leagues greats or even greatest players is something a lot of players don't get to experience. Being "That Guy" on the court, something that kids and upcoming players try to emulate almost all the time whether they know it or not.
When LeBron James first stepped onto the floor as an professional NBA player, it was one of the most anticipated debuts in sports history, not just basketball. Sure, you see this a lot in sports, a talented player carrying the weight of the city on their back, projecting their success and energy onto everyone that dares to follow. What made LeBron James story different though, is the city he hails from, Cleveland, which has been battered by losses for many years before LeBron started to hoop, and also LeBron's talent combined with his size,6 feet, 8 inches, 220 pounds, who could run with the fastest,as a high school student! People couldn't help but wonder how his game would compare to Jordan's, the best in the game at the time.
For anyone who's ever played basketball competitively , probably has experienced a time where chemistry becomes a little confusing. With only five players on the court at a time, who has the ball and who should get the ball and when is always a question, organized or not,at any level. Before he even got to the league in 2003, LeBron was and still is one of those guys other players will defer to.
Fast forward ten years later, LeBron has done everything he could for the city of Cleveland ,but it's still not enough to win a championship there. He ultimately decides to leave for Miami in hopes of winning championships, not just games. The city is torn, burning LeBron James replica and rioting the streets after his departure. After accomplishing this he decides to return to Cleveland in hopes of winning one back home, where the team is rebuilding , and Kyrie Irving has already started making a name for himself as the next guy, which is the most important part of this story here.
Back to basketball chemistry,undoubtedly, when James was with Cleveland , it was "his" team. He got the ball when he wanted, he shot the ball when he wanted, opened the gym when he wanted, and "occasionally" coached the team when he wanted. When he left Cleveland to join Dwayne Wade and "his" team in the Miami Heat, he left that there as well , and for the first time in a long time was playing for a team that wasn't "his" at least initially. On other end of that departure, Cleveland was forced start rebuilding, looking for someone who could fill that huge gap that was left behind, which was very unlikely. Fortunately, while James was winning championships in Miami, Cleveland acquired Kyrie Irving, a kid from New Jersey who could score often, and with some flash. If you didn't know already, New Jersey is a great source for basketball talent.If you tell someone your from Jersey, and decide to step on the court, they're most likely going to be looking forward to what you will do. Irving, like James, was a highly anticipated and very talented player coming into the league as well and for most of his career had been that guy when he stepped onto the court, with other players deferring to him as well. The biggest question Irving has faced is how much he could do carrying most of the workload on a team. As far as being alpha 's on their own teams, James and Irving have done that with ease, but what makes it different than other superstar duo?
No, I am not skipping James and Wade's duo in Miami entirely,the biggest difference though is the time that Wade and James came into the league, both in 2003. It's no wonder they have so much chemistry together! Imagine teaming up with your best friend in your Senior class on a school project. More times than none would mean success. Irving , a class of 2012 star, was younger no doubt , and had a lot of the same respect from the players compared to James who was returning to Cleveland after all the scrutiny he received after leaving to team up with another alpha, younger than he was, who was still picking up the pieces after he left. Out of all the great duos that we've had in the league I cannot without looking first think of a "superstar" duo with such a significant age difference.Imagine that same school project mentioned earlier but with a ... elementary student? Let's try a different scenario. How about working for a someone that's younger than you? If you've stayed "on track" your whole life you've probably never experienced this. "Regular" people across the globe tackle this issue everyday in their personal work. And its not a global crisis but it's definitely worth making someone aware of. Communicating with people of different age groups is a skill, not one that everyone has. On both sides, it can be tough, revealing, and even personal, sometimes on one side. I remember being offered jobs when I was younger, and declining because of the age difference, especially when I first started working because I had no experience, and I knew that just being able to relate would only take me so far.The times that I did have force my will on co- workers who were older or younger than me did not necessarily make me feel good about myself, but sometimes you have to tell mee-maw to chop-chop(joking of course,kind of...). Even growing up playing ball, you will at some point have to play with someone who is younger or older than you, and it can get tense ,my best advice is to say it and mean it, but that's just me.
Lebron and Kyrie's relationship was an interesting one because of that age gap, and I really think it help future duos to form , ones that we haven't seen yet on and off the court. I think it's much harder though listening to someone that's younger than you especially, it can take a big hit to your ego. and I'm not saying that ego is a definite bad thing, because some ego is used to push people to get up everyday.Yes it is hard to take orders as well,it is not always true that the person giving the orders exactly know what they're talking about.We seen a lot in that relationship between these two, sometimes LeBron looks like the older kid that noone wants to play with, to Kyrie looking like a spoiled child, to both of them getting out just right.