WBB2K22: Hoops Report 29
30 for Tsineke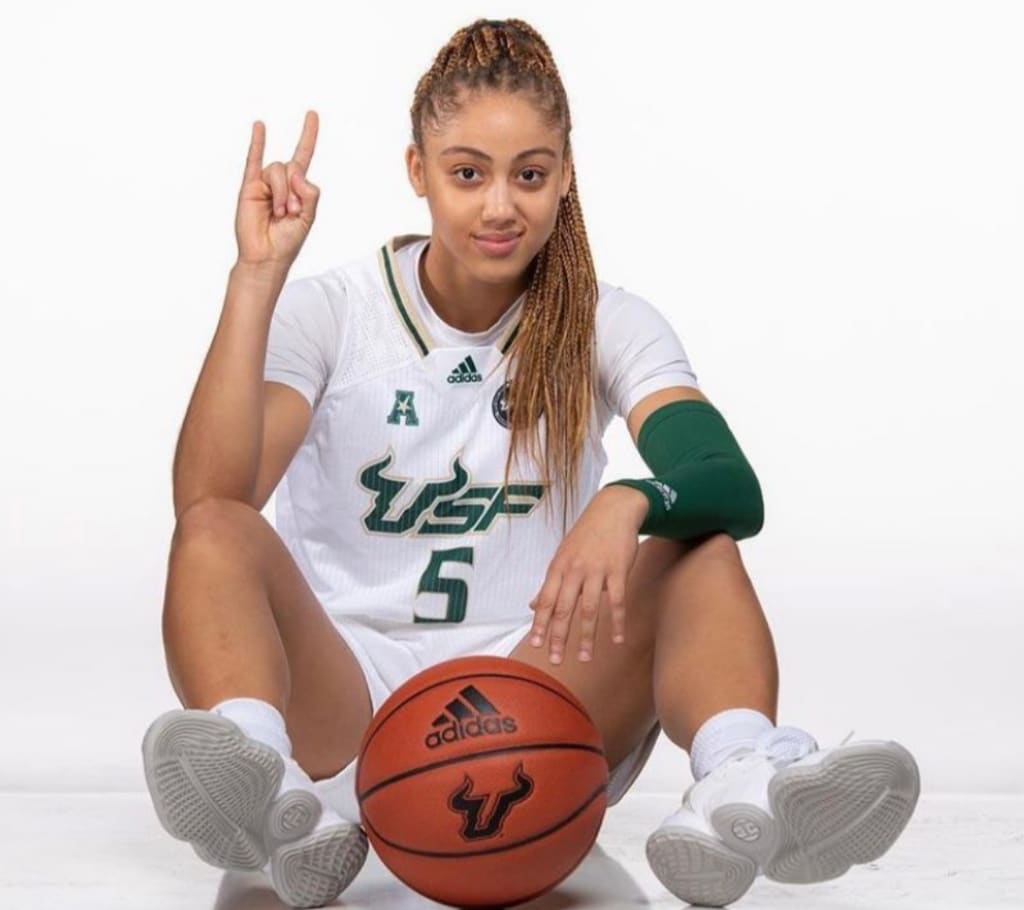 South Florida's Elena Tsineke
Jan. 19
South Florida 66, Tulsa 63
Elena Tsineke stepped up big in a key American Athletic Conference win as South Florida edged out Tulsa.
Tsineke scored 30 points which was her season high. She has posted at least 20 points four times this season. Tulsa had a shot to win the game after taking a 63-62 lead with 20 seconds left as Temira Poindexter made a layup.
Tsineke was fouled with 13 seconds to play and made both free-throws which put South Florida ahead 64-63. The Bulls prevented Tulsa from scoring the remainder of the game as they held on for the win. South Florida also got a big game from Dulcy Fankam Mendjiadeu who had 17 points, 11 rebounds and three blocks.
Tulsa was led in scoring by Wyvette Mayberry who had a strong performance with 23 points, four rebounds, four assists and three steals.
Coppin State 66, North Carolina Central 43
Four players scored double figures to lead Coppin State (8-7) to a MEAC win over host North Carolina Central (1-11).
Coppin State guard Aliyah Lawson shot 3-7 from three to score a game high 14 points. She also had seven rebounds, four assists and two steals. Jaia Alexander struggled shooting 4-15 but she made all four of her free-throw attempts to score 13 points. She also hauled down nine rebounds and blocked two shots. Mossi Staples led all players with three steals to go along with 11 points, four assists, two rebounds and a block.
Freshman reserve Jewel Watkins came off of the bench for Coppin State to score 10 points with eight boards. This was the 5-10 guard/forward's third game with 10 or more points this season. It was her third game in the last five with eight or more rebounds. Coppin State center Jalynda Salley led all players with 11 rebounds. Seven of those rebounds were on the offensive side.
Cincinnati 71, Houston 56
Cincinnati (8-9) travelled to Houston (9-9) and received four threes from Caitlyn Wilson as she scored 17 points in the Bearcat's 15-point win.
The victory snapped a five-game losing streak that started Dec. 22 against Marquette. During Cincinnati's losing streak Wilson struggled shooting 15-52 (.288). During the win over Houston she shot 6-14 (.429). It was her first time shooting over 40 percent in six games. On the three-point side of things, Wilson has been more efficient. Over the past five games, she has shot 18-48, which was a solid .375. Wilson has hit at least four threes in four of the last five games.
Jillian Hayes scored 16 points for the Bearcats, shooting 6-11. The sophomore filled up the stat sheet with six rebounds, five assists and five steals. She's stolen the ball at least five times in a game on three occasions. Point guard Akira Levy flirted with a triple-double with 10 points, eight assists and six rebounds. The energetic guard also had two steals.
Houston struggled shooting 3-27 from three. The Cougars' top performer was forward Tatyana Hill. She had 14 rebounds, 12 points and two blocks in the loss.
UNLV 74, San Jose State 54
After leading by just one point at the half, UNLV (14-4) dominated in the second half to outscore San Jose State 44-25 in a 20-point road win.
Desi-Rae Young posted a big double-double scoring 15 points and 15 rebounds. The sophomore forward has collected three double-doubles in the last five games. She's scored in double figures every game this season. UNLV's Alyssa Durazo-Frescas led the team in scoring with 24 points. The freshman knocked down six of her 10 attempts from three while scoring her career high. This was her first game with at least 20 points this season.
San Jose State (3-13) was led by forward Meghan Oberg's 14 points.