Watch Your Head
Already a viral sensation for his dunks, the Dallas Mavericks hope Dennis Smith Jr. can be more than a high-flyer.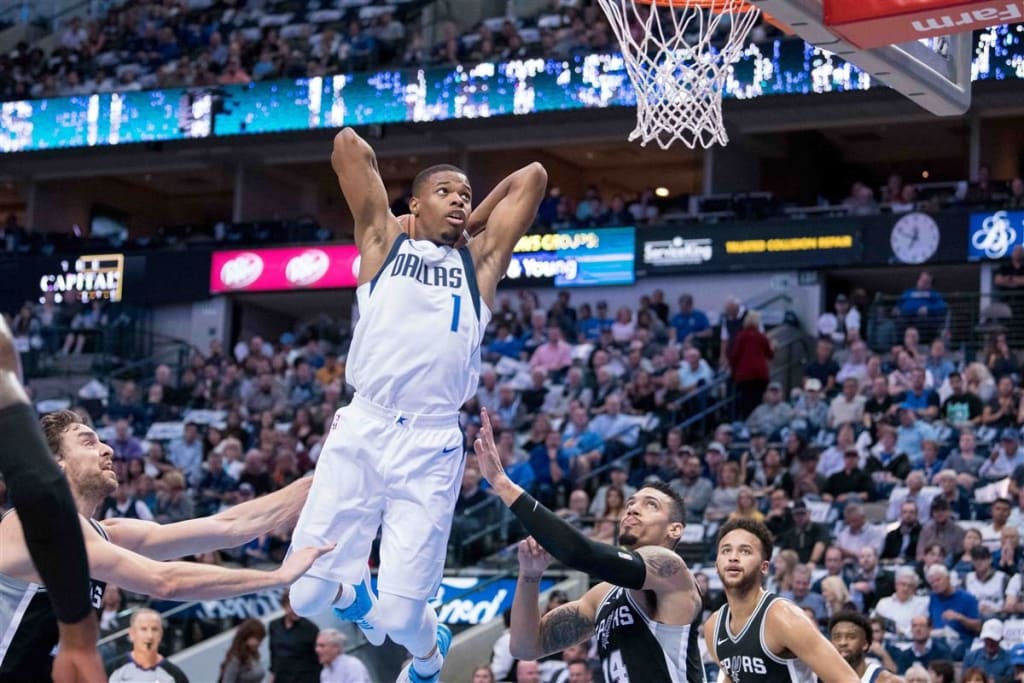 Danny Green's face says it all: "The kid's bounce just ain't fair!"
Before I even say anything, just watch this video. Just do it.
Done? Ok, cool.
So yeah, Dennis Smith Jr. is athleticism personified. He's only 6'3" and has tied the NBA-record for the highest vertical leap in NBA history. His explosive, exciting play-style has been wowing people from his high school days in Fayetteville, North Carolina (famous for being the hometown of rapping sensation J Cole). He went to college at NC State (alma mater of fellow sky-walker NBA legend David Thompson) and where he continued to electrify crowds and impress scouts with his athleticism and scoring prowess. In the 2017 NBA Draft, he was drafted 9th overall by the Dallas Mavericks—the New York Knicks foolishly passed on Smith Jr. even though they needed a point guard—and was immediately labelled as the steal of the draft. While Donovan Mitchell and Kyle Kuzma likely stole that title from him, Smith Jr. had a decent rookie season that should leave Mavericks fans excited for the post-Nowitzki era.
Rookie Stats: 15.2 PPG, 3.8 RPG, 5.2 APG, 1.0 SPG, 39.5% FG, 31.3% 3FG, 69.4% FT
We've established as a great leaper, but he's also lightning quick and agile. In the video, you can see him make fast cuts for a lob or killer crossovers before slamming it home. Naturally, you'd expect him to make a high percentage of his shots at the rim, which he did (60.6% on shots from 0-3 feet). But he shot less than 40 percent overall from the field, which is awful. Smith struggled with his shot selection, as the vast majority of his shots were from midrange or behind the three-point line. The latter is quite concerning as he shot well below league average, yet shot almost five threes a game. It's not that Smith Jr. can't shoot; he shot 45 percent from beyond in December and 37 percent in March. He merely lacks consistency at this point in his career; he is a rookie after all so he still has plenty of time to improve. A smaller issue is his free throw shooting, shooting under 70 percent. With his athleticism and finishing ability, he should draw a lot of contact and it would do him and the Mavs a large favour to not leave points at the line.
So, we've gone over Smith's offense. His defense... well my friend Skyler (aka Skizz, the guy who told me to write about DSJ) puts it best saying, "He's just so bad!" I run the risk of sounding like a broken record in bringing up Smith's athleticism again, but with all the physical tools he has, he has absolutely no reason to not be an elite defender. Yet throughout his rookie season, he would not be in stance, be in the wrong positions, and give up on numerous defensive plays.
We know the good, the bad, and the ugly of Dennis' game; now what?
Well, a lot of that will have to do with how he gels with Mavs rookie Luka Doncic. With Doncic being a 6'8" playmaker with range, Dallas now has one of the most exciting backcourts in the league. With Luka around, Smith can play off the ball more and focus on scoring and playing defense (though this backcourt will be rather porous in the early going). If these two develop the way I think they can, we could be looking at a poor man's version of Magic Johnson and Byron Scott—hear me out before you raise your pitchforks. Luka is essentially a big point guard who has excellent vision and can grab rebounds, not too dissimilar from Magic. Smith Jr. is a small, athletic guard, who, if he develops his shot, will be the perfect backcourt mate for Doncic, like Scott was for Magic.
Of course, this is all several years down the line. For this season, I'd look for Smith to improve his jumper and his overall efficiency, and at least make some kind of effort on defense. Don't expect the Mavs to win too many games, but with Smith and Doncic at the helm, the future isn't looking too bad in Dallas.
Predicted Stats: 17.9 PPG, 4.3 APG, 4.2 RPG, 1.6 SPG, 0.5 BPG, 44.1% FG, 35.2% 3FG, 74.4% FT
This wraps up my 2017 Class series. It was fun to look back on some of the top rookies from last year, but I'm really looking forward to discussing the 2018 Class as I can give my opinion more as I won't have NBA stats to go off of.
If you have any suggestions for 2018 Class members you want me to write about (shoutout Skizz and Kenny for giving me some already), let me know using social media:
Snapchat: midster007
Facebook: Olamide Olatunbosun
Instagram: @mdaywiththetrey
That does it for this article. If you made it all the way to the end, you're a real one. Let me know what thoughts or comments you have, but until then, deuces.
About the Creator
Huge NBA (more importantly LeBron) fan, love writing about things happening around the league.
Instagram: @mdaywiththetrey
Facebook: Olamide Olatunbosun
Reader insights
Be the first to share your insights about this piece.
Add your insights