Track Stars App National Athletes of the Week
Tamara Clark's 200-meter time has her on top of the world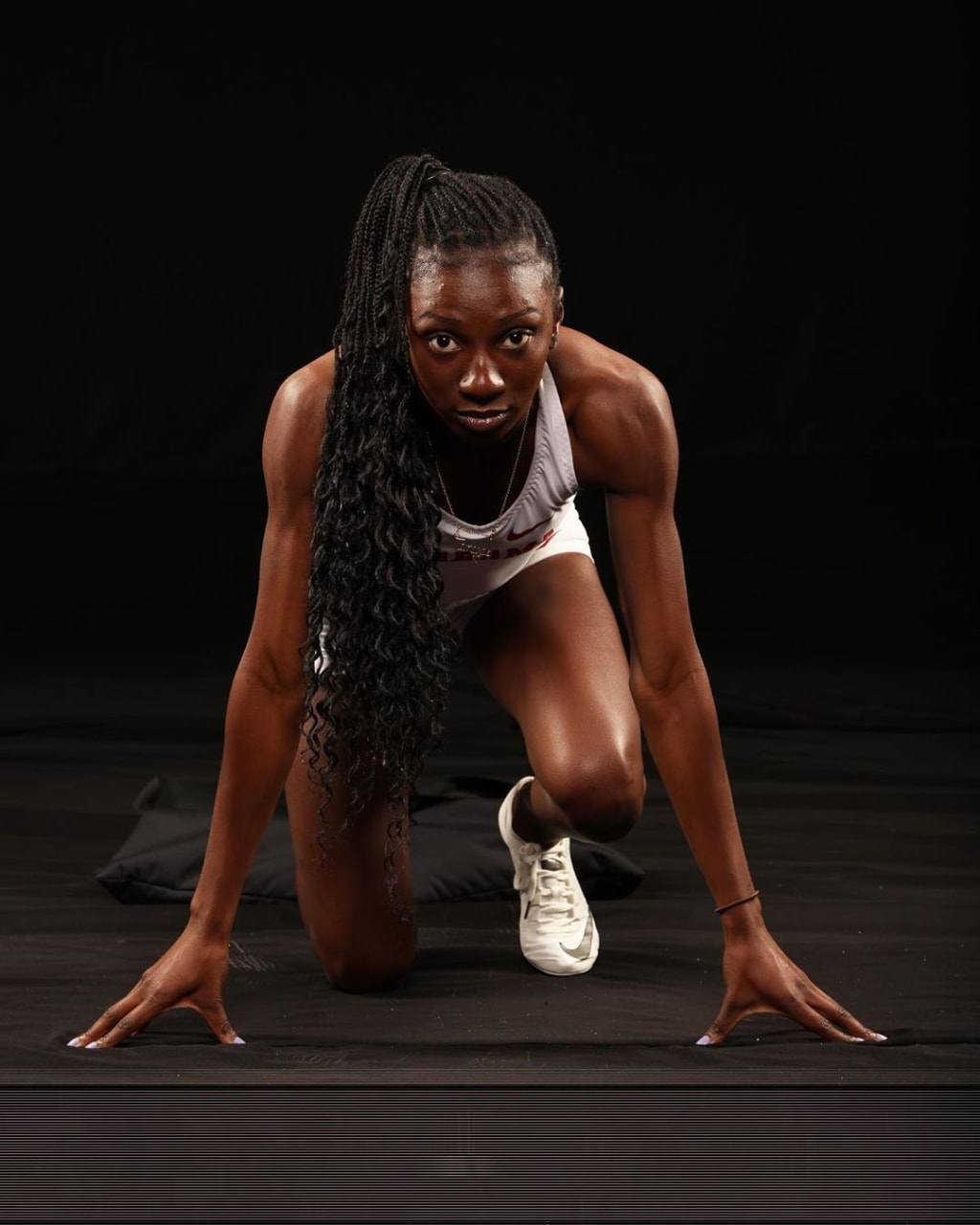 The collegiate indoor track and field season finished its seventh weekend of action. Check out our honorees who have been named the Track Stars App National Athletes of the Week.
Brought to you by the Track Stars App, available for iPhone and iPad users at: https://apps.apple.com/us/app/track-stars/id1489617224?ls=1
Track Stars app is also available for Android users at: https://play.google.com/store/apps/details?id=com.app.trackstars
Alabama's Clark has world's fastest 200-meter time
Tamara Clark - Alabama - Junior - 60-Meter Dash, 200-Meter Dash
Tamara Clark collected two wins at the New Mexico Collegiate Classic. Her time of 22.88 in the 200-meter dash not only won the meet but is now the top time on the planet this season. Clark also won the 60-meter final at 7.23. During the 2019 season Clark was second in the 200-meter dash during the NCAA indoor championships.
Bryan stays unbeaten in 2020 pole vault competition
Lucy Bryan - Akron - Senior - Pole Vault
Lucy Bryan hit a personal best mark of 4.51 at the Akron Invitational. This season she has collected wins in all of the five meets that she's participated. At 4.51, Bryan is third in the NCAA. Over her career, she has won three Mid American Conference pole vault championships. She placed fifth last year at the NCAA outdoor championship.
Colorado's Jones posts best mile in NCAA
Dani Jones - Colorado - Senior - Mile
After competing at the 113th NYRR Milrose Games, Dani Jones sits at the top spot in NCAA Division I with a 4:27.88 time in the mile. Last season she was the runner-up in the NCAA Indoor national meet. During the outdoor season she won the national crown at last year's 5,000-meter championship race.
Roman takes high jump at home meet, Mizzou Open
Karissa Roman - Missouri - Senior - High Jump
Missouri's Karissa Roman won the high jump competition at the Mizzou Open with a jump of 1.81 meters. She's currently tied for eighth among NCAA Division I in the event. Roman has had a successful indoor season thus far also collecting wins at the Missouri Intercollegiate and Mizzou Holiday Opener meets.
Minnesota State's Simmons posts personal best in 60-meter race
Ja'Cey Simmons - Minnesota State - Freshman - 60-Meter Dash
NCAA Division II freshman sensation Ja'Cey posted another career best performance during her win at the Ted Nelson Classic. Her time of 7.49 is now the fourth fastest time in Division II. Currently three of the top four 60-meter times in NCAA Division II are held by freshmen.
WSU's Tucker top sprinter at Idaho Team Challenge
Jordyn Tucker - Washington State - Senior - 60-Meter Dash
Jordyn Tucker got her first finals win in over a year when she won the 60-meter dash in the Idaho Team Challenge. The senior had a dominant win at 7.61 with the nearest competitor clocking in at 7.84. Tucker's last finals win came last season when she won 60-meter dash in the Washington State Indoor Track & Field Meet, Jan. 19, 2019.
Elliott continues to be Horizon League standard bearer
Jaliyah Elliott - Youngstown State - Senior - 60-Meter Dash
If you thought that Youngstown State All-American Jaliyah Elliott was a one year wonder as far as being one of the top 60-meter runners in the nation, you're wrong. She moved into the NCAA's top 20 with a 7.33 finish during the prelim round at the Akron Invitational. She followed that up with a win at 7.41 in the final round. She and teammate freshman Jahniya Bowers are the only Horizon League sprinters to finish the 60-meter dash under 7.5 seconds.
Cloud County's Ntia-Obong shines at Husker Invitational
Mercy Ntia-Obong - Cloud County - Freshman - 60-Meter Dash, 200-Meter Dash
Mercy Ntia-Obong continues her her pursuit to the top of the national junior college ranks. The Cloud County freshman won the 60-meter dash at the Frank Sevigne Husker Invitational meet with a time of 7.41. That time currently ranks fourth among junior college runners. She also placed second in the 200-meter dash at 23.96.
Feb. 2, 2020 National Athletes of the Week
No Athletes Awarded
Jan. 26, 2020 National Athletes of the Week
Julien Alfred - Texas
Abby Steiner - Kentucky
Alexis Holmes - Kentucky
Shey Taiwo - Ole Miss
Jasmine Moore - Georgia
Mercy Ntia-Obong - Cloud County
Jasmine Deckard - Missouri Southern
Terrianna Black - Loras - Senior
Jan. 19, 2020 National Athletes of the Week
Deborah Acquah - Texas A&M
Britton Wilson - Tennessee
Ja'Cey Simmons - Minnesota State
Ellen Ekholm - Kentucky
Alonie Sutton - Tennessee
Taylor Manson - Florida
Nya Bussey - Ohio State
Jahniya Bowers - Youngstown State
Jan. 12, 2020 National Athletes of the Week
Cambrea Sturgis - North Carolina A&T
Jayla Kirkland - Florida State
Alexis Holmes - Kentucky
Meg Darmofal - Michigan
Paula Salmon - North Carolina A&T
Tonea Marshall - LSU
Abigail O'Donoghue - LSU
Shelby Tyler - Georgia - Freshman - High Jump
Dec. 15, 2019 National Athletes of the Week
Rene Medley - Lincoln
Jenny Kimbro - Iowa
Megan Grabowski - Indiana
Skyler Blair - Utah
Victoria Abunaw - Cincinnati
Janique Burgher - Kansas State
Leah Moran - Indiana
Essence Thomas - Oklahoma
Marisa Gwinner - Tiffin
Katarina Vlahovic - Iowa State
Dec. 8, 2019 National Athletes of the Week
Julien Alfred - Texas
Celera Barnes - Kentucky
Jahniya Bowers - Youngstown State
Nayoka Clunis - Minnesota
Ellen Ekholm - Kentucky
Tyra Gittens - Texas A&M
DeeNia McMiller - Memphis
Savannah Nevels - Bowling Green
Kayla Thompson - Northern Kentucky
Jehvania Whyte - Northern Illinois