Track Stars App National Athletes of the Week
Alfred, Steiner, Ntia-Obong, Black stand on top of college sprint lists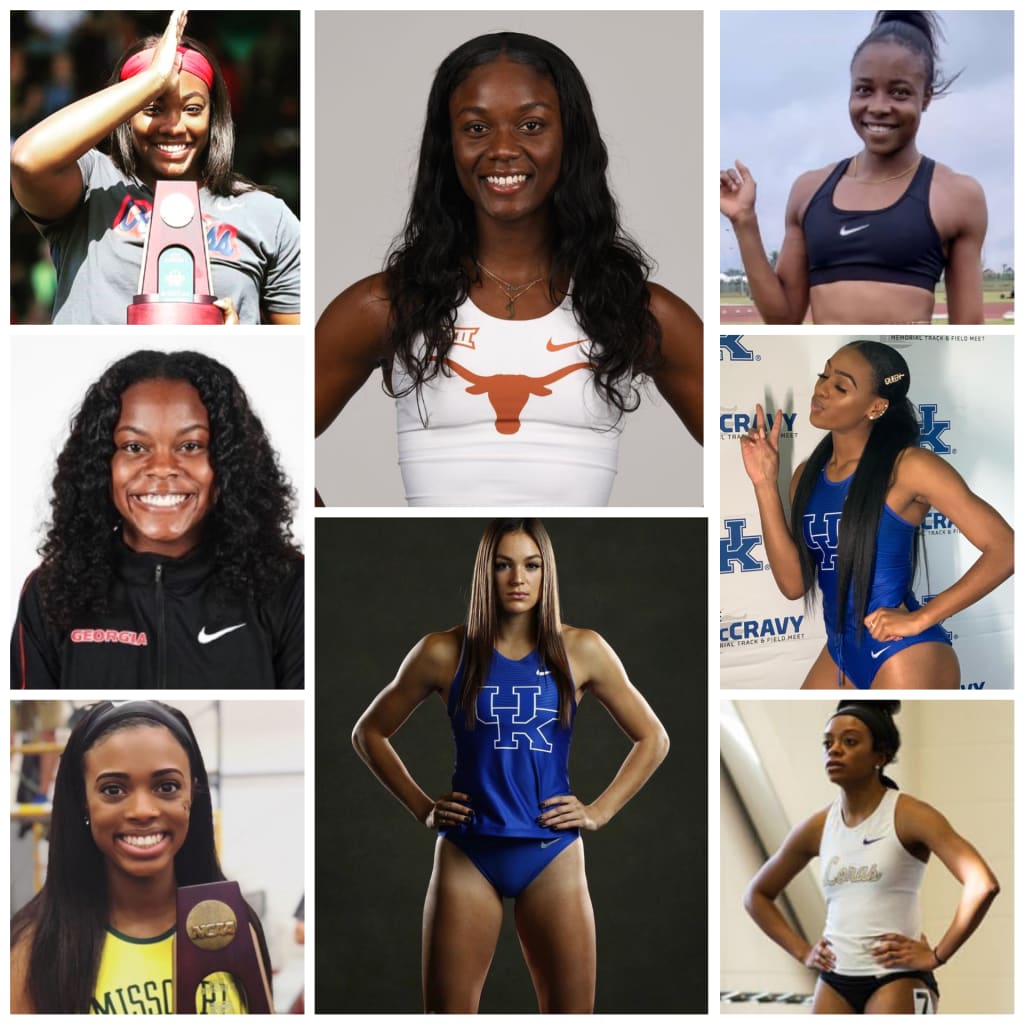 The collegiate indoor track and field season finished its fifth weekend of action. Check out our honorees who have been named the Track Stars App National Athletes of the Week.
Brought to you by the Track Stars App, available for iPhone and iPad users at: https://apps.apple.com/us/app/track-stars/id1489617224?ls=1
Track Stars app is also available for Android users at: https://play.google.com/store/apps/details?id=com.app.trackstars
Texas' Alfred now fastest indoor sprinter in NCAA
Julien Alfred - Texas - Sophomore - 60-Meter Dash, 200-Meter Dash
Julien Alfred took the top spot in the NCAA with a 7.10 and second place finish in the 60-meter finals at the Dr. Martin Luther King Jr. Collegiate Invitational in Albrquergue, N.M. She was runner-up to pro runner Mikiah Brisco (7.08) who represented Nike. Alfred's performance was the fastest of her career. In the opening round she ran 7.13 which was her previous best performance. Alfred also won the 200-meter dash at 23.50.
Steiner leads all collegiate 200-meter runners
Abby Steiner - Kentucky - Sophomore - 200-Meter Dash
Running in her first solo race of the indoor season, Abby Steiner resumed her excellence that she displayed as a freshman. Steiner ran the top 200-meter time in the NCAA of the season at 23.06. Her win took place at the Rod McCravy Memorial meet, hosted by her school, Kentucky. Last season she placed 14th in 200-meter dash at the NCAA indoor championship meet.
UK transfer remains on top of NCAA 400-meter list
Alexis Holmes - Kentucky - Sophomore - 400-Meter Dash
Alexis Holmes already had the top indoor 400 meters time in the NCAA but she approved upon it at the Rod McCravy Memorial Track and Field Meet. Holmes finished second at 52.27, behind unattached runner Maggie Barrie (52.05). Holmes placed fourth at last year's NCAA indoor championships in the 400 meters race.
Ole Miss' Taiwo scores leading NCAA weight throw
Shey Taiwo - Ole Miss - Junior - Weight Throw
Battling 30 other competitors, Shey Taiwo took third at the Rod McCravy Memorial's weight throw competition. Her throw of 22.46 is the best in the NCAA this season. She finished behind pros Janeah Stewart (25.05) and Annette Echikunwoke (22.77). Last season Taiwo placed 10th at the NCAA indoor championship meet.
Georgia freshman Jasmine Moore wins triple jump at Clemson
Jasmine Moore - Georgia - Freshman - Triple Jump
After winning the long jump at her first collegiate meet at Clemson, Jan. 11, Georgia's Jasmine Moore took her first win in the triple jump. Returning to compete at Clemson, at the Bob Pollock Invitational, Moore fouled in her first two jumps to record her top mark of 13.33 in the third and final jump of the preliminary round. Following that she repeated the process of two fouls before completing a jump of 13.30.
Cloud County CC's Obong takes 60 and 200 at Northwest Open
Mercy Ntia-Obong - Cloud County - Freshman 60-Meter Dash, 200-Meter Dash
Cloud County Community College's Mercy Ntia-Obong dominated 48 other competitors with a time of 7.48 at the Northwest Open in Maryville, Mo. She also took a 200-meter dash win as well at 24 seconds flat. The freshman currently has the third fastest 60 meters time on the junior college level. She recorded a time of 7.47 on Jan. 18, at the Graduate Classic in Lincoln, Neb.
Deckard records NCAA Div. II top three 200 meters time
Jasmine Deckard - Missouri Southern - Junior - 60-Meter Dash, 200-Meter Dash
Jasmine Deckard's second place finish in the 200-meter dash (24.26) at the Northwest Open has allowed her to be NCAA Division II's third fastest runner of the year in that event for the season. The All-American also placed second at the meet in the 60-meter dash at 7.62. At last season's NCAA Division II national meet she placed third in the 200-meter dash and sixth in the 60-meter dash.
Loras' Black is the fastest in NCAA Div III 60-meter dash
Terrianna Black - Loras - Senior - 60-Meter Dash, 200-Meter Dash
Terrianna Black set her career best time of 7.61 in the final round of the 60-meter dash at the Saint Ambrose Invitational in Davenport, Iowa. She's now the fastest sprinter on the NCAA Division III level. Black also earned a second place finish in the 200-meter race at 26.09.
Jan. 19, 2020 National Athletes of the Week
Deborah Acquah - Texas A&M
Britton Wilson - Tennessee
Ja'Cey Simmons - Minnesota State
Ellen Ekholm - Kentucky
Alonie Sutton - Tennessee
Taylor Manson - Florida
Nya Bussey - Ohio State
Jahniya Bowers - Youngstown State
Jan. 12, 2020 National Athletes of the Week
Cambrea Sturgis - North Carolina A&T
Jayla Kirkland - Florida State
Alexis Holmes - Kentucky
Meg Darmofal - Michigan
Paula Salmon - North Carolina A&T
Tonea Marshall - LSU
Abigail O'Donoghue - LSU
Shelby Tyler - Georgia - Freshman - High Jump
Dec. 15, 2019 National Athletes of the Week
Rene Medley - Lincoln
Jenny Kimbro - Iowa
Megan Grabowski - Indiana
Skyler Blair - Utah
Victoria Abunaw - Cincinnati
Janique Burgher - Kansas State
Leah Moran - Indiana
Essence Thomas - Oklahoma
Marisa Gwinner - Tiffin
Katarina Vlahovic - Iowa State
Dec. 8, 2019 National Athletes of the Week
Julien Alfred - Texas
Celera Barnes - Kentucky
Jahniya Bowers - Youngstown State
Nayoka Clunis - Minnesota
Ellen Ekholm - Kentucky
Tyra Gittens - Texas A&M
DeeNia McMiller - Memphis
Savannah Nevels - Bowling Green
Kayla Thompson - Northern Kentucky
Jehvania Whyte - Northern Illinois