Track & Field 2k21: Beard wins at USATF Sprint Summit
Akinosun, LaFond Thomas are victorious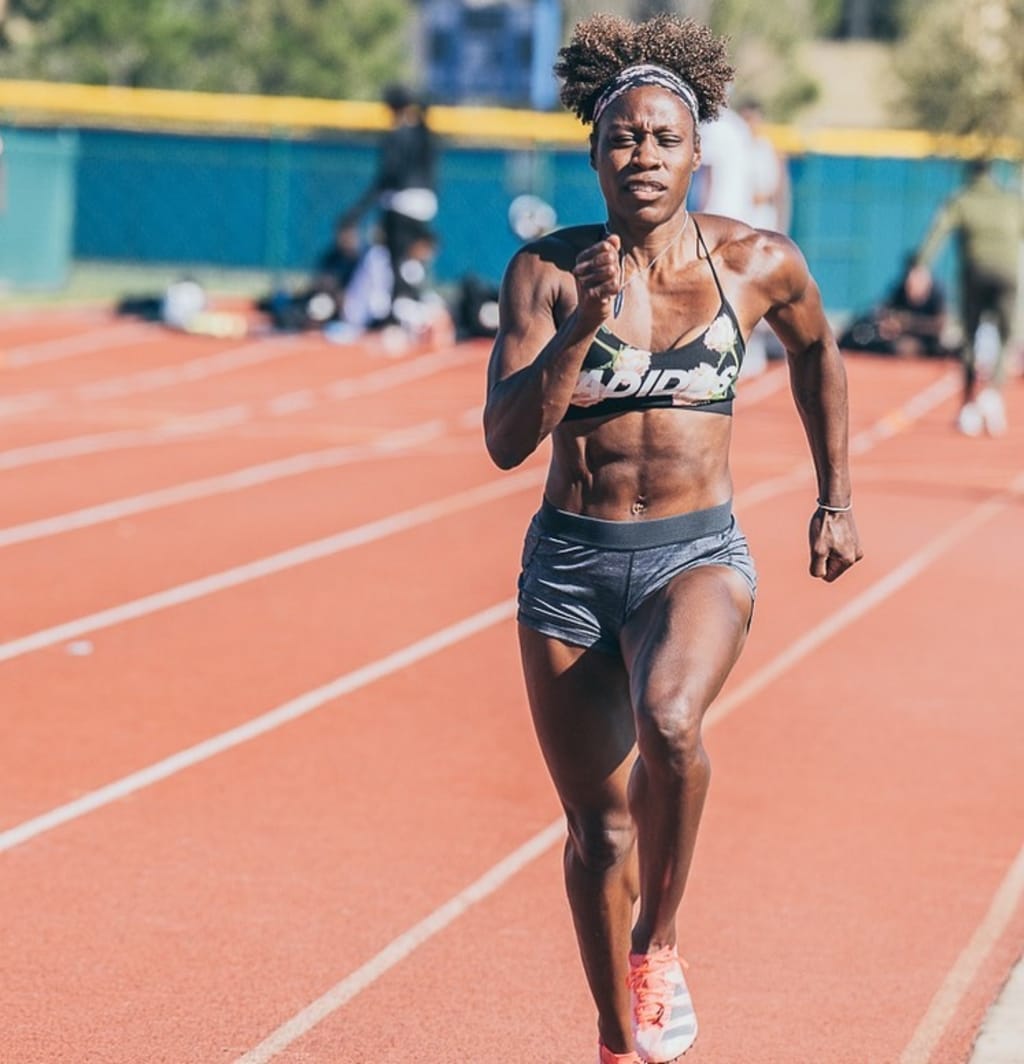 Jessica Beard
Morolake Akinosun ran a time of 11.26 in the 100 meters at the The USATF Sprint Summit that took place on Saturday, April 3 in Prairie View, Texas.
Below: Morolake Akinosun
The sprinter who will be turning 27 next month is a world champion. She became so when she was a part of the American foursome that won the 400-meter relay at the World Championships in 2017. Last weekend she took on a field of formidable competitors including Gabrielle Thomas who placed second at 11.38. Thomas once ran the 100 meters at a time of 10.99 with a wind aid of 2.8 back in 2018. Her fastest non wind aided time was an impressive 11.10 in 2019.
Caitland Smith placed third at 11.66. Her personal best was 11.08, recorded during the 2019 season as well. Thirty-four-year old Tawanna Meadows recorded a finish of 11.70. She made her return after not competing during 2020 due to the COVID-19 pandemic. She had a solid 2019 season capturing an outdoor 100 meters win at the Masked Rider Open. During the 2019 indoor season Meadows grabbed 60 meters wins at the Leonard Hilton Memorial and the Knight of Columbus Games. The latter meet was held in Canada.
Also included in the field was Tynia Gaither (11.71) from the Bahamas, Kiara Parker (11.74) and Gabriele Cunningham (11.77) of the United States, Canadian born sprinter Leya Buchanan (11.96) and Sydney Conley (11.97) also from the United States.
Veteran sprinter Jessica Beard (32) earned a win in the 400 meters at 52.38. She finished ahead of Jamaican sprinter Chrisann Gordon's time of 52.47. Gordon is a 26-year-old who won an NCAA title in the 400 meters in 2017 when she ran for Texas. Jaide Stepter Baynes was third at 52.54. She was a member of the first place 1,600-meter relay squad at the Pan American Games.
Below: Jessica Beard
Beard is a four-time world champion. She captured her first world gold medals at the 2006 and 2008 World Under 20 Championships when she was a member of the winning 1,600-meter relay squads. She later won two 1,600-meter relay gold medals at the World Championships in 2011 and 2013. Back in 2011, Beard won two NCAA titles in the 400 meters and 1,600-meter relay at Texas A&M. Beard's most recent international honor came when she got a silver medal at the IAAF World Relays in the 1,600-meter relay in 2019.
At the USATF Sprint Summit, Beard also was a winner in the 1,600-meter relay. As part of USA Blue, Beard, joined forces with Kori Carter, Kaylin Whitney and Raevyn Rogers with a winning time of 3:31.86. They topped Hurdle Mechanic (3:33.64) and USA Red (3:42.17).
Hurdle Mechanic was made up of Chloe Abbott, Dalilah Muhammad, Gianna Woodruff and Cara Nneya. USA Red featured Jasmine Blocker, Kendra Chambers, Gabrielle Farquharson and Olivia Baker.
Below: Gabrielle Thomas
Beard competed in the 200 meters as well but the winner in that event was Gabrielle Thomas. Her time of 23.04 put her in front of 100 meters winner Akinosun (23.45) and Stepter Baynes (23.86). Beard was seventh in this event.
Below: Thea LaFond
Commonwealth of Dominica's Thea LaFond earned a win in the triple jump at 14.35. She finished well ahead of the field of seven competitors, including Americans Lynnika Pitts (13.27) and Domonique Panton (13.17) who took second and third. In four meets this year, including indoor and outdoor competition, LaFond has not lost a triple jump contest so far. With last weekend's performance she currently has the second best jump in the world for the this year's outdoor season. Jamaican jumper Shanieka Ricketts is number one, jumping a mark of 14.63 last month in Kingston, Jamaica.