Time to Panic in Cincinnati
0-2, a fired offensive coordinator, and zero touchdowns through two games has the Bengals in a troublesome spot.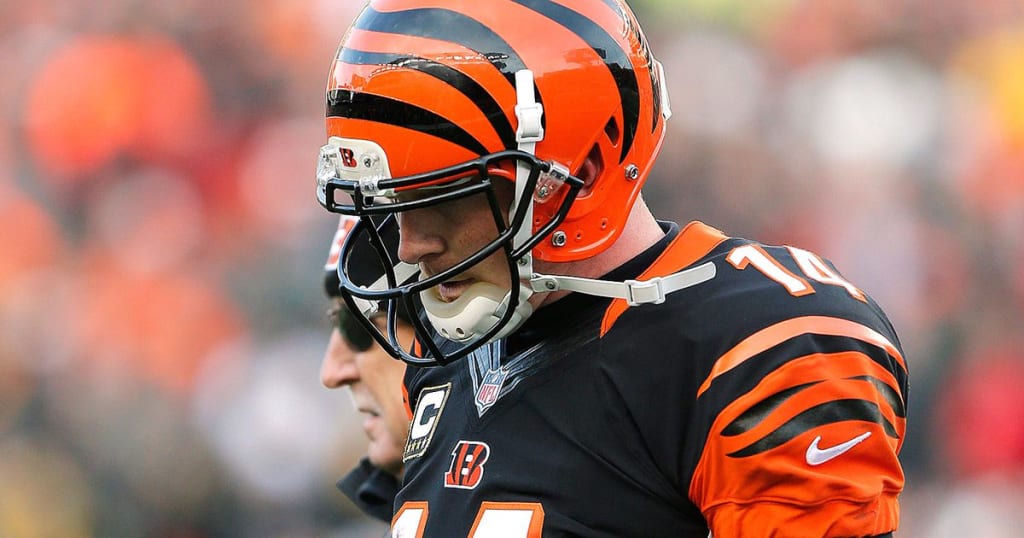 Fox Sports
If they haven't already, it appears to be time to hit the panic button in Cincinnati.
After years of overall mediocrity and a few above average seasons sprinkled it, this Bengals team has come crashing down to earth these last two weeks and it doesn't look like they'll be getting back up.
Just two seasons ago we saw a core of close to the same roster go 12-4 and look like a teams on the rise with one of the most talented squads in the league. Now, though, they sit at 0-2 with zero touchdowns through eight quarters looking as if they'll be a team vying for the top pick in 2018.
This poor of a start, particularly on offense, naturally led to some changes being made. They fired offensive coordinator Ken Zampese who had been in that role since last season and oversaw the offense's fall from seventh (26.2-ppg) in the league in points per game in 2015 to 24th (20.3) in 2016.
Clearly their offense has regressed even further this season as evidenced by their nine total points between two games; both being at home in Cincy. For comparison, even the abysmal New York Jets have fared better than these Bengals.
In fairness, Cincinnati has gone up against two of the better defenses in the league in Baltimore and Houston but regardless, they haven't just looked outmatched by better opponents they've looked totally and utterly lost.
That all starts with the quarterback.
Andy Dalton has been a hotly debated signal caller since entering the league in 2011 and not usually for good reasons. This season there's no debate though, he's been awful.
Through two games he's amassed 394 yards while completing just 54.5% of his passes, thrown four interceptions (and fumbled once), and put up a total quarterback rating of 8.0.
For years before this season the argument has raged on as to whether or not Dalton is an adequate enough quarterback to lead a Super Bowl winning team and up to this point that answer would seem to be a resounding no.
Dalton has mixed in just enough magnificent performances in his seven year career to warrant such talks but it's clear, even when surrounded with top level teams (2013 and 2015) he can't even managed to get his squad out of the first round of the playoffs.
There are even reports now that some Bengals players want Dalton to be benched and the team to sign Colin Kaepernick. Now that may be somewhat outlandish but can anyone really blame them? With all that's gone on, it may be time to for a change behind center in Cincinnati.
Let's not forget about Marvin Lewis.
It's easy to blame a quarterback for these issues and he definitely deserves a lion's share but the other half of it should fall squarely on head coach Marvin Lewis' shoulders.
For about as many years as he's been in the league, Lewis has been on the hot seat in Cincy but managed to survive it, usually by firing others in his place. As far as having the talent to compete in this league goes, Lewis has always seemed to have a good team but never been able to do anything with it.
Not only that but he allowed key players like Andrew Whitworth, Reggie Nelson, and Kevin Zeitler walk out the door in free agency the last two years and it's already been clear those decisions have not paid off.
And if this season doesn't turn around, owner Mike Brown will likely have to part ways with his longtime head coach.
The Bengals have had the talent on both sides of the ball for years but they took the curious risk to let important players walk and, so far this year, it looks like that gamble has helped to expose them and their mediocre quarterback.
No matter if it's Dalton, Lewis, or even Zampese who deserves the most blame for how things have ended up, it doesn't look good in Cincinnati and the panic meter is hitting its max.