This Celtics Comeback Is the Best Performance Yet
Don't look now, but this could finally be proof Boston is a threat in the East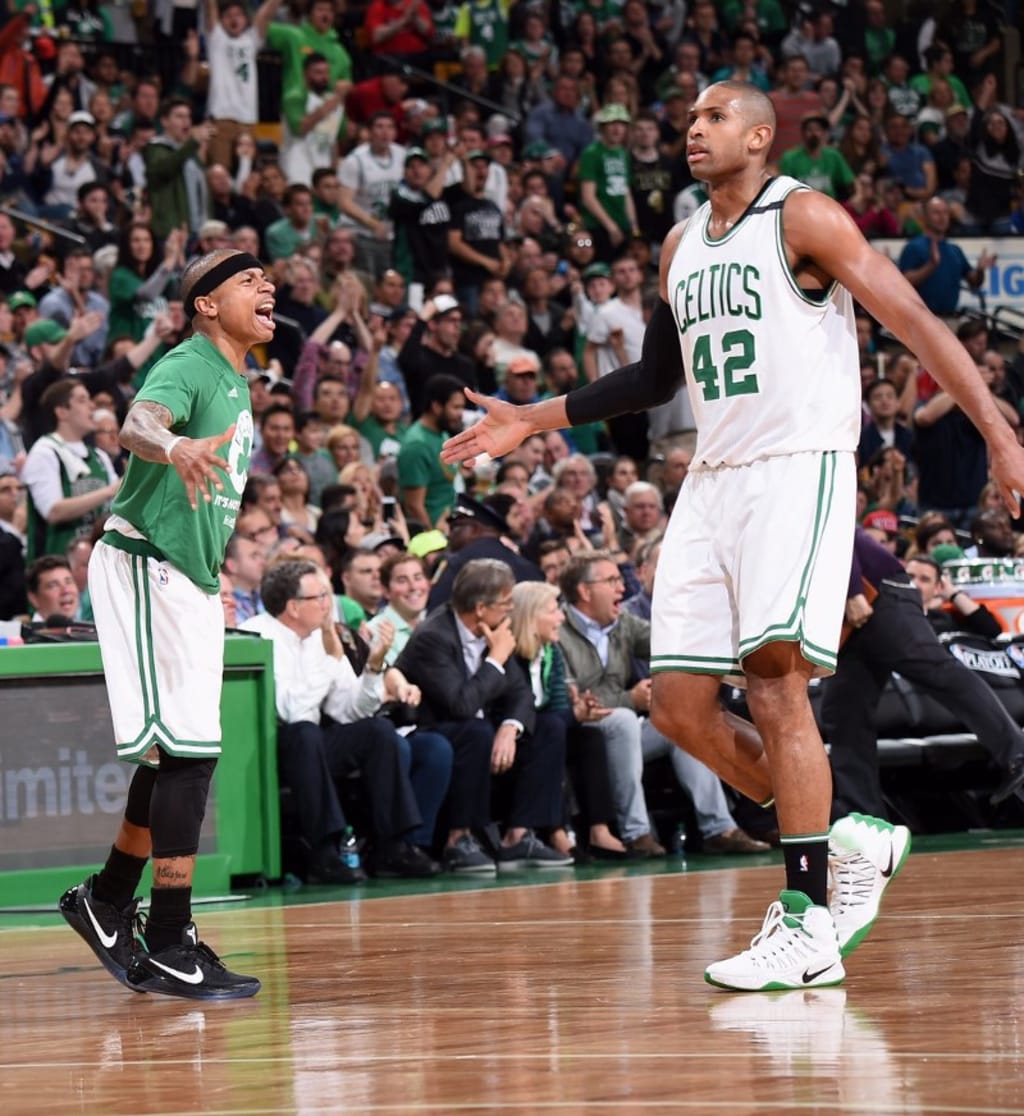 NBA.com
Through the first two games of the series, the accusations looked true. Everyone who claimed this Celtics team was the worst No. 1 seed of all-time were all set to gloat. Playoff Rondo was rearing his destructive head, Dwyane Wade was pretending like it was 2006, and the Celtics bigs were letting Robin Lopez look like a young Shaq.
It sounded over from the Celtics standpoint. People were already throwing their torches under Brad Stevens' seat and ready to sing Sweet Caroline at Sox games instead of dealing with the heartbreak.
That's when the Celtics did it.
As quickly as they were cast aside, they turned into the team that got them into this position. They officially morphed from the one squad that wasn't ready and had no business hanging the top dog label around their neck into a team ready for the second round. It was like a weird, alternate version of Cinderella. Sure, they looked like they belonged with the beautiful title as the best in the East, but they got laughed out of the ball after the first two games. It wasn't until they got pushed towards the dark days of midnight that they buckled up and turned into a true contender.
It's not often you have to make excuses for the top team in the conference when they go against a team barely floating over .500 during the regular season, but the Celtics aren't a regular top team. Let's not forget about Isaiah Thomas dealing with the heartbreak of his sister's death just days before the first two games of this series. Or the fact that this team has no playoff experience as the favorite. They haven't won a playoff series since the Big 3, who raised a banner that roamed Boston. They're just 5–10 since Brad Stevens became the head coach, even after this three-game win streak. Winning a playoff series isn't easy for a team who has never done it before, even if they are the heavy favorite.
I'm a firm believer that tossing around the idea a team has a "switch" for the playoffs is the equivalent to believing Santa and the Easter Bunny play 18 holes on their downtime, but this Celtics team is doing its best to prove they at least have some sort of dial they just flipped upwards. Since they handed a two-game lead to the Bulls the Celtics have held Chicago to under 100 points during each and every win, and have been +21 in the second half. Their free throw percentage has jumped from 65.8% in losses to 88.5% in wins. Their assist to turnover ratio went from 1.66 to 2.59. They're playing defense, hitting free throws when it matters, and taking care of the ball. You will not find me on Iron Chef, but that is definitely the recipe for a championship.
The best part about Boston flipping the script like Eminem during the final scene of 8 Mile is that it's a group effort. Everyone expected IT to explode offensively like he did all season, but everyone else has stepped up when needed. Al Horford has made huge play after huge play and is finally living up to that exorbitant contract he signed this offseason with his statline of 16.0/9.0/6.4; Avery Bradley isn't just putting Jimmy Butler in his pocket, but he's becoming a second scoring option when need be. The 'King in the Fourth' has been Boston's savior this entire season, but has absolutely fallen flat since the playoffs arrived.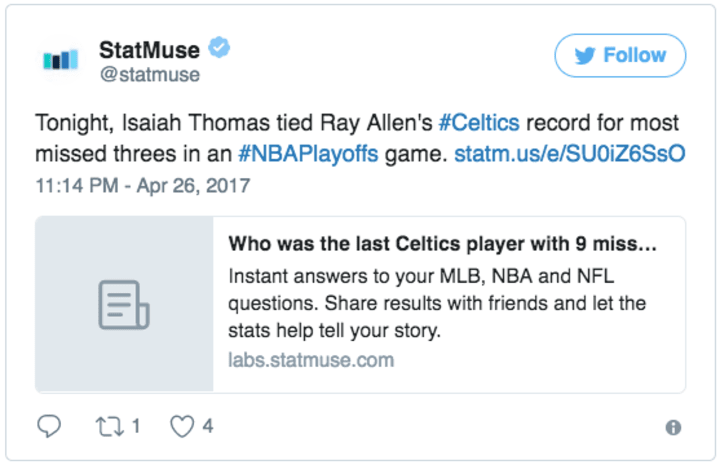 Yet they still won. Yes, this streak and the team's general performance has to do with playoff Rondo taking a leave of absence, but let's not sit here and pretend LeBron James is the one nursing a thumb injury on the sidelines and trying to trip the Celtics as they pass by. It's a huge credit that this team outscored the Bulls 29–16 in the 4th, when their savior couldn't hit the Bulls' bandwagon that has suddenly shrunk in size over the past three games. Rondo is important, but not as much as the top-to-bottom effort that this team has shown.
Even the Celtics' bench has picked it up. After Bobby Portis and Paul Zipser curb stomped the hopes and dreams of Celtics fans after two games, it was the Boston bench that stepped up during the last three wins. Whether it's been Kelly Olynyk doing his best to become the least likely enforcer off the pine: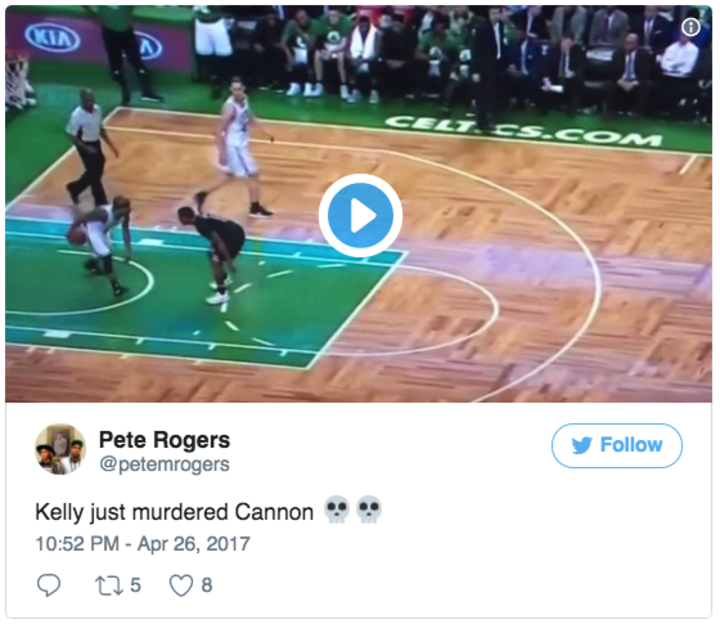 Or Terry Rozier dropping the hammer after a huge steal:
They've been nothing short of a spark. It doesn't take Gregg Popovich to let you know you can't rely solely on the starters to win playoff games. Between Olynyk, Rozier, Jonas Jerebko and Marcus Smart, the second unit has been huge in this comeback.
Coming back from an 0–2 start against a No. 8 seed doesn't exactly make the Celtics the Undertaker of the NBA, but this is the closest a team has ever been to coming back from the dead. Boston is just the second top seed to fall into an 0–2 hole in the history of the NBA. Overcoming those staggering odds shouldn't be a sign of a team limping into the second round. It should be taken as the true emergence of a contender.2