The Women's Royal Rumble: 5 Years Later
Celebrating five years of the Women's Royal Rumble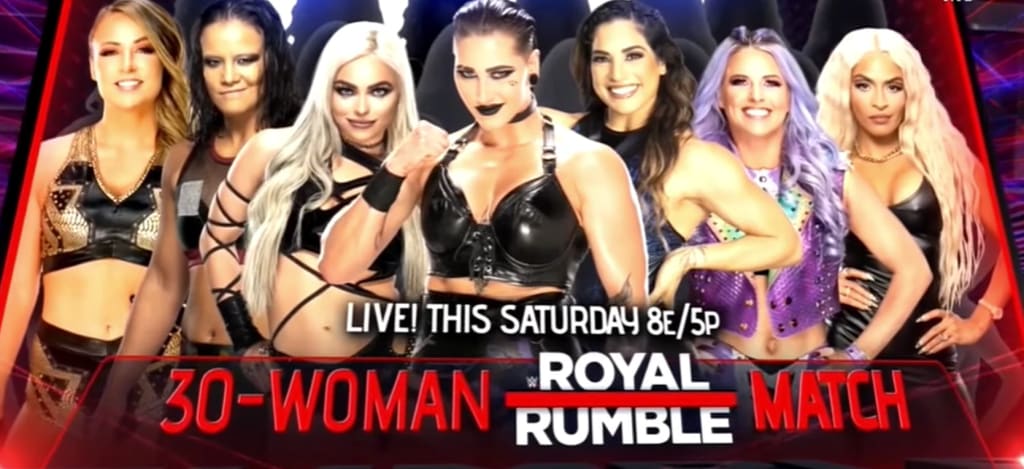 The 2023 Royal Rumble event will take place on the exact five-year anniversary of the very first Women's Royal Rumble match. Hard to believe that this historic and amazing phenomenon happened five years ago; it seems like yesterday that this announcement was made and I was nearly in tears of joy when I heard it. I had been wanting a Women's Royal Rumble match for years, and on January 28, 2018, we finally got it. It was perfect for this fan; women's wrestling and the chaos of the Royal Rumble match all in one fell swoop.
Similar to the men's match, the rules are simple. 30 women participate, and of course, elimination comes when a combatant is sent over the top rope and both feet have to touch the floor--aka the "Shawn Michaels Rule." The last woman standing receives a title opportunity at WrestleMania, the absolute ultimate goal for anyone in WWE. Five different women have made history as winners of the Women's Royal Rumble match, and they are as follows:
Asuka (2018)
There's always has to be a first-one ever in these first-time evers, and in the case of the very first Women's Royal Rumble match in 2018, that historic honor went to Asuka. Asuka entered the inaugural match at #25 and lasted almost 20 minutes, while eliminating three women. The third elimination (Nikki Bella) was the winning one, and with that victory, Asuka made history as the first Women's Rumble winner. Because the Women's Rumble served as the main event, Asuka became the second Japanese wrestler to win a Royal Rumble match, as Shinsuke Nakamura became the first earlier in the event. Asuka challenged Charlotte Flair for the SmackDown Women's Championship at WrestleMania 34, but she was defeated, ending Asuka's undefeated streak.
Becky Lynch (2019)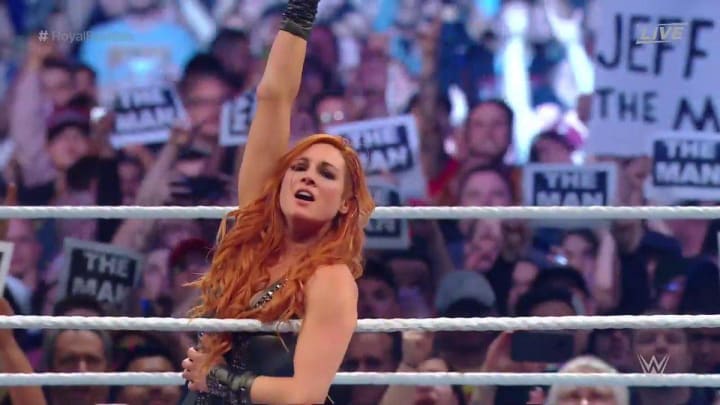 Year Two was filled with a lot of surprise entrants from NXT and elsewhere, though one big surprise came in the form of Becky Lynch. Becky had a busy night; first off, she challenged Asuka for the SmackDown Women's Championship, but fell short of that goal. Then the Women's Rumble progressed, and when #28 was announced, Lana came out, only to suffer an ankle injury and end up left unable to participate. At that moment, Becky took it upon herself to replace Lana, pleading for that chance before finally getting the go-ahead to enter. Becky only ousted two women: Nia Jax and Charlotte Flair, but it was the latter that gave her the win after just 13 minutes and 20 seconds of competing. Of course, that was Becky's road to becoming "Becky Two Belts," as she defeated Charlotte and Ronda Rousey to win both Women's Championships at once at WrestleMania 35.
Charlotte Flair (2020)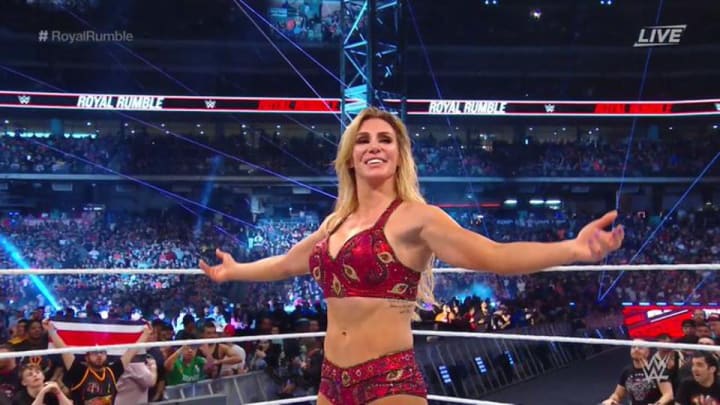 What do you get the woman who has everything? How about a Royal Rumble victory? That is exactly what happened with Charlotte Flair on this day in 2020. A wild and chaotic Women's Rumble match (which this fan needed badly because I--and many, many others--was still reeling from the shocking and tragic news of the passing of Kobe Bryant) saw a lot of big entrances, and some wild moments--the wildest being surprise entrant Beth Phoenix continuing to march on even as the back of her head was gashed. As for Charlotte, she entered at just a hair below the middle of the pack at #17 and lasted just over 27 minutes, while eliminating four women. Of the four she eliminated, Bianca Belair was one of them, the woman who entered at #2. The winning elimination was Shayna Baszler, the final entrant, and after joining Asuka and Becky Lynch on the short list of Women's Rumble winners, Charlotte actually used her opportunity on the NXT Women's Championship, which she won from Rhea Ripley at WrestleMania 36.
Bianca Belair (2021)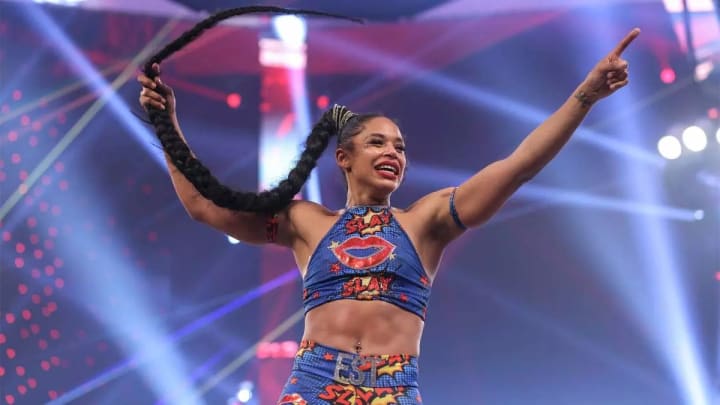 In 2020, Bianca Belair was one of the first two competitors in that year's Women's Rumble. Though she endured, she came up short of that ultimate goal of winning. In 2021, Bianca had to endure once more. After Bayley and Naomi started the match, Bianca entered the contest at #3, meaning that in order to win, she had to run the table. Sure enough, she did. After almost 57 minutes of fighting, Bianca emerged as the last woman standing, ousting Rhea Ripley to become the first Black wrestler to win a Rumble match since The Rock did so in 2000. She also stands as the earliest entrant to win the Women's Rumble in its short history, and regarding WrestleMania, Bianca went on to defeat Sasha Banks in the main event of Night 1, to capture the SmackDown Women's Championship.
Ronda Rousey (2022)
When Ronda Rousey lost the Raw Women's Championship at WrestleMania 35, that was her last appearance in WWE...until last year's Rumble. Of course, the great highlight of the Women's Rumble was finally seeing Melina as a surprise entrant, but later on, we received another surprise when Joan Jett's "Bad Reputation" started playing. Out came Ronda Rousey at #28, and only needed just over 10 minutes to eliminate four women, with the last one being 2020 winner (and then-SmackDown Women's Champion) Charlotte Flair to win the Rumble. That "final two" encounter was the closest we came to seeing the first-ever two-time Women's Rumble winner, but Ronda destroyed those aspirations. These same two women ended up clashing for the SmackDown Women's Championship at WrestleMania, but Ronda was actually defeated.
Those five women are etched in history as Women's Royal Rumble winners, and overall, the winner of the Women's Rumble is 3-2 at WrestleMania. The Royal Rumble has always been my all-time favorite event, mainly because of the chaos involved with the Rumble match. It has increased since 2018 with the Women's Rumble, and while I do sense that we won't get a whole lot of surprise entrants, I will enjoy this year's Women's Rumble, because I always do.
Reader insights
Be the first to share your insights about this piece.
Add your insights