A Look Back: Victoria and Christy Hemme's Brief Feud
The 2005 rivalry between Victoria and Christy Hemme was short, but quite memorable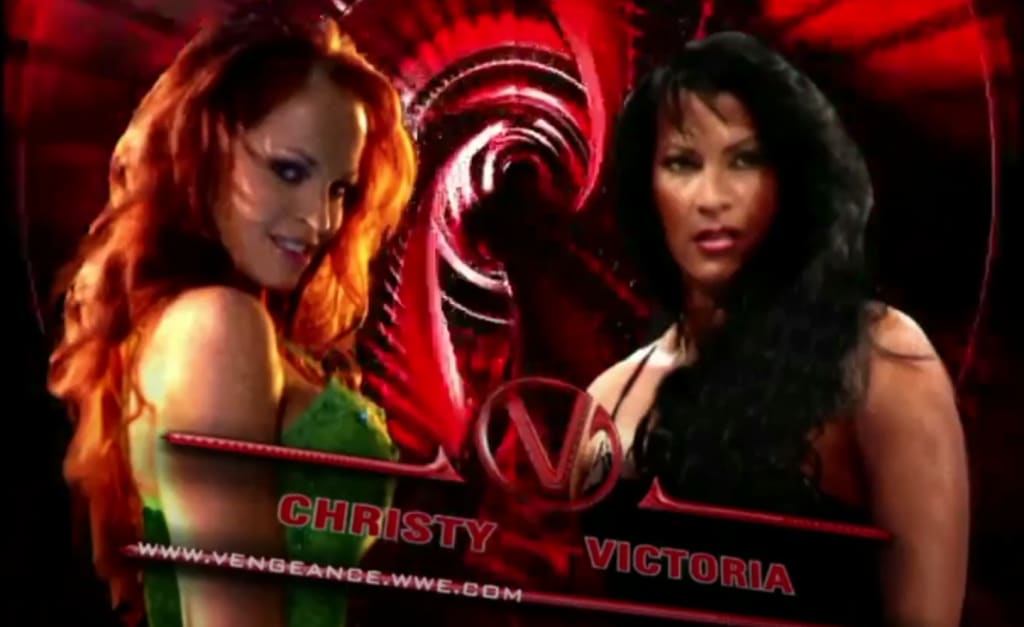 It's been a while since I wrote about a wrestling feud, and I thought I'd break my hiatus with a women's wrestling angle that I remember very well. Of course, back then, the storylines and feuds in women's wrestling were usually brief and didn't get a lot of good attention as compared to now, but even so, there were a lot of good moments, and this short feud between Victoria and Christy Hemme in 2005 was one of them. I remember this storyline very well, and I also recall the weird moment that led to this happening. But without further ado, the players involved:
Victoria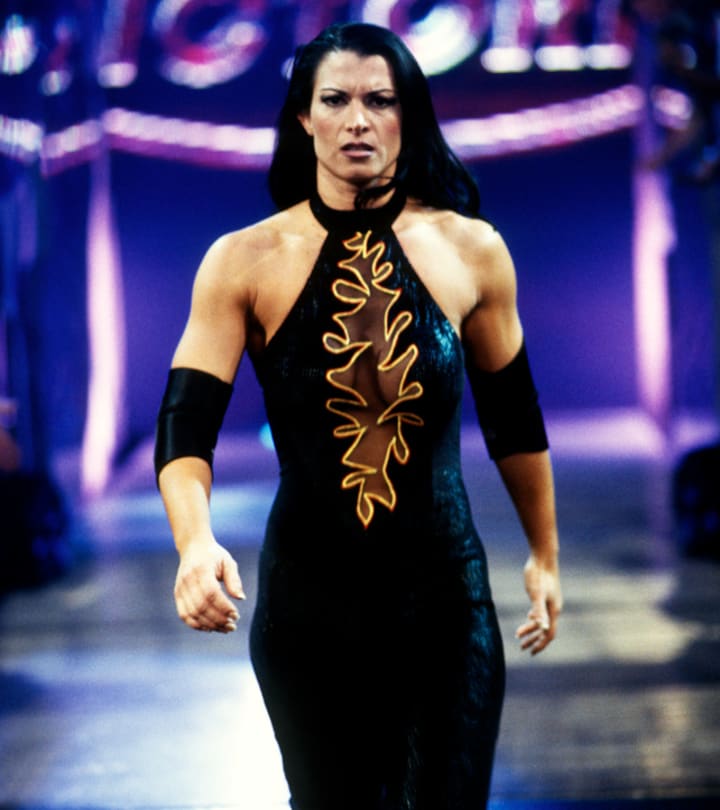 Entering this angle, Victoria (Lisa Marie Varon) had been in WWE for three years, having been in developmental and side roles for two years before beginning her official run in 2002. As we know, Victoria's very first angle was with Trish Stratus, with a storyline that they were fitness models together until Trish left for WWE. As part of the angle, Victoria became a maniacal villainess hellbent on destroying Trish, and it led to Victoria defeating Trish at Survivor Series in a Women's Hardcore Match to capture the Women's Championship for the first time. She would add a second run as champion in February 2004, doing so as a babyface and winning the title in a four-way match, and it led to the memorable bout at WrestleMania XX, where she not only defeated Molly Holly to retain, she shaved Molly's head as part of the stipulation.
Christy Hemme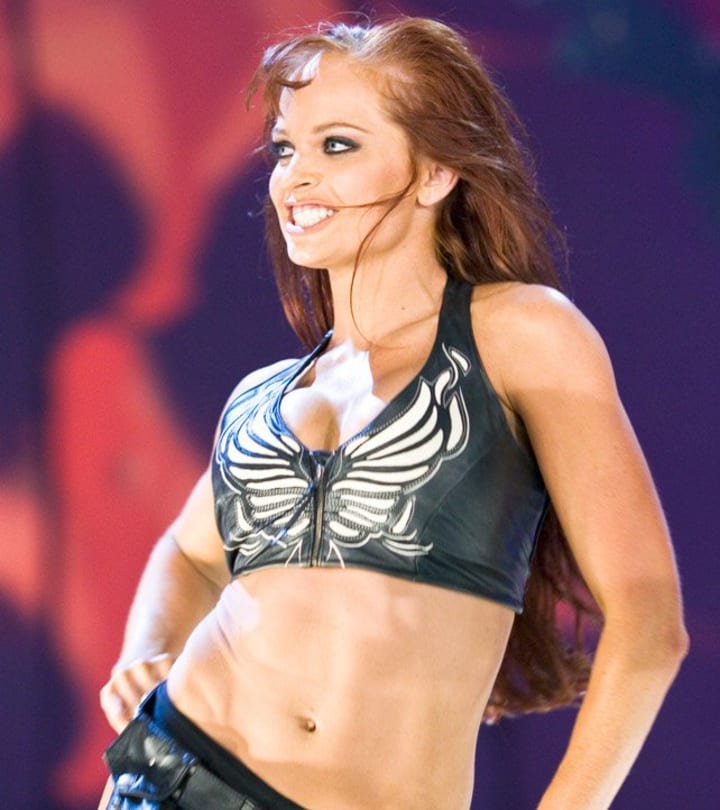 I still remember the 2004 Diva Search, which was a new thing that WWE was doing to add more female talent. It was a big thing compared to some later years, and we would see the competitions between the finalists take place on Raw week-by-week. In the end, it was Christy Hemme who won the contest, which included a contract worth $250,000. She was put right to work after winning, as she was in a brief feud with evil runner-up Carmella DeCesare, and as we recall, Christy ended up in an angle with then-Women's Champion Trish Stratus heading into WrestleMania 21.
How it Began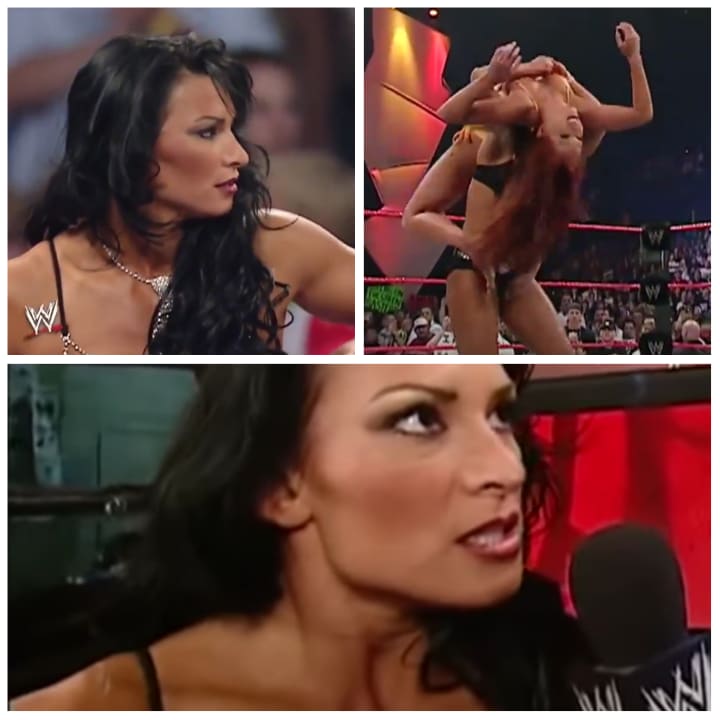 It was Memorial Day in 2005, and that night's Raw actually kicked off with a bikini contest hosted by Jerry "The King" Lawler. The participants involved: Candice Michelle, Maria Kanellis (both alums from the 2004 Diva Search), Christy Hemme, Victoria, and Lilian Garcia. Yes, Raw's ring announcer was part of this contest, until she was wooed away by Viscera (another interesting angle that took place that year). So the other four contestants remained, and a winner had to be crowned (not a pun). The honor went to Christy, and while she celebrated with Maria and Candice, Victoria, well, wasn't too pleased.
Victoria left the ring, but she would return and unleash hell on everyone. She attacked Maria and Candice, delivered a low blow to Lawler, and saved her worst for Christy--delivering a Widow's Peak to the contest winner. Victoria turned heel for the first time in over a year, and right after her attack, she revealed her reason: Christy. Victoria lambasted Christy and stated that she was tired of seeing Christy getting all of the attention, adding that Victoria deserved the spotlight.
Now, before I continue, I have to mention the crazy reason for this feud. So sometime prior to this, Lisa Marie Varon said that she was "legitimately jealous" of Christy's paycheck. I and a lot of other fans took it as an innocent statement that showed that Varon was happy for Christy, but some fans took it a different way and made it seem like the two women despised each other. Shortly after this, Victoria turns heel on Christy. Yeah, they clearly decided to use the dueling opinions on Varon's statement to make a feud out of this.
The Announcement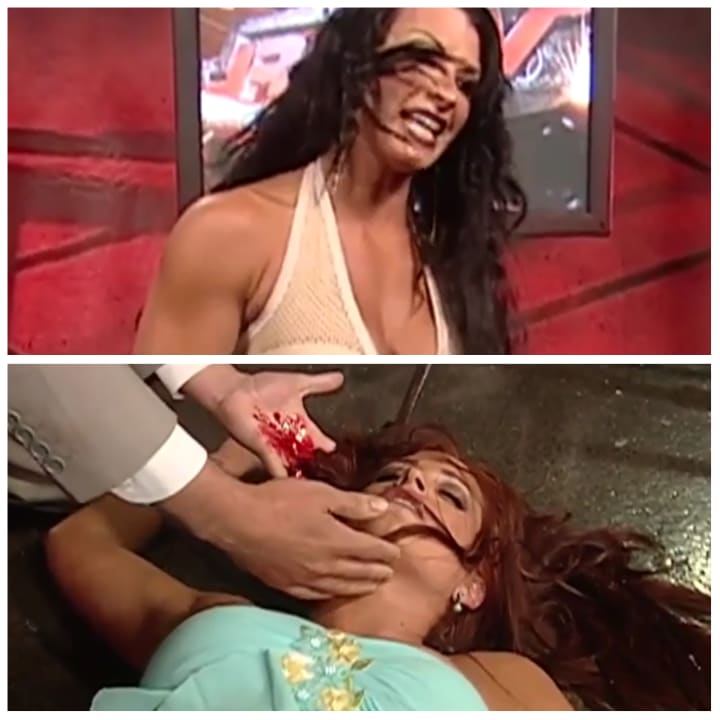 Victoria and Christy crossed paths in a six-person bout, and I still remember Christy really going after Victoria, as it was a week after the attack. Finally, two weeks after that match, it was officially announced that Victoria and Christy would face each other at Vengeance, and on that night, Christy brought up their last encounter and how much Victoria angered her. She was looking forward to her opportunity at Vengeance, but out of nowhere, the evil Victoria struck Christy's head with a glass jar, while informing her foe that she was every bit of a "bitch" that Christy said she was.
That moment still plays in my head even now. It's a rare moment where we see that level of violence from WWE's women, and in addition, it was Victoria going back to that psychotic villainess role that she played in her early years. We do get that now from WWE's female superstars, but it was quite exciting back then, because it was so rare at that time.
The Match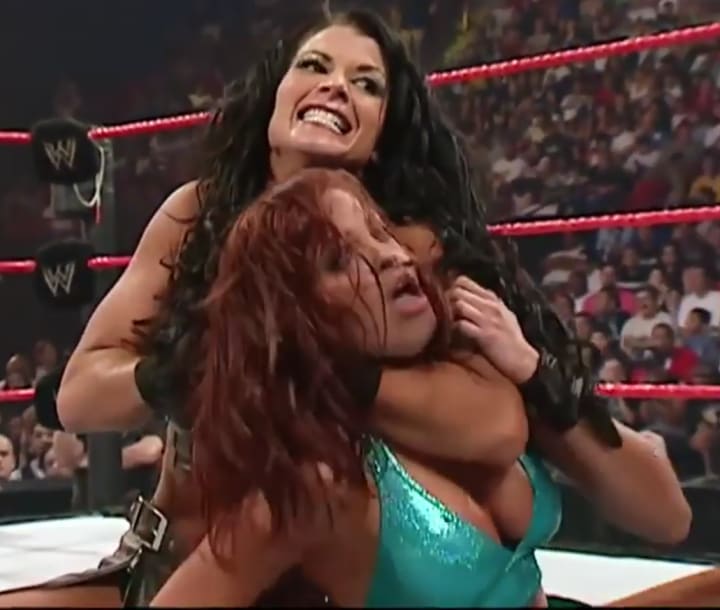 The match went pretty much as I expected, but it was quite enjoyable. Victoria and Christy played their roles well; Christy was competing in her second actual pay-per-view match (WM21 was her first), but I felt that she was improving from that bout, and she played the role of that babyface "rookie" immensely. Victoria, no surprise, was stellar as the crazed veteran villainess looking to finish the job against the central object of her rage, and also no surprise, Victoria won their bout. It was short but sweet, and the story was told well, and also closed with their contest.
Aftermath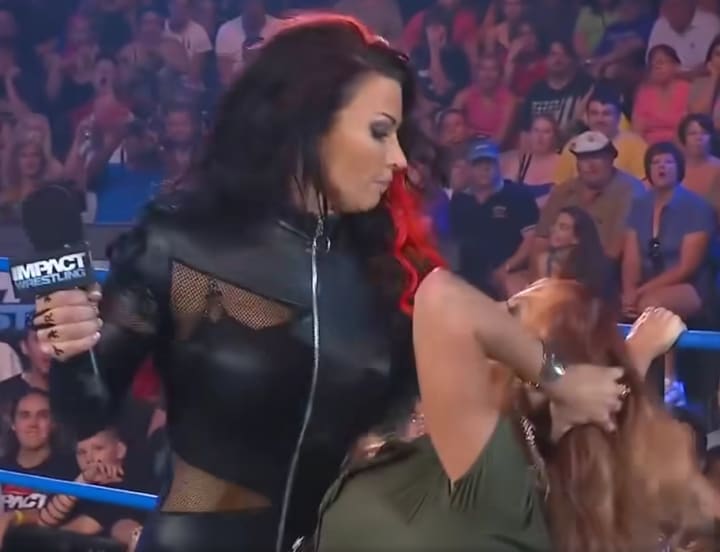 A couple of months after her feud with Christy ended, Victoria aligned with newly-turned villainesses Torrie Wilson and Candice Michelle to form the Vince's Devils faction, with Victoria cemented as the enforcer of the trio. The trio lasted until March of 2006, and regarding her WWE tenure, Victoria would remain a heel up until her last match in 2009. As for Christy, she was drafted to SmackDown right after Vengeance, and engaged in a brief feud with Melina before leaving WWE just months later. She joined TNA (now known as Impact Wrestling) as a hostess and competitor, though she later became their ring announcer for several years.
Varon debuted in Impact as Tara in 2009, which brings me to this moment in 2012 between Tara and Christy in 2012. A week prior to this, Tara turned heel on her tag team partner (and Knockouts Champion) Brooke Tessmacher, and on that evening, she ranted about how Brooke used her for her own gain, and even called out Christy and attempted to intimidate her. It was a short moment, but I loved it because it brought me back to their WWE feud. Their 2005 feud was short, but it was very sweet. It was an amazing angle that was done way before things for WWE's female superstars elevated to an exponential level (though the problems with elevation still remain), and it was definitely an angle I enjoyed watching play out.
If you like this story, click the heart and the subscribe button, and feel free to comment below! Tips and pledges would be greatly appreciated, but only if you want to do so!
Reader insights
Be the first to share your insights about this piece.
Add your insights