The Paternal Ancestry of Michael Jordan
Researching who the basketball legend descends from on his father's side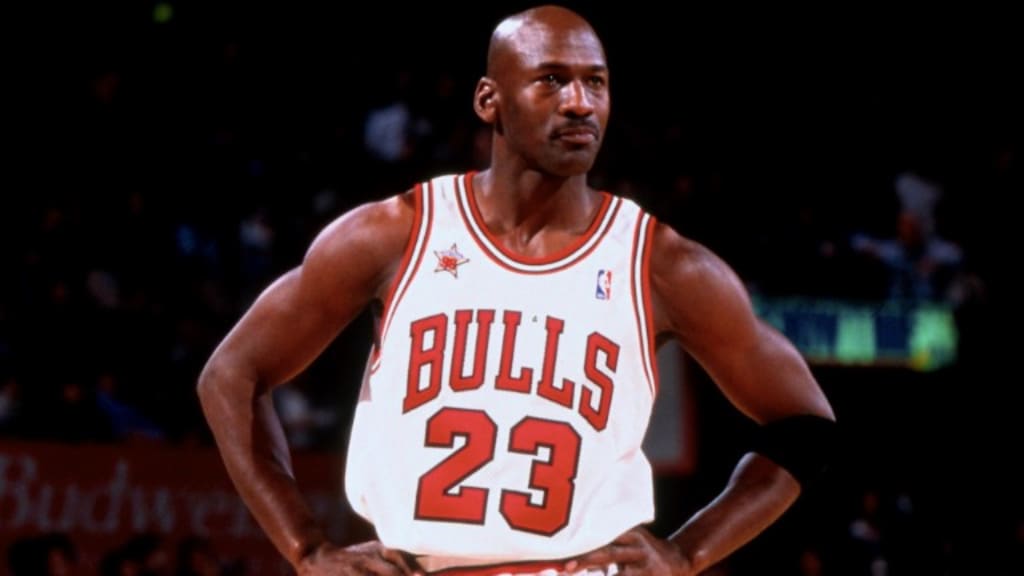 Michael Jordan was born February 17th, 1963 in Brooklyn, New York to James R. Jordan and Deloris Peoples. Michael and his family would soon move to Wilmington, North Carolina when he was just a toddler due to an increase in crime in Brooklyn. By Michael's sophomore year of high school he was 5'11 and was believed to be too short for the varsity basketball team at Emsley A. Laney High School. Michael would instead join the Junior Varsity team where he averaged 40 points per game becoming the star of the team. This, combined with Michael growing four inches over the summer, helped Michael earn a spot on the Varsity team in his Junior year. In his Senior year, Michael was recruited by several colleges but chose to attend the University of North Carolina at Chapel Hill. Michael would go on to be drafted 3rd overall by the Chicago Bulls in the 1984 NBA draft. Michael would go on to play 14 seasons with the Chicago Bulls and 3 seasons with the Washington Wizards. Michael also played on the United States Olympic teams in 1984 and 1992 where he won a gold medal at both. Currently, Michael is the majority owner of the NBA team the Charlotte Hornets.
Michael Jordan's Father
James R. Jordan was born July 31st, 1936 to William E. Jordan and Rosa Bell Hand in Wallace, North Carolina. James attended Charity High School, where he would meet Delores Peoples. The two would marry on September 19th, 1960 in New Hanover, North Carolina when James was 23 and Delores was 19.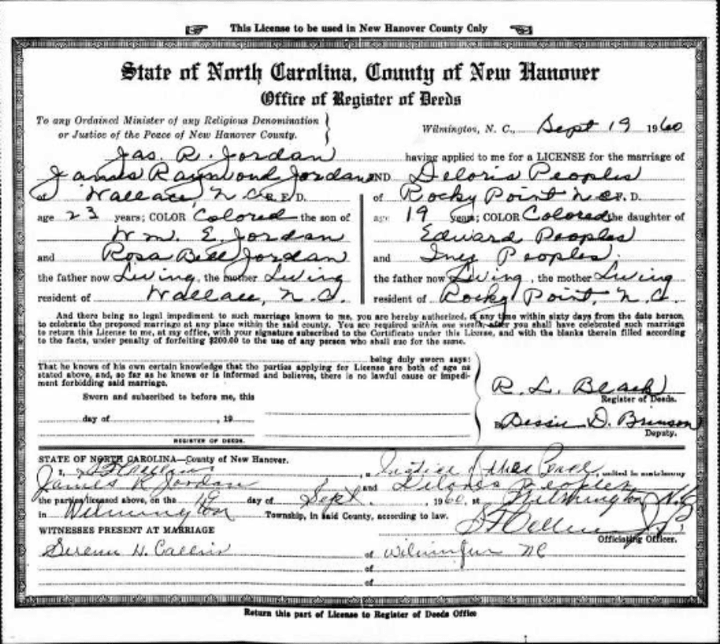 On July 23rd, 1993 James pulled over on the side of highway 74 in Lumberton, North Carolina to take a nap after returning back from a funeral. During this time, two men approached James' vehicle and shot him to death and stole his vehicle. He was 56 years old.
Paternal Grandparents of Michael Jordan
William Edward Jordan was born March 2nd, 1915 in Pender County, North Carolina to Dawson Jordan and Clemwood Burns. Rosa Bell Hand was born September 6th, 1919 in Pender County, North Carolina to James Chester Hand and Ada Herring. Both William and Rosa lost their mothers at an early age, William lost his mother died when he was just 1 and Rosa lost her mother in 1930 when she was 10 years old. In the 1930 census, William is listed as working for his father on his farm at age 15. On February 1st, 1937, William and Rosa married in Pender, North Carolina when William was 21 and Rosa was 17.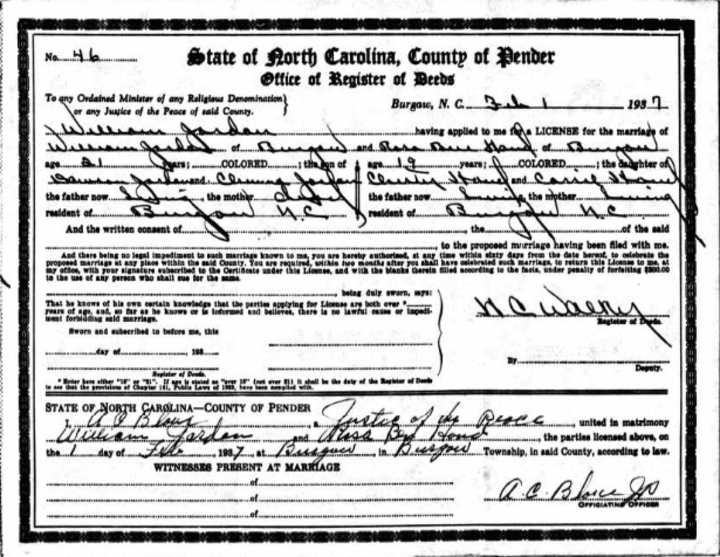 At the outbreak of World War Two, William registered for the draft. On his draft card he is listed as being 25 years old, living in Pender County, North Carolina, and working at a place called Harrells Store. It is unknown if William was ever drafted or if he ever served in combat.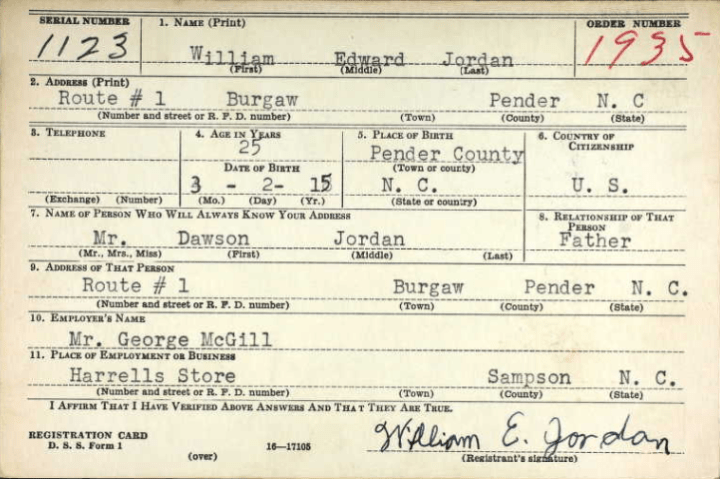 Rosa died on December 4th, 1988 at age 69 and William died on July 3rd, 1990 when he was 75. During their lives together, they would have four children, Maryallene, James, Esta, and Harry.
Paternal Great-Grandparents
Dawson Jordan was born June 24th, 1892 in North Carolina to an unknown father and Charolette Reilon. Clemwood Burns was born December 10th, 1890 in Pender County, North Carolina to William Burns and Laura Roberson. Dawson and Clemwood married January 28th, 1914 in Pender, North Carolina when Dawson was 21 and Clemwood was 23. On June 5th, 1917, Dawson registered for the draft for World War One. At the time, Dawson is listed as working as a farmer in North Carolina. It is not known if Dawson was ever drafted into the military but it is known that he lived beyond both World War One and World War Two.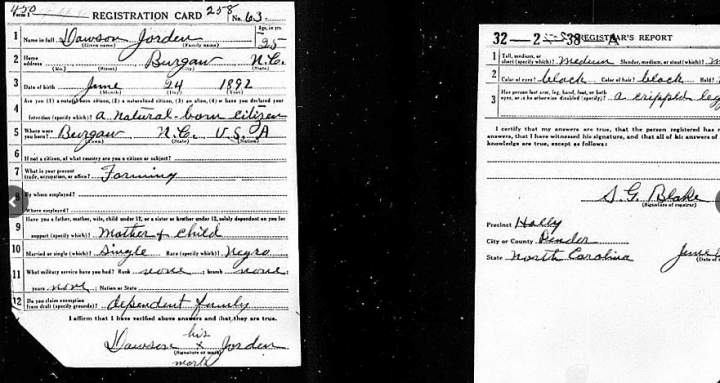 Unfortunately, around the same time that Dawson registered for the draft, his wife Clemwood died on April 3rd, 1916. She was just 25 years old.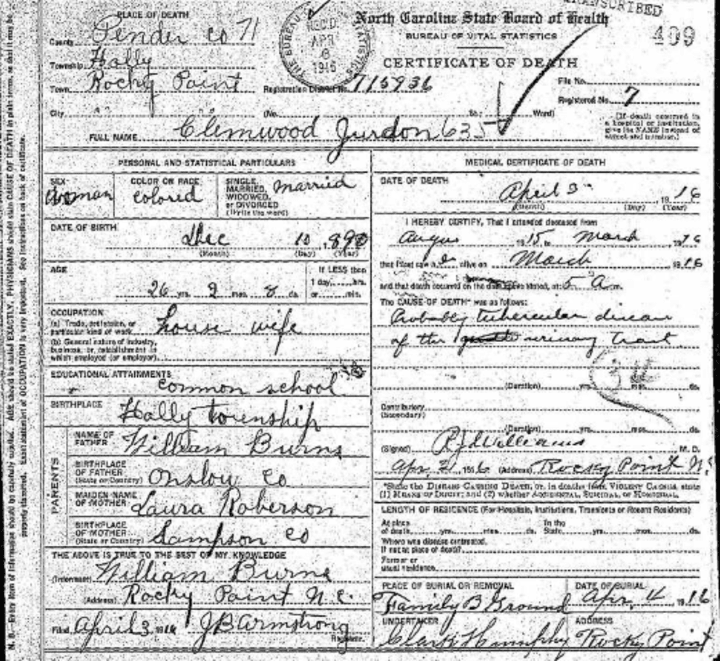 Dawson Jordan died on February 17th, 1977 in Duplin County, North Carolina at age 84. He is buried at the Rockfish African Methodist Episcopal Cemetery in Teachey, North Carolina.