The lioness has laid to rest
Amanda Nunes' retirement and what it means for the WMMA world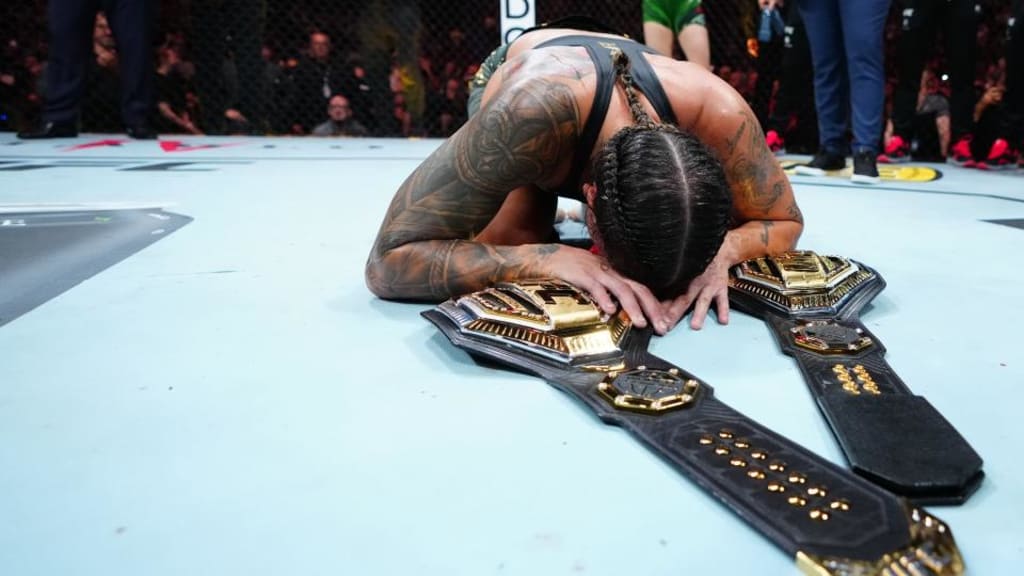 I do not own the image above, no copyright is intended
The double champ has officially retired as of this weekend. It's never been a secret my favorite female fighter is Valentina Shevchenko, so Amanda Nunes is always a sore subject for me. I would have loved to see Valentina redeem her losses. But it is what it is and this article is for Amanda. My goodness what an amazing career she has had.
Amanda without question is the GOAT of women's MMA. I'm sorry, I have to make that distinction but in my eyes even though he could never achieve double champ status, I had the incredible pleasure of growing up watching Anderson Silva throughout his entire prime. He's still my GOAT with GSP as a VERY close second. Jones comes 3rd in my book. Then Amanda. Boy I can't wait to get heat from Khabib fans after I publish this article. Anyways my goodness (you're going to hear me saying that a lot in this article, and rightfully so), Amanda was absolutely amazing to watch and she's an inspiration for so many young women who are aspiring to become fighters. I know for a fact we'll be talking about Amanda and her UFC career for many, many years to come.
Amanda is the ONLY woman in the UFC to be double champ, she's the only double champ to regain that prestigious title after losing her belt and she did it immediately, she absolutely OBLITERATED both Ronda Rousey and Cris Cyborg so bad one retired immediately in her prime and the other ran out of the UFC. She was able to defeat my favorite fighter, not only once but twice. Amanda took on every challenger and thrived, and even when she dropped her belt to Pena. Amanda absolutely obliterated her in their rematch and proved Amanda was in another atmosphere at her best. Amanda's MMA resume is absolutely insane and will hard to beat by anyone who isn't already there. The only active female I could see surpassing Amanda any time soon is Valentina. And even then, in my opinion in terms of MMA/UFC Valentina still needs to accomplish a little bit more and she'll have a legitimate conversation with Amanda as the WMMA GOAT.
Unfortunately I do believe this is truly the end of the women's featherweight division on the UFC. Which is a darn shame. I've done all I can to promote the division and support the fighters. Unfortunately my platforms don't have nearly enough pull to convince Dana to believe in the W-FW division. Nor do I have nearly enough reach to gravitate eyes to the Women's Featherweight division so casual fans can see what I see. I would have loved to see Megan Anderson return to the UFC. She's a great talent and incredibly marketable, but unfortunately she's hung up her gloves until further notice. Maybe she'll make a comeback the same way Miesha Tate did. I also would have loved to see the growth of the division as a whole of course, there's so much unrealized talent in the world that could come to the UFC. As of the publishing of this article nothing has been confirmed by Dana himself of retiring the division, but it's not looking good.
Enjoy your retirement champ! You have absolutely earned it.
Thank you for your time, I hope you enjoyed what you have read today, feel free to subscribe. I have plenty of different articles on many different topics, if you so choose to check them out. Also if you would be so kind, I would greatly appreciate a heart. Lastly; if you really feel so inclined tips and of course pledges (currently only $2.99 a month) are always appreciated but by no means required.
About the Creator
Jack of all trades, master of none.
Feel free to use my link to sign up for vocal+
https://vocal.media/authors/dyllon-rodillon?via=dyllonrodillon