The James Harden Bandwagon Grew After Game One
All-abroad the Harden train, still accepting passengers for the playoffs run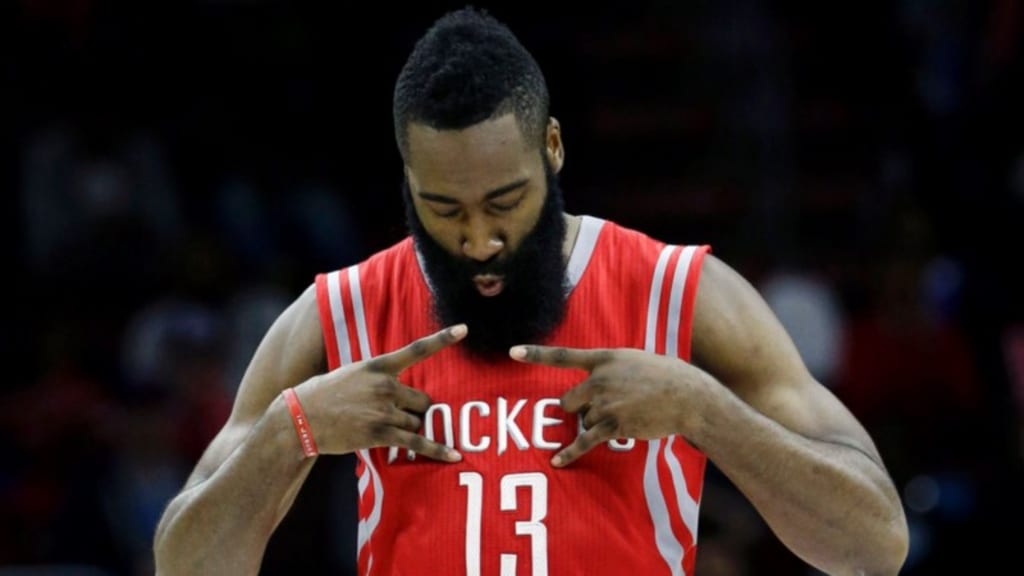 The Houston Rockets put an absolute ass-whooping on the San Antonio Spurs on Monday night, and it was some of the most fun basketball to watch. The Rockets shot 22 of 50 from deep in a playoff game, and, for added fun, it was against the Spurs who had the most efficient defense this past regular season. Houston has a great team put together for the Mike D'Antoni run and gun show, and Harden has become the captain of the ship. Just like the Suns with Steve Nash, the Rockets have figured out how to make the most three pointers in a regular season ever and do it in a seven second shot system.
If any team in the Western Conference is going to be able to beat Golden State, it's Houston. They shoot threes at an alarming rate, but don't necessarily have the defense to stay with the Warriors. Harden most likely wins MVP, but he has a chance to become the MVP of the playoffs if Houston keeps on advancing.
Harden made the transition from shooting guard to point guard at the beginning of this season. Now, Harden is a large human being standing at six feet five inches tall, and he is also a large human being in being 220 pounds. If I did the math right that's like three of me tall, and at least four of me in weight. Harden isn't built like a point guard, but he sure can run an offense like one. While he only put up 20 points against the Spurs in game one, he dished out 14 assists. I know of some people that despise James Harden because of his willingness to play the game to the rules and shoot like 37 free throws a game for all his points. I'll admit, I hated that about Harden too, but he's getting a lot of money and he's super good at driving, getting hit and getting his free throws. Actually wait, I still hate that about Harden, but everything else with him is cool. Another thing that's annoying is the cooking celebration he does, but I'll let it slide.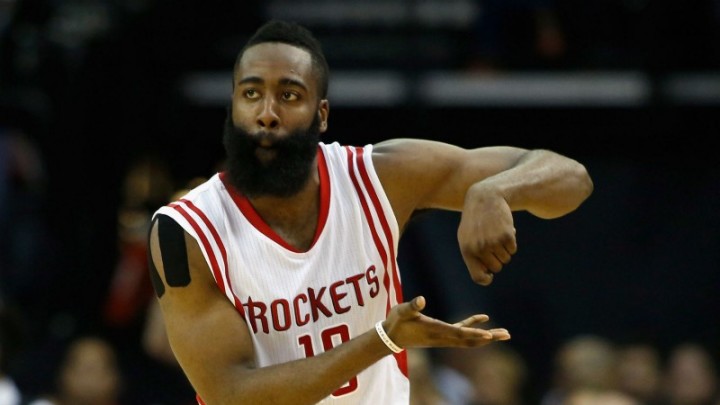 James Harden is leading the Rockets to places they never would've went with Dwight Howard on their team nor if Harden never moved to point guard. This season Harden posted a plus/minus of 6.2, and last season he pooped out a plus/minus of -16.4. He's still putting up the same amount of shots per game with 20, but he's getting to the line four more times a game than he was the previous season. As the facilitator of the Rockets, he's able to make the snap decision to drive and go for the foul line. Last season he would normally have to wait for the point guard to bring the ball up and pass to Harden before he was able to make that decision. He's a good point guard who still likes to get his shots up. The Rockets have plenty of scorers on their team with Eric Gordon, Lou Williams and Trevor Ariza, but Harden can still be their main scorer while being their main facilitator.
Harden is still averaging the same amount of turnovers this season as he was last season and setting the season turnover record again isn't really a good thing (go figure). His usage rate went up this season from 31% to 36.2% and his true shooting percentage skyrocketed up from 55% to 60%. Not a ton has changed with Harden's touches, but the difference is he's the one starting with the ball and not having to call for it. I see the turnover average as a plus because last season he wasn't in complete control and still turned the ball over just as much. He may be a tad lackadaisical with ball security, but if they can shoot 22–50 from three in a playoff game then why does it matter?
The Houston Rockets have only a one game series lead over a 61 regular season win San Antonio Spurs, but with a 27 point win in San Antonio it could be a very quick series. I see the series ending in five just because Kawhi Leonard will have a supernova of a game and hang 40 something points while the Rockets only make four three pointers. The Rockets will more than likely play the Warriors in the Western Conference Finals, and it could be an extravagant three point mirage series.
The Rockets have the ability to shoot and keep pace with the Warriors and I could see the Rockets winning in seven games if they can shoot like they did in Game One against the Spurs. The Rockets shot 44% from three in Game One and Harden didn't have to explode on the scoring end. If Houston wants to advance to the Finals they'll need that 44% from three AND a scoring explosion from Harden.
The Rockets can win a seven game series against the Warriors, but they have to put together four absolutely perfect games to do it. I've jumped on the James Harden fun bandwagon, but the Rockets still have a huge journey ahead of them if they advance through the Western Semifinals.