Skating back
It's a pre-season tournament like no other for British hockey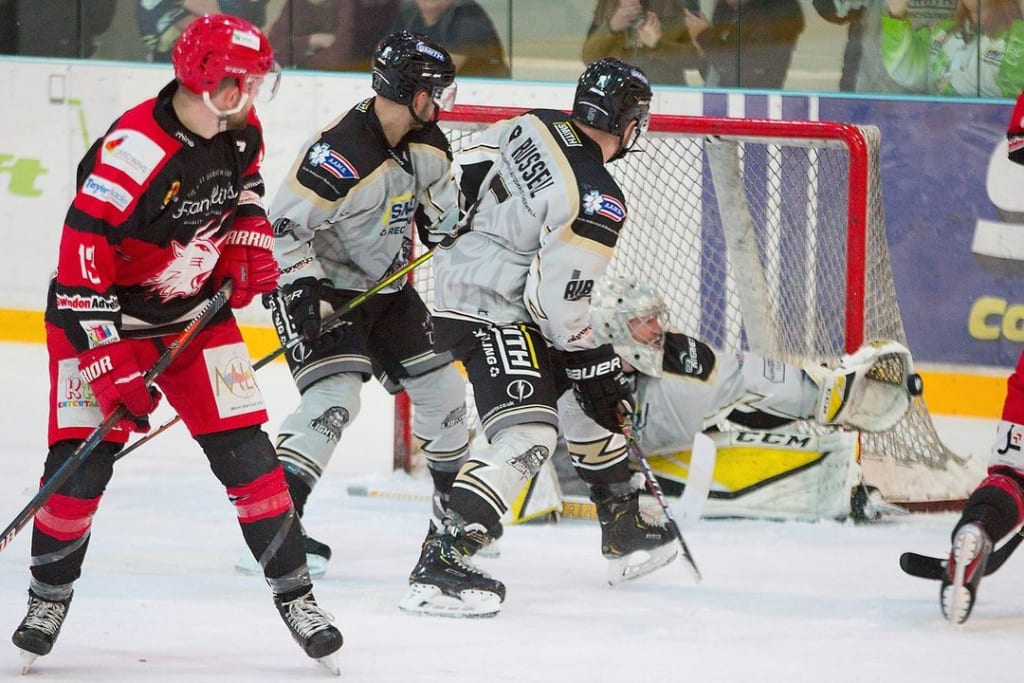 Photo courtesy of Milton Keynes Lightning Instagram.
Ice hockey action returns to Britain this weekend after being frozen out for months due to the coronavirus pandemic. But with England back in lockdown and fans forbidden, the first steps are cautious as clubs look to find out whether playing behind closed doors is feasible.
The so-called Streaming Series takes three teams from the second tier NIHL National – MK Lightning, Sheffield Steeldogs and Swindon Wildcats – and puts them into a home-and-away round robin over the coming three weekends. If enough fans buy into the concept, and buy passes to stream the games live online, there are hopes that some kind of league season can follow in the New Year.
It's a radical step, especially considering that hockey in Britain is very much a 'bums-on-seats' business model. The top-flight Elite League cancelled its 2020/21 season, fearing it would be unaffordable if arenas could not be filled to at least 80% capacity. But one level down, clubs are willing to give it a try.
New experience
In Sheffield, which hosts its first game on Sunday, Steeldogs owner Ali Cree is adapting to a new way of promoting his team.
"A lot of this is new – we're trying to get people to buy tickets in advance, when usually we have maybe 85% of our ticket sales on the day," he said. To that end, the club has been running prize draws for fans who buy in early.
"It's nice to get that little peace of mind because as soon as we go on the ice, we're liable for the costs of the players," Ali added. "But from my point of view it's exciting each day seeing how the sales are going. When we've announced new signings, we've immediately had quite a few extras."
In Milton Keynes, Lightning CEO Claire Eason-Bassett is drawing on a theatre background to help promote the online concept.
"Of course, selling live streams of games is a different experience," she said. "But I know that all three teams are working really hard on producing a good show for the fans.
"My background is theatre and dance, and event management. So from that perspective, I want to make sure we create something that has all of the value we can possibly generate in terms of entertainment, production values, sponsor engagement ... and creating a product that is consistent for all the teams. We want to build a fanbase that can engage online and watch the streams as much as we want fans to come to the arena in person when we can have people back."
Big names join up
One boost has been the enthusiasm shown by players – and not just the regulars on the three rosters. All three clubs have recruited players from Elite League teams as guys look to get back on the ice, whatever the level.
And there's confidence that the protocols in place – guided by the game's governing body and the UK authorities – will ensure that any risk of infection is kept to an absolute minimum. That's good enough for Matthew Myers, a GB international forward who is joining Swindon for the Streaming Series.
"I've been working throughout Covid, so I'm very used to dealing with all the Covid-safe procedures in my day-to-day life," Myers said as he prepared for his first practice with the Wildcats. "Maybe it's the wrong thing to say, but I just think we can't lock ourselves away at home forever and a day, we have to go out at some stage.
"Swindon has put in some excellent measures and as long as everybody abides by those and takes care in their day-to-day life as well, we're going to do everything we can do to make it safe. We already have people playing in Europe, I've been talking to some of the guys playing in Germany and they are still playing even though there's lockdown there. It's no different from that."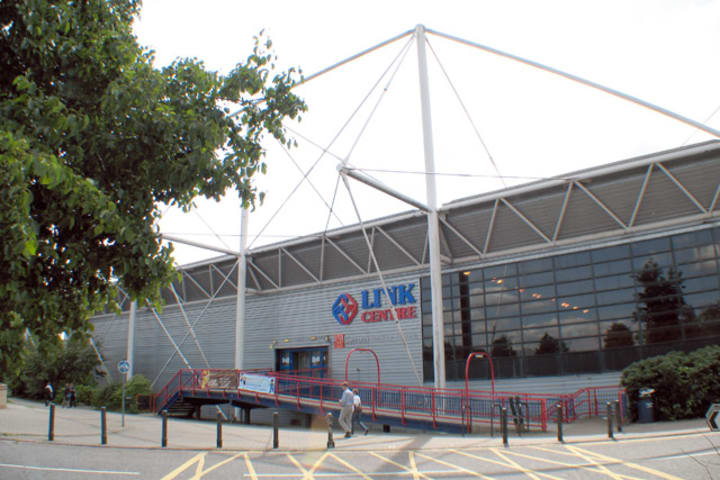 While the clubs' management teams are confident that everything is in place, there is also a note of caution after such a long lay-off. The last hockey games were played in mid-March and ice rinks were closed completely until Aug. 15, so preparation has been limited for everyone.
"One thing we have to be mindful of, the boys haven't played for quite a while," Claire said of her Milton Keynes roster. "They've been training but they haven't played so we cannot go into this with the usual mentality of a competitive game.
"The boys have got to come back, from a period of latency into active operations – and so has everyone else. That means huge amounts of effort for lots of people, on and off the ice. Everyone's working their socks off to make sure it's possible and safe and we're giving it our best shot.
"Generally, people are are delighted that we're bringing hockey back but I fully respect that there are different opinions about whether it's right or safe at the moment."
Paying the bills
The other challenge is financial. Putting a team on the ice costs money, and the costs are usually recouped from ticket sales, money taken over the bar and game-day raffles. The suspension of competitive sport meant that the teams' core business halted overnight. Now the hope is that selling streaming passes at £12 a time can attract enough support to enable the NIHL season to start in the not-too-distant future.
In Sheffield, there's a clear idea about how many subscribers are needed. "Our target is selling streams to 300 households," Ali said. "But we've always had a lower budget than other teams in this league. We're in competition with the [Elite League] Steelers and we don't have the kind of marketing budget they can call on, so we're used to cutting our cloth accordingly.
"Covid has an impact on that, but we've been talking to all our players and they are really buying into it. Even so, a lot of the costs don't change – we still have to pay for ice time, equipment, buses to the games."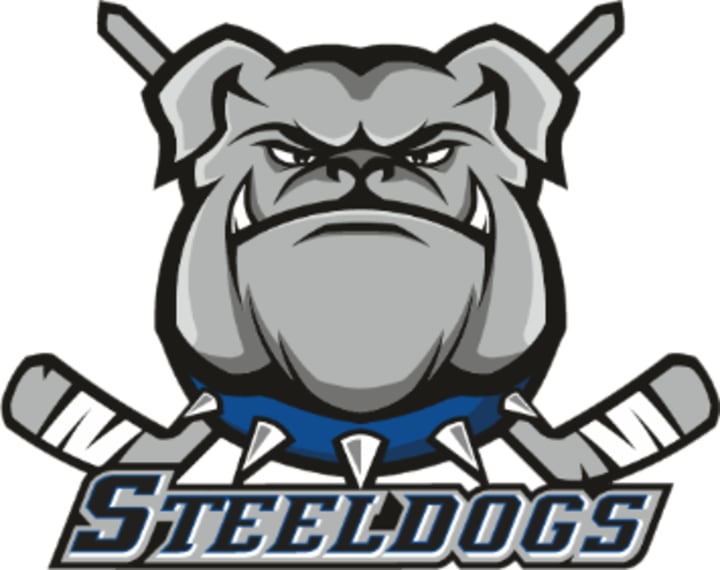 Where clubs are not stretched to financial breaking point by the lack of hockey action, there's a general agreement that the trial is a worthwhile risk, whatever the outcome.
"Each club has its own parameters for breaking even," Claire added. "We know where our individual parameters are but we all want to try this and we're willing to take a chance.
"We really appreciate the work of our various partners – the rinks, the players, our wider teams and the English Ice Hockey Association, all of whom are going above and beyond. People are gifting ice time, putting in time and effort themselves, providing materials and resources. It's very much a team effort, just like on the ice. We get a better result when we work together, however competitive we are on the ice."
And Ali's experience in Sheffield echoes that. "Every rink has been very very good with us," he said. "It's maybe the first time in a long time that I've felt that the rinks really want to work with the hockey teams. Even after the second lockdown was announced, we literally had the management coming in to open it up so we could get on the ice and practice.
"The three teams are working really well together. I hope that continues when more teams are back because the meetings to set up the Streaming Series have been really positive and enjoyable."
Future prospects
That might not be the only legacy of the next three weekend. The clubs hope to build on the experience and using the technology to reach new fans who can't or won't get to the arenas very often.
"As we bring fans back streaming will be playing a role," Claire added. "We know there will be people who aren't ready to come back to the rink right away for all sort of reasons. We want to make sure we create an experience that we can continue to build and develop in the future.
"We want to continue building on what has been a very high quality streaming product from the Lightning for several years. We're fortunate that we can do that, that we have built up a streaming audience over the last few years. This offers an opportunity to build that further and maybe start to diversify income streams."
The NIHL Streaming Series begins on Saturday, Nov. 14 when Swindon hosts Milton Keynes. The following day, Sheffield takes on Swindon, and the action continues over the next two weekends. Full game schedule and ticket information is available here.
Check out two other stories about British ice hockey during the pandemic. GB Women's international Steph Towns talks about the frustrations of lockdown, while the team in charge of Billingham Junior Stars looks forward to the future.
hockey
About the author
Community focused sports fan from Northeast England. Tends to root for the little guy. Look out for Talking Northeast, my new project coming soon.
Reader insights
Be the first to share your insights about this piece.
Add your insights