NFL Week 3 Recap: 70 Points!!!
The Miami Dolphins put up 70 points on the dilapidated Denver Broncos in an out-and-out rout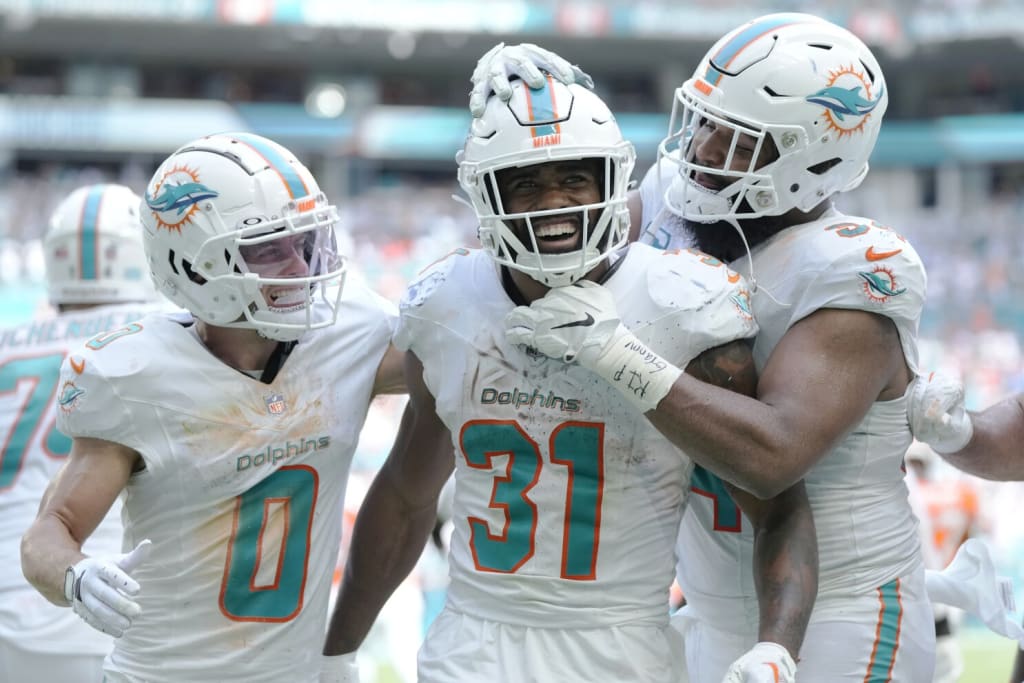 Just when I think this young 2023 NFL season can't get any crazier, the Miami Dolphins had to score ten touchdowns in a single game.
The Dolphins hosted the Denver Broncos, who were coming off a heartbreaking home loss to the Washington Commanders. I saw that the Dolphins were basically scoring at will during the first half. Raheem Mostert scored twice in a very short span, and this was because after what would be his second touchdown of the game, the Broncos turned it over, and Mostert scored again. Overall, Mostert scored four total touchdowns. His day was done, and De'Von Achane took over. What did he do? Oh, nothing much. Ran for 203, ran in two touchdowns, and scored two receiving touchdowns. Big fat hairy deal.
The Dolphins won 70-20. Yeah. Seventy points. Even worse for the Broncos defense, all ten touchdowns were scored by the offense. That's just hideous. Luckily, on Fantasy Football, the lowest that a team defense/special teams can end up with is a four point deduction for giving up at least 35 points. Despite that horrendous show by the Broncos defense, they actually were in the positive on fantasy. Because they scored a TD on special teams, the Broncos D/ST ended up with two fantasy points. As for Mostert, let's go to the numbers.
For Mostert, 82 rushing yards (8.2 points), seven receptions (7 points), 60 receiving yards (6 points), and four total touchdowns (three rushing, one receiving--24 points). Overall, Mostert racked up 45.2 fantasy points. WOW!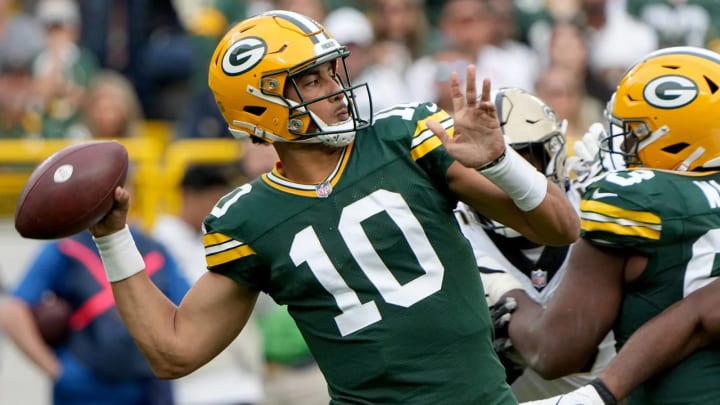 Lambeau Field was officially introduced to Jordan Love, as the Green Bay Packers' home opener against the New Orleans Saints took place. It started out as a nightmare for the Packers. Down 17-0, plays going awry, and Love being all over the place. I attributed this to Love being a bit overexcited to be playing at home. He had to follow the word of our last quarterback: "R-E-L-A-X." Love did just that entering the fourth quarter, and the result: 18 points, and a rushing touchdown. The Saints had a chance at a game winning drive, but the field goal went wide. The Packers won, 18-17, in comeback fashion, a game we needed, because the Detroit Lions took care of the Atlanta Falcons, 20-6.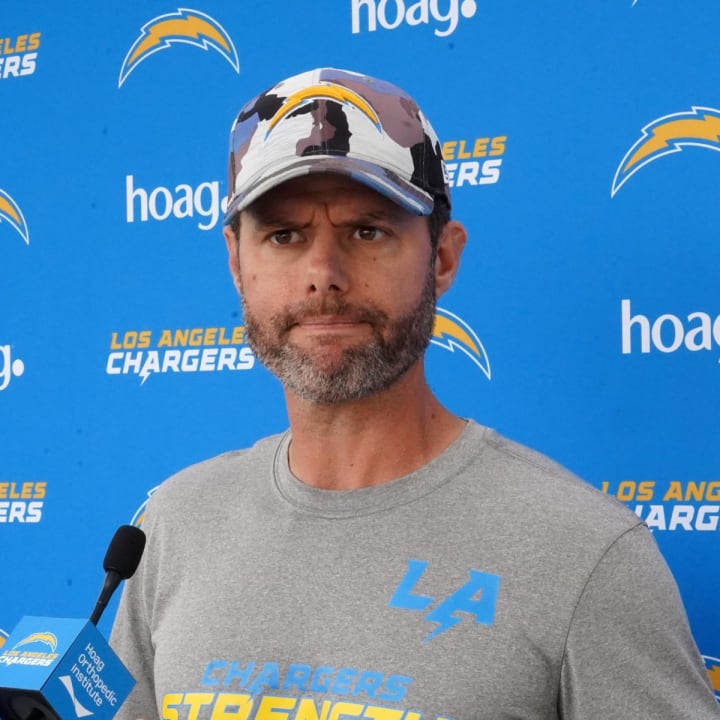 The man shown doing the world's worst job of not looking like he's in over his head is Los Angeles Chargers head coach Brandon Staley. Staley became the Chargers coach in 2021, and we remember how that season ended: the ill-fated timeout in that thriller finale against the Las Vegas Raiders that ended up being the final nail in the Bolts' coffin. Last season saw the Chargers in the playoffs, but as we remember, the Chargers blew a 27-0 lead and lost that Wild Card game. Even worse, they were without wide receiver Mike Williams because Staley decided to start him in the final week: a meaningless game against the Broncos.
This week saw the Chargers against the Minnesota Vikings, and the Bolts led, 28-24, late. They had the ball deep in their own territory, and it was fourth and short. For some reason, Staley decides to go for it. It fails. Vikings get a short field, but that drive ends with a Kirk Cousins interception. Staley should thank God that he was going up against the Vikings. If he pulled that shit against a real team, he'd lose.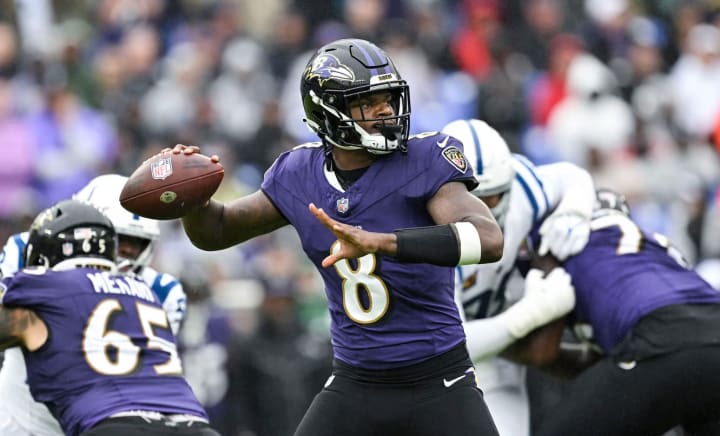 Lamar Jackson had himself a day on Sunday. The Baltimore Ravens hosted the Indianapolis Colts, and regarding Jackson, he showed out as usual. 202 passing yards, 101 rushing yards, and ran for two scores. However, the Ravens somehow needed overtime against the Colts, who won the toss and went three and out. All the Ravens needed to do was get into field goal range, which isn't much considering they have the undisputed GOAT of kickers. They couldn't even get to FG range, but Indy managed to make it there and capitalized. The Colts won, 22-19, in overtime; a true upset win given that the Colts, well, didn't have their rookie QB and weren't expected to amount to anything this season. Despite this, the Colts are 2-1 and all alone in first place in the AFC South, after the Houston Texans pulled off a bigger upset with their 37-17 win over the Jacksonville Jaguars.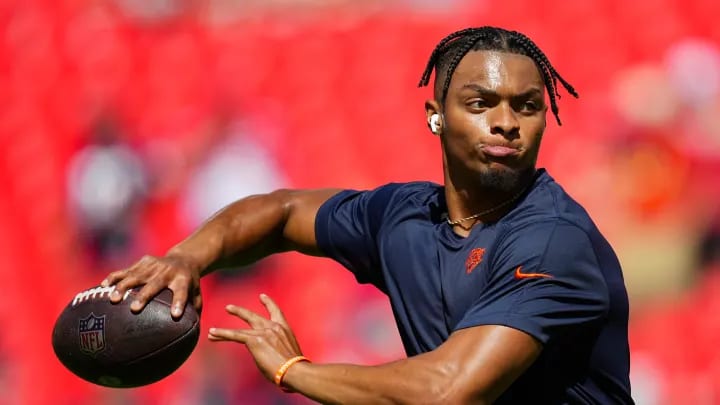 The young man who looks like he thinks the world is flat (I joke, but something tells me he believes that) is Chicago Bears QB Justin Fields. So Fields turned heads a few days prior by actually blaming the coaching for his play being "robotic." I despise stuff like this. I can't stand it when shitty players suck, yet have the nerve to point fingers at others. He's not the first Bears QB to do this; Jay Cutler did this a lot when he played. So how did Fields this week? 99 passing yards, 47 rushing yards, and a passing TD. 99 passing yards against the Chiefs defense. Granted, we all knew KC was going to blow out the Bears, but the Chiefs are definitely not a defensive team. If you can't throw for 100 yards against the Chiefs defense, then the NFL is not for you. By the way, Taylor Swift was at the game. She'd definitely be a better QB than Justin Fields.
The funniest part about all of this is that Bears fans actually had the temerity to pound their chests and talk shit before the season started. They said they'd be better than the Packers, and put Justin Fields on a pedestal. Well, where are those fans now? If they're smart (they're not), they're keeping their heads down, and they need to do it for the rest of the season. I have some advice for Justin Fields and Bears fans: just shut up. Stop talking. Enjoy another 3-win season--if you actually win that many games this year.
Speaking of complete morons...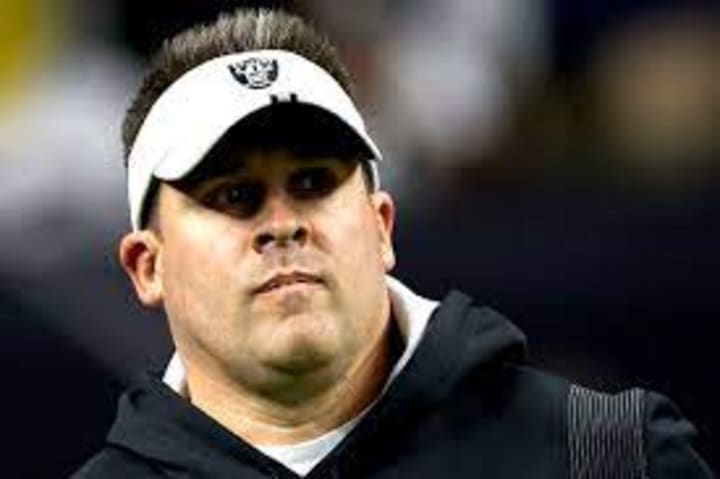 This man, whose IQ is smaller than one of his eyelashes, is Las Vegas Raiders head coach Josh McDaniels. It's a miracle, folks. There actually is a head coach who is an even bigger moron than Mike McCarthy, whose stupidity caused the Dallas Cowboys to lose to the Pop Warner team known as the Arizona Cardinals. However, McDaniels makes McCarthy look like Mike Tomlin. It's been widely known that this guy is a complete idiot (ask any Broncos fan), yet he became the Raiders head coach last season after Rich Bisaccia led the scandal-filled Raiders to the playoffs. The Raiders hosted the Pittsburgh Steelers on Sunday Night Football, and Pitt was mowing over them. The Raiders did mount a comeback, and it started with a touchdown and a two-point conversion to cut their deficit from 16 to 8. The Raiders ended up with the ball again, got into Steelers territory, but it was fourth down.
What does McDaniels do? He decides...to kick the field goal. Let me see if I have this right. You're down by eight points, which is a touchdown and a two-point conversion. It's fourth down, yet you send Daniel Carlson out there?! Carlson makes the field goal, but hold it, a personal foul on the Steelers. The points are taken off, and it's a new set of downs. Raiders are deeper down the field, but they go three and out again. It's fourth down, and McDaniels...decides to kick the field goal. Again?! It was a mistake the first time, but the penalty bailed them out! Despite this, McDaniels sent Carlson out there again. Kick's good, no defensive penalty, and it's a five point game, meaning that yes, the Raiders still need a touchdown!
Raiders got the ball back, but there were barely over 20 seconds left. Steelers won 23-18. It gets crazier. McDaniels said, regarding his reason for kicking the field goal, "We needed two possessions."
No, you didn't, dumbass. Eight points is one possession. Thank you for showing the entire world that you have no clue how to do basic math.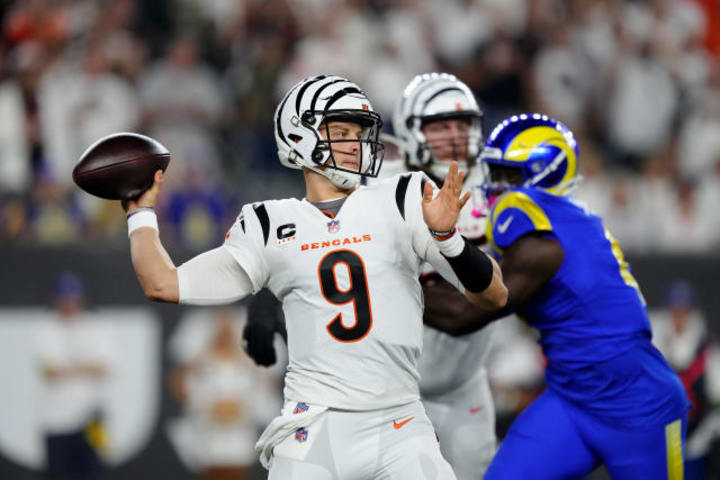 It originally looked like Joe Burrow would not be out there when the Cincinnati Bengals faced off against the Los Angeles Rams in a rematch of Super Bowl LVI, but there he was, making his presence felt. The game ended up being a kicker's duel, but Cincy found the end zone first, and managed to take a ten point lead late in the game. The Rams did finally score a touchdown to cut their deficit to three points, but they could not get the onside kick. Cincy got their long overdue payback and won 19-16, and prior to this, the Philadelphia Eagles trounced the Tampa Bay Buccaneers by a score of 25-11, giving Jalen Hurts his first ever victory over the Bucs.
So three weeks are done, and there are only three unbeatens left: the Miami Dolphins, the San Francisco 49ers (who began Week 3 with a win over the New York Giants), and the Philadelphia Eagles. That's all. There are more winless teams than unbeaten teams at this point. Of the eight first place teams, half of them (Steelers, Colts, Packers, Falcons) did not make the playoffs last season. This already wild season is getting wilder and wilder.
Week 4 kicks off with a game I've been very excited for: Thursday Night Football--the NFC North clash between the Green Bay Packers and the Detroit Lions at Lambeau Field. We will also receive the season's first international game of the season, as the Atlanta Falcons and the Jacksonville Jaguars will face off at London's Wembley Stadium. Sunday Night Football will feature the Kansas City Chiefs and the New York Jets at MetLife Stadium, which will also host Monday Night Football between the New York Giants and the Seattle Seahawks.
If you like this story, click the heart and the subscribe button, and feel free to comment below! Tips and pledges would be greatly appreciated, but only if you want to do so!
Reader insights
Be the first to share your insights about this piece.
Add your insights