Marshawn Lynch: "You Know Why I'm Here" — to Play for the Oakland Raiders?
A year removed from the game, "Beastmode" may be ready for a return. Will it be to the Silver and Black, his hometown team?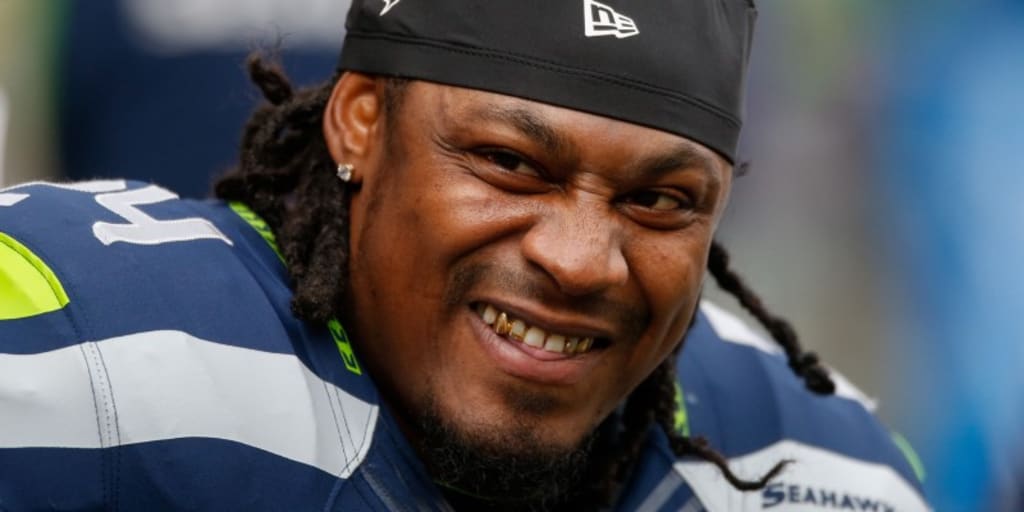 Several years ago, around 2010, and in a playoff game versus the New Orleans Saints, the world shook and the LEGEND OF BEASTMODE was forever engraved in our minds. Not that "Beastmode" — Marshawn Lynch to others — wasn't already one hell of a running back already. But this run made him somewhat legendary — like Bo Jackson in Tecmo Bowl.
After last season, Beastmode decided to call it quits. Teetering with the idea of a return only to call off and displace any idea at every mention of the notion. He even went so far last year as to post of a picture of his "cleats" hanging across a "lightline," with the essence of the picture being "hanging up the cleats". This was a shock to some as many thought that he had a few years left minimally, but also because of what Seattle has been able to build over the last few years. With a team built for the Super Bowl and ready made, it was almost absurd to think that Lynch would really walk away from not only the game he seemed to love, but a team he seemed to love, and one that had made him a champion. However, Lynch did.
Fast forward a year later, and to another NFL offseason, and the rumors have started to fly.
The MMQB, website headed by longtime NFL insider Peter King, reported on Monday morning that Lynch "really" wants to play for the Oakland Raiders. This is a multi-layered development. The first thing you think about is fit. Lynch is a downhill runner with power, but has the ability to catch the ball and make plays out of the backfield. I wouldn't call him Brian Westbrook or a "scatback" by any means, but to be clear, I would call Lynch a much better pass catcher than say an AP or and Eddie Lacey, and they have both been seemingly successful in systems that call for the runners to do a bit of receiving.
Secondly, would the Raiders take him? Again, this is a multi- faceted answer, but to be simple, I think yes. The Raiders currently do not have a starting running back, as last year's starter in Latavius Murray just signed with the Minnesota Vikings. Most important of all: Lynch is a homegrown product. Some are wondering what this means, but think about it. With all the "moving" and "relocation" talk going around, why not bring in "homegrown" talent to not only try and re-energize the fanbase around Oakland, but that can actually help your team. This is a win-win for both sides.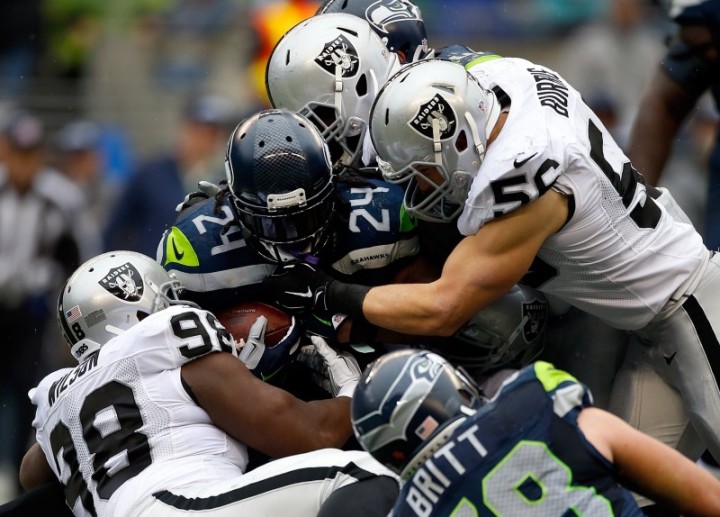 There are three central questions to evaluate: Lynch has had a year to recuperate his body (possibility of rest or rust), he will not be that awfully expensive, and the Raiders need to be aware of what they are getting from Lynch. If all these questions can be definitely answered, then I would say go for it.
This is just a report but the MMQB is very reputable. There must be a little truth to this. If there is interest from Lynch's side, then the Raiders should definitely look into it. If he has anything left in the tank, it will only help and hopefully push the Raiders to make a meaningful playoff push.
football