LA-Bron: The Good, the Bad, and the Spitting - Part 1
While the Lakers are only 2-3, a lot of positives can be drawn from their first few games.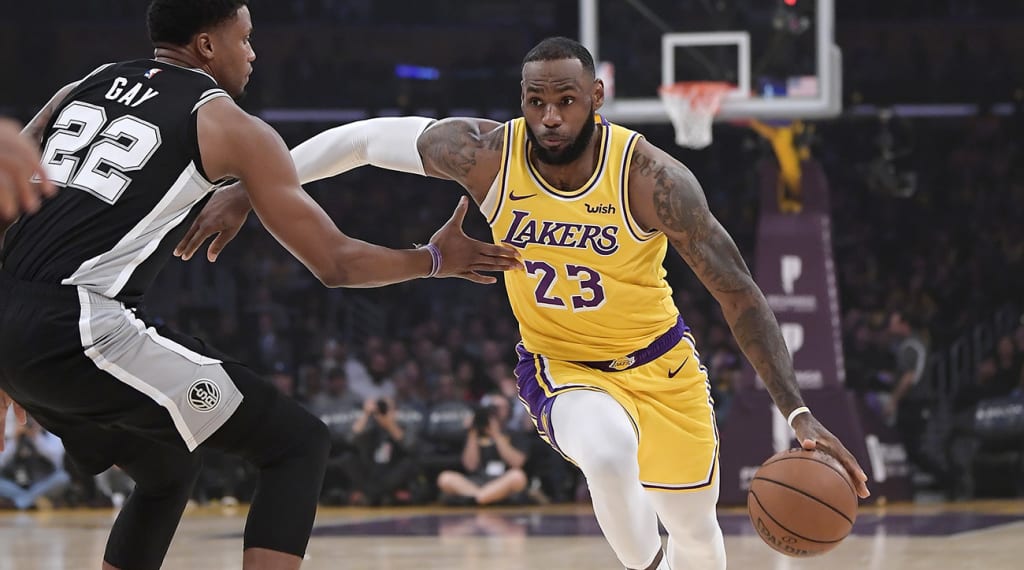 You would not believe how hard it is to find a quality Lakers photo that doesn't involve the brawl against the Houston Rockets
Pre-Script: I was going to do an entire the good, the bad, and the ugly type article, but I realized it would be far too long so I'm breaking it up into three articles, this being the first. Expect Part 2 in the coming week.
Tuesday morning at 1:00am—Most sensible people are asleep, getting rest for the upcoming day. I, on the other hand, was watching the Lakers vs. San Antonio Spurs game on my phone like a child, eyes peeled on LeBron and his crew could do. Down eight with just under a minute left, I thought the game was over and prepared to go to bed.
Javale McGee dunks: 6-point game. I didn't think too much of it.
Rudy Gay misses a three, Kyle Kuzma hits one on the other end: 3-point game. Suddenly, I'm back on my bed, praying the Lakers find a way to get the game into overtime.
Brynn Forbes misses a WIDE-OPEN THREE, LeBron James hits a 30-foot bomb with three seconds left: PRAYERS ANSWERED.
I was going crazy (well as crazy as one can at 1 am with their flatmates trying to sleep). No longer was I the tired student who was begrudgingly watching the game; I was wide awake watching the Lakers try to claim their first win of the season. I had so much nervous energy, I finally decided to fold the clothes I'd just gotten from the dryer (that uni life).
In quite (un)spectacular fashion, the Lakers lost that game, despite being up seven with a minute left to go (who's missing free-throws now, Bron?). I was devastated; I'd stayed up for nothing.
Then I realized something: the Lakers had no reason to win this game. They weren't even supposed to be in this game. They were without two starters in Brandon Ingram and Rajon Rondo, DeMar Derozan and LaMarcus Aldridge were absolutely on fire all game long with no one to stop them, and it was only the Lakers' third game together. And they only lost by one point in overtime.
All the Lakers' games until that point had been decided by single digits, where they were in it in the fourth quarter before their opponent finally pulled ahead. It was an encouraging thought, one that helped me sleep without punching a wall (or kicking it as some believe).
Like Stephen A. Smith said that day on First Take, the Lakers are gonna be just fine. It's going to take a while for them to figure out exactly who they're going to be offensively and defensively, but they'll get there. They finally got their first win of the season against the Phoenix Suns and came back with a quality victory over the at the time undefeated Denver Nuggets.
Again, the season is still very young, but so far, I've been very impressed by the play of Javale McGee, the Lakers Young Core minus Brandon Ingram, and how the Lakers offense has been overall.
1. JaVale McGee a.k.a Baby Wilt?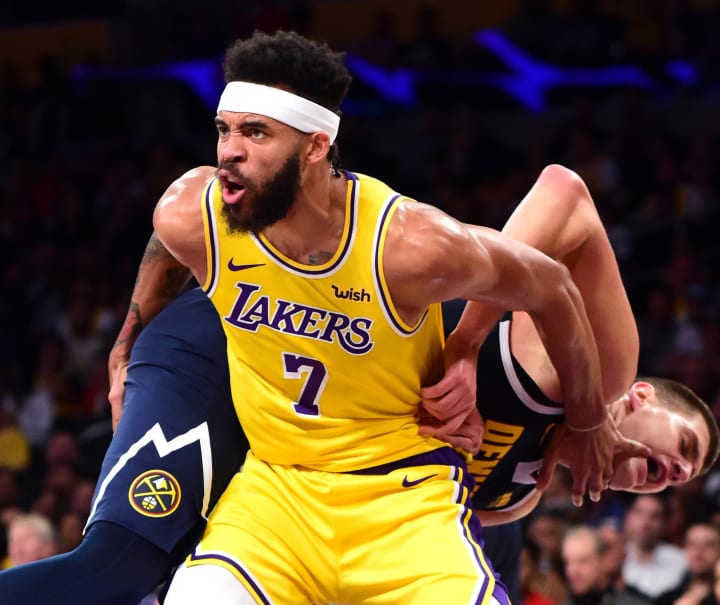 I saw a post on Bleacher Report stating that through five games, JaVale McGee has averaged more points in less minutes and on fewer shots than Karl Anthony-Towns. This is an extremely small sample size, but look at these numbers:
17.2 PPG, 7.0 RPG, 1.6 APG, 2.8 BPG, 0.8 SPG, 62.7 FG%, 50.0 3FG%, 64.7 FT%, 25.4 MPG
We have never seen JaVale McGee look this good. When have we ever seen a team run plays for him or let him shoot Kareem-esque skyhooks? The man is dunking just about everything on offense and swatting everything on defense. I still think the Lakers need another solid center, but not because McGee is playing bad. He's playing so well, he's the only legitimate big man the Lakers have. We all saw what happened when he got in foul trouble against the Spurs: Ivica Zubac picked up five fouls in five minutes and while Jonathan Williams was fairly productive, nothing beats having JaVale out there for the Lakers. Wow, never thought I'd ever say that. Of course, he'll regress to the mean and his numbers won't be so gaudy, but he's going to play a larger role on this team than people give him credit for.
2. Kyle Kuzma, Josh Hart, and Lonzo Ball Done Grown Up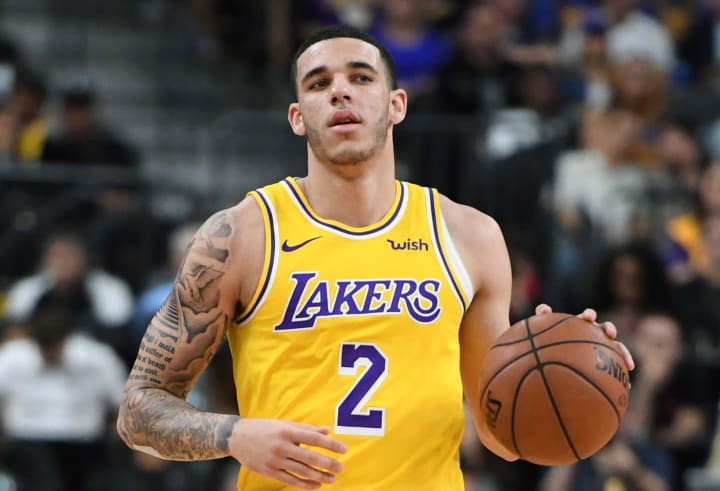 I will be honest, of the Lakers young core of Lonzo Ball, Brandon Ingram, Kyle Kuzma, and Josh Hart, Kuzma was my least favourite. I saw him as a scorer and nothing else where I thought the other guys had way more all-around potential. Well, it's now Brandon Ingram who's on the bottom of that list (more on that later) as the other three have really been producing.
Kuzma is a professional bucket-getter; it's amazing to watch the many ways he gets his points. He finishes very well around the rim with his craftiness and footwork and he's finding his three-point stroke after a rough first couple of games. He's currently averaging 20.4 PPG and I expect him to hover around that average for the remainder of the season.
I said from Day One that Josh Hart needs to start over Kentavious Caldwell-Pope. The guy is younger, a better shooter, better defender, stronger... I really didn't see what advantage KCP had over Hart. Clearly, Luke Walton saw it too as Hart has now been inserted into the starting lineup, but even coming off the bench, it was evident that Hart was the the favoured between the two. He's making 44.6% of his threes, taking almost six a game, which is huge for this Lakers team. He's scoring a lot more than I expected; he has some of the quietest 20-point games ever, but he simply and efficiently scores. He's averaging 15.6 PPG, 5.6 RPG, and 2.2 SPG; he's getting it done on both ends.
Now Lonzo Ball has been the butt of jokes for over a year now. From his funky shot to his inability to stay healthy to his baby-mamma drama, the media always finds a reason to hate on Lonzo. Currently, Lonzo is averaging 11.8 PPG, 5.8 RPG, 5.0 APG, and 1.8 SPG on 48.9/40.7/80.0 shooting splits. That's not bad for someone who was declared as a bust just a couple of months ago. What I'm loving his how confident he looks. He's getting to the rim a lot more and the step-back three he hit over Jokic on Thursday is just a sign that he's becoming more comfortable in the league. And when Lonzo is truly at home on the court, he's going to be extremely dangerous.
All three of these players began the season coming off the bench, but until they prove otherwise, I believe they should remain in the starting lineup. Even before the suspensions of Ingram and Rondo, I'd argue Kuzma was outplaying Ingram and while Rondo was playing pretty well, Lonzo will be better than him and currently the Lakers are playing better with him in the starting lineup.
3. The Lakers Offense: Who Needs Shooters?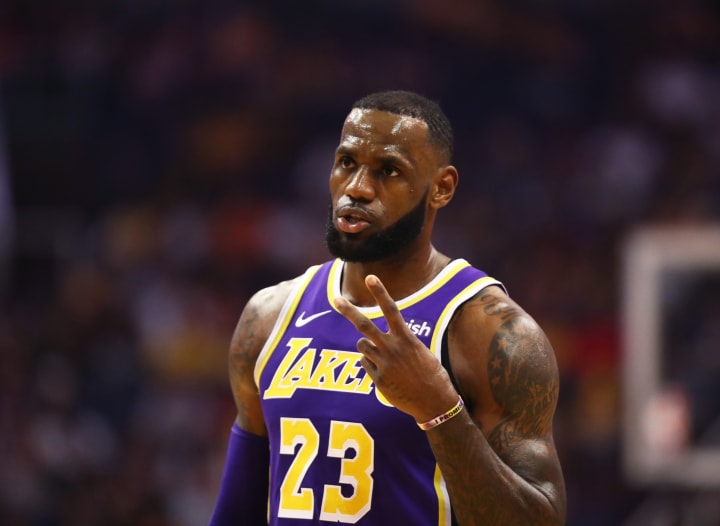 All summer, I heard analysts complain that the Lakers offense would struggle as they lack shooting around LeBron James. Five games in, the lack of shooting has held true, as the Lakers are making on 31% of their three-point attempts, which is well below league average. However, considering how mightily they've struggled from behind the arc this far, it's scary to think about how insane their offense will be once the shots start falling at even an average clip. League-wide, scoring has gone through the roof and NBA games are faster than ever. The Lakers have fully embraced this new style of play, as they are second in the league in scoring and fourth in pace. It seems like LeBron has truly embraced the Luke Walton's desire to run every chance possible. Sure, the Lakers have given up a ton of points due to their speed of play, but they're getting buckets in abundance. The team is also second in points in the paint, scoring over 68 of their 125.6 points on the interior. This really shouldn't be much of a surprise as the team features the likes of LeBron, Kuzma, McGee, and Hart, all excellent rim-finishers.
But enough about the stats; let's look into the gameplay. When LeBron was subbed out early in the fourth quarter against the Nuggets, the Lakers were down with momentum favouring Denver. I know Luke Walton wants to watch James' minutes, but with the game slipping through their fingers, I thought LeBron needed to be out there. It's a good thing Walton is the coach instead of me because the bench pulled through, and by the bench, I mean "Make 'Em Dance" Lance (that's such a dope nickname). He scored eight straight points to tie the game with LeBron on the bench and assisted a LeBron dunk that gave the Lakers the lead for good. For the first time in a long time, it appears a LeBron-led team won't implode when he heads to the bench. This is what Magic Johnson was trying to do surrounding LeBron with playmakers instead of shooters; he wants guys who can create so LeBron doesn't have to do it all. Sure, some nights, they're simply not going to have enough shooting to be in games. But with a little more time, the Lakers will continue to find ways to win games without hitting a ton of threes.
P.S. If you've read this entire article, you're the real MVP. I'm realizing I have a lot to say, but I'll try to cut it down in the future to make it my work easier to read. I really wanted to get some things off my chest before the Lakers vs Spurs rematch tonight. I'm sure we'll see some interesting news come out of LA as Rondo and Ingram return to play this week. What about the team have you enjoyed in the early going? Or if you're not a Lakers fan, how's your team started out? Let me know via my social:
Snapchat: midster007
Facebook: Olamide Olatunbosun
Instagram: @mdaywiththetrey
Twitter: @mdaywiththetre1
Aight, that does it for this article. Until next time, deuces!
About the Creator
Huge NBA (more importantly LeBron) fan, love writing about things happening around the league.
Instagram: @mdaywiththetrey
Facebook: Olamide Olatunbosun
Reader insights
Be the first to share your insights about this piece.
Add your insights