How Klay Thompson Lives Up to His Name
The Warriors Game 3 defeat shows that Klay Thompson's versatility is a key factor to the Dub's success.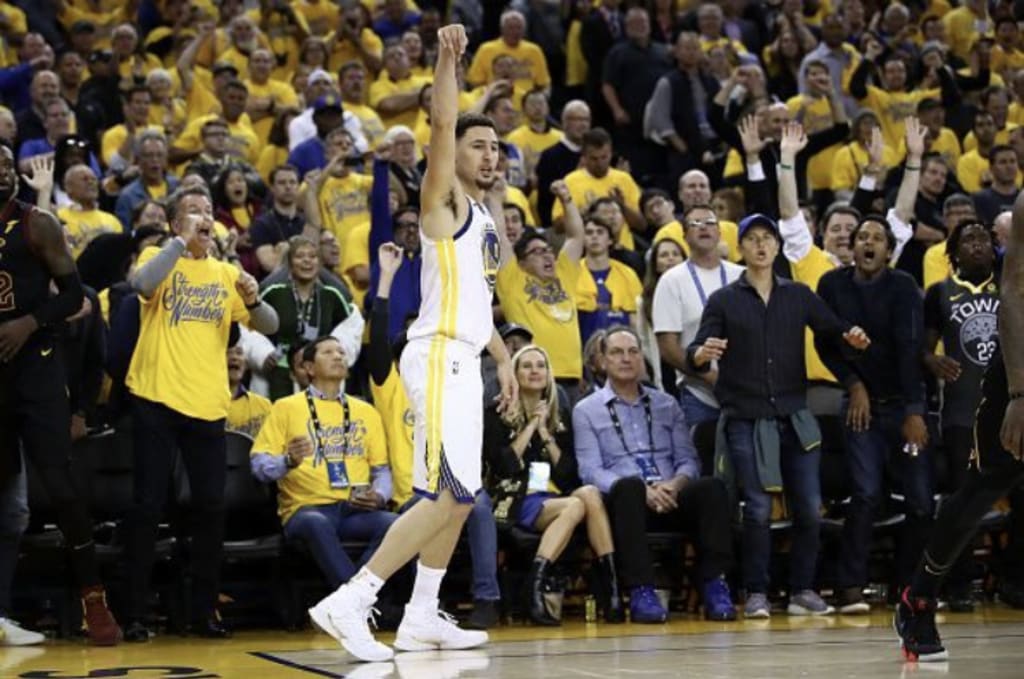 When I was younger, my first-grade class learned about traditional Chinese pottery and were allowed to use clay to make bricks. As long ago as that was, I still remember how easy it was for the clay to be molded into anything, and once dried, how solid it was.
The same concept follows Warriors' Second Team All-Defense guard Klay Thompson. Even though he is Klay with a K, similar to clay, Thompson can mold into any role the Warriors' need him to fulfill—and once molded his performance is always solid in that role.
Wednesday night, the basketball world was able to see this concept first hand. After landing awkwardly in Game 2 Sunday, Thompson was ruled out for Game 3 with a hamstring strain—the first time in his career he missed a playoff game. And the Dub's suffered from this.
All-star point guard Stephen Curry put on an all-time great performance, scoring 47 points in 41 minutes of play. Yet, the Warriors still came up short.
Some of this was because of Curry's supporting cast—who seemed unable to hit rim on some shots throughout the game.
Some of this was because of the play of the Toronto Raptors-- who shot the ball 52 percent from the field, 45 percent from the three-point line, and 95 percent from the free-throw line.
Most of this, however, was because of Klay Thompson's absence. When Klay is on the floor, the Warriors are given the luxury of having two of the best shooters ever on the court at the same time. This puts a different level of pressure on opposing defenses.
When Curry is going, the best answer to stopping him is getting physical away from the ball and trapping him on the ball. This task is nearly impossible with Thompson on the floor because when you trap a player, someone is left open. The Warriors are masters at swinging the ball, creating chaos when Curry is trapped—because once Curry passes out of that trap the defense has to scramble in order to recover. This creates driving lanes and kick-outs to spot up shooters, in this case, Klay Thompson.
Without Thompson on the court, the Raptors can trap Curry because the next best shooter is Andre Iguodala—who is currently shooting 35 percent from the 3-point line.
Along with spacing, Thompson is also another lethal scoring threat. Any NBA player is a scoring threat—if not they wouldn't be playing the world's best basketball league—but the scorers who win championships aren't average scoring threats, they are elite. Thompson is a player who shoots the three phenomenally great, as well as the midrange jump shot. At 6-foot-7, Thompson can post up smaller guards at the elbow and turn to shoot over them. He also possesses the ability to pass well out of blitzes—and the ability to draw a double team.
These attributes give the Warriors an able go-to guy, for when Curry needs a breather.
To start the second quarter of Game 3, Warriors' Head Coach Steve Kerr sat Curry for the first three minutes of the quarter. In that time frame, the Warriors' offense stalled, while the Raptors extended their lead to double digits. The Warriors never recovered from that point of the game.
With Thompson in the line-up, the Warriors have a person who can hit shots at a high level without having to be set up by Curry.
With that said, Thompson's offense wasn't the glaring puzzle piece missing—his defense was.
Thompson is the Warriors' primary on-ball defender. He has been tasked with containing some of the league's deadliest guards, such as Damien Lillard and Chris Paul, and has forced them into uncharacteristic games.
Just look at Game 1 and 2 of this series. Raptor's All-Star point guard Kyle Lowry combined for 20-points in the first two games of the series—whereas he erupted for 23-points in Wednesday's game.
The Warriors' defense was nonapplicable Game 3. Guards were easily getting into the paint, creating scrambles and switches that lead the Raptors to score 123-points.
With Thompson on the court, he can give a different level of on-ball pressure that will keep the Raptor's primary ball handlers out of the paint—eliminating some of the Warriors' defensive woes.
Thompson's return in Game 4 can change the series if he is healthy. Unfortunately for the Warriors, "if" has a significant emphasis. While Thompson has had great playoff performances throughout his career, the body is undefeated.
Each role that Thompson takes on requires a heavy load on the body. Coming off of a hamstring injury, he may not be able to produce at the rate the Warriors need. And if he is able to perform at his standard, he will not cure the defending champ's problems—particularly their defensive issues. His play will be more of a bandaid to those defensive wounds.
One thing that is for certain, 100 percent healthy or not, Klay Thompson will play Game 4 and will give it his all. He will mold into whatever his team needs and will do as solid of a job as he can—living up to his name.