Hawks tie up the series at home
Game 4 recap, Game 5 preview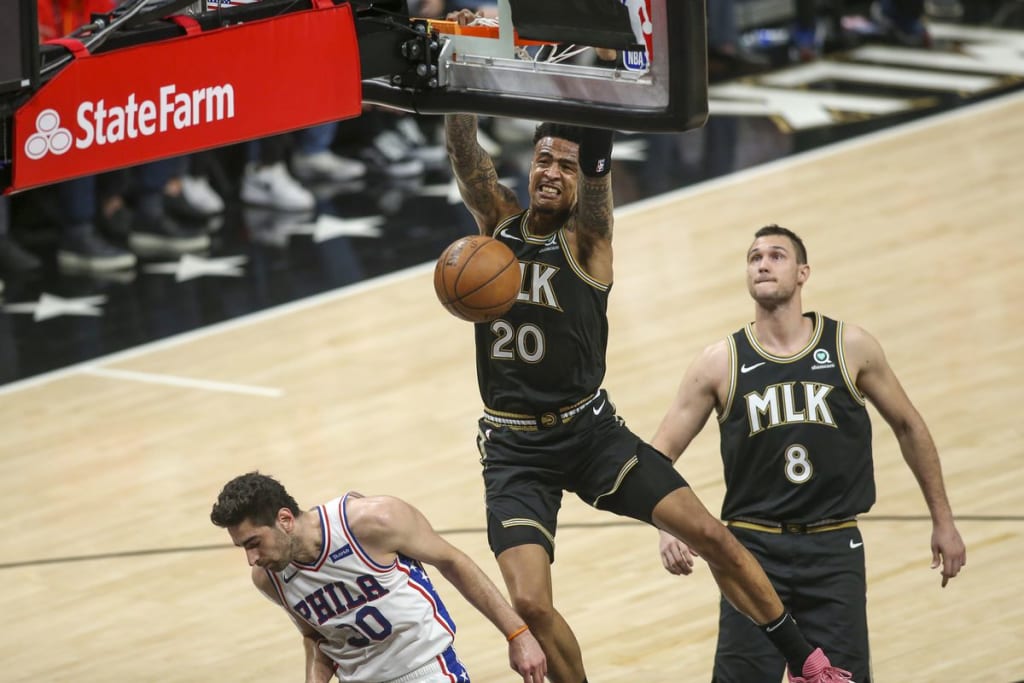 Game 4
Hawks: 103
76ers: 100
sheesh, that one was tense. What a game though. And what a way for the Hawks to come out with a win.
In my opinion, this game is what the last two should have been. The first half was rough. We couldn't get a bucket and we had no answer what so ever for Joel Embid in the paint. But we were able to pull it together in the second half. What makes this team so special is that we never just let the game go. Even when we are down by 27 in the third quarter it just doesn't feel like the game is over. Trae was having a difficult time getting his shots to fall for a good portion of the game, but that was covered up by is ability to find the open guys and make plays to get them to score. He ended up finishing with 25 and 19 which is a ridiculous stat line for someone with as much pressure as he has on him.
As he has all postseason, Bogdan Bogdanovic consistently made big shot after big shot to keep the Hawks in the game. John Collins also provided a huge boost in the third quarter with 3 huge dunks to get the crowd going and carry some momentum. Last night was just good team basketball and we were able to adjust to the shooting struggles and find other ways to comeback and win that game.
Something to note for the 76ers is that it just doesn't seem like their star players care a whole lot. Joel Embid is obviously a monster but if things aren't going his way, it doesn't seem like he pushes through those setbacks. Instead of falling back and being a good leader, he's learning from Lebron and going to sulk at the end of the bench when he is struggling. Then, that attitude translates onto the court where he falls on the floor every offensive possession, he doesn't get back on D, and we score a bucket while he's on the other side of the floor and his team is play 4 on 5. So, moving forward if we can keep bugging him and pushing his buttons, he's probably gonna explode and punch Danilo in the face, get ejected, and miss the rest of the series because of his "knee". Yeah, that's probably gonna happen.
Now we have one day of rest and then we're back in Philly for game 5. I really have confidence that we can take another road game and come back for game 6 with a chance to win the series at home. All jokes aside, you can tell the Joel Embid is hurting and its effecting his play significantly. I'm not doctor but it just doesn't seem smart for Philly to keep playing him. But hey, Im not complaining if they do because he's not his usual self right now, and that's only helping the Hawks more.
I've said it before, but Im so proud of this Hawks team. Absolutely nobody outside of the organization thought they would be watching the Hawks playing for a spot in the conference finals. But here we are. This team has the heart and the skill to beat anybody. It seems to me that as long at they don't get rattled and continue to play calm, they will be able to win two of the next three. If I were a Hawks player, I would use today to watch film, understand what needs to be done and what adjustments need to be made, then I would chill. There's no reason to stress if you're the Hawks right now. Philly is the one with their backs to the wall....we chillin.
GO HAWKS
peacenlove.