Hawks lost last night...
I aint even trippin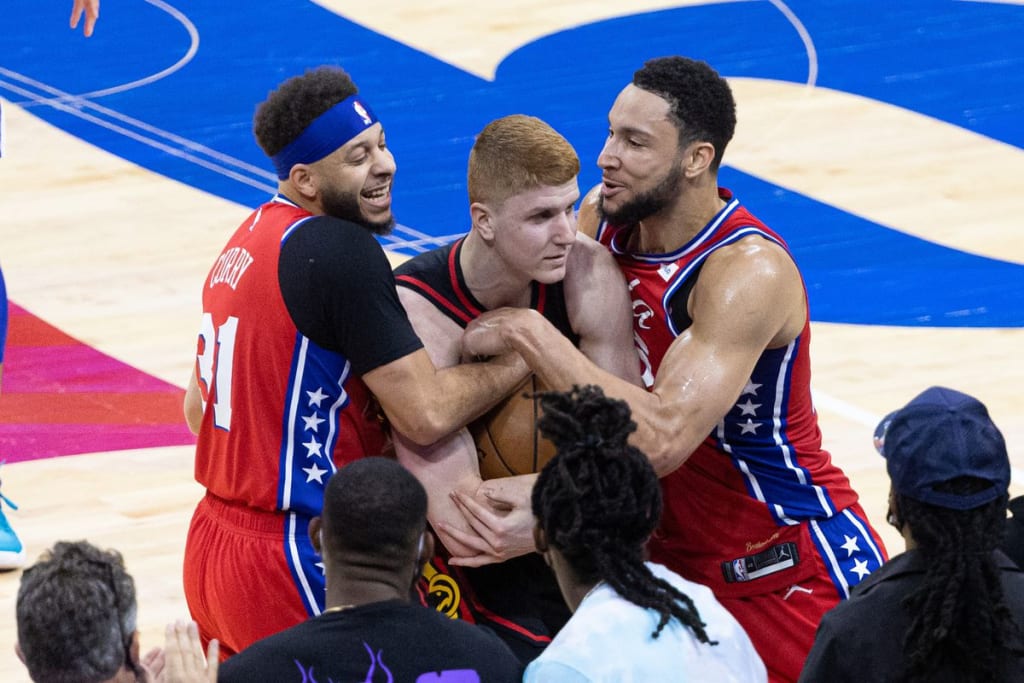 never seen two dudes more happy to be carressing another man in front of thousands
Game 2
Hawks: 102
76'ers: 118
Yes we lost. I'm gonna write about this game only because I can't end the streak of writing on the morning after each game. The more I write about us losing, the more frustrated I'm gonna get. And honestly, its been a good morning so far. I got up at 5:00 am, turned on some Harry Potter, had a breakfast burrito, showered, I even did some laundry. It's 7:45 now and I am just sitting down with my coffee to write this blog. But I really don't feel like typing a huge essay to try to explain last nights loss and ruin my mood in the process. If I were to get into all the details of how the game went, I'd just get more and more mad having to replay everything in my head. So imma keep it simple.
Obviously, I didn't want the Hawks to lose last night so Im not happy about how the game went. But there is no reason to panic. In fact, I saw a lot of good things that we can take away from Game 2 and can be carried on into the rest of the series. The Hawks got off to a terrible start shooting the ball. Nothing was falling, the Sixers defense had more energy, and the crowd was fired up. I think the score got up to 22-4 at one point which made it seem to most people that the game was essentially over after the first five minutes. That wasn't the case however, not for us at least. Clearly Philly had all of their attention on Trae Young and they did a very good job at controlling him for the most part. He still finished with 21 points and 11 assists which would be incredible numbers for most people in the league. He was unable to do a whole lot in the first half, but the rest of the team was able to adjust to the defense and take some of the weight off of Trae's shoulders. Danilo Gallinari and Kevin Huerter both came off the bench and provided a huge boost putting up a combined 41 points which is super solid given the fact that they only missed 8 shots between the two of them. For Nate McMillan, that's gotta be a pretty good feeling to reach deep into the bench and have guys that can provide that boost and put up those kinds of numbers when your star player is being absolutely grilled by some of the best defenders in the league.
Another positive aspect from last night was that our guys never really got too rattled, and they were able to come back and make it a good game. Immediately going down by 20 points in the first five minutes will surely rattle most young teams, especially in the environment they're in and the high stakes they're playing for. But all we needed was one timeout to compose ourselves and get back into the game. So that's exactly what they did. The same thing happened in Game 2 against the Knicks, but we hung around all game and just wasn't able to ever pull away. But then we won three in a row and moved on to the next round. I'm not saying that's exactly what's gonna happen here, but I do have fully confidence that we are going to move on from this game and only play better from here on out.
I aint even trippin. Neither are the Hawks. We good.
Usually after a loss, I'm just mad the next morning, but even though we lost on the scoreboard last night there were a lot of battles won that will help these guys moving forward. So I'm chillin.
I got work here in a few minutes so I gotta wrap this up.
Go Hawks.
peacenlove.