Dusty Baker: Forever Cursed
The Nats Manager is at the end of more agonizing defeat.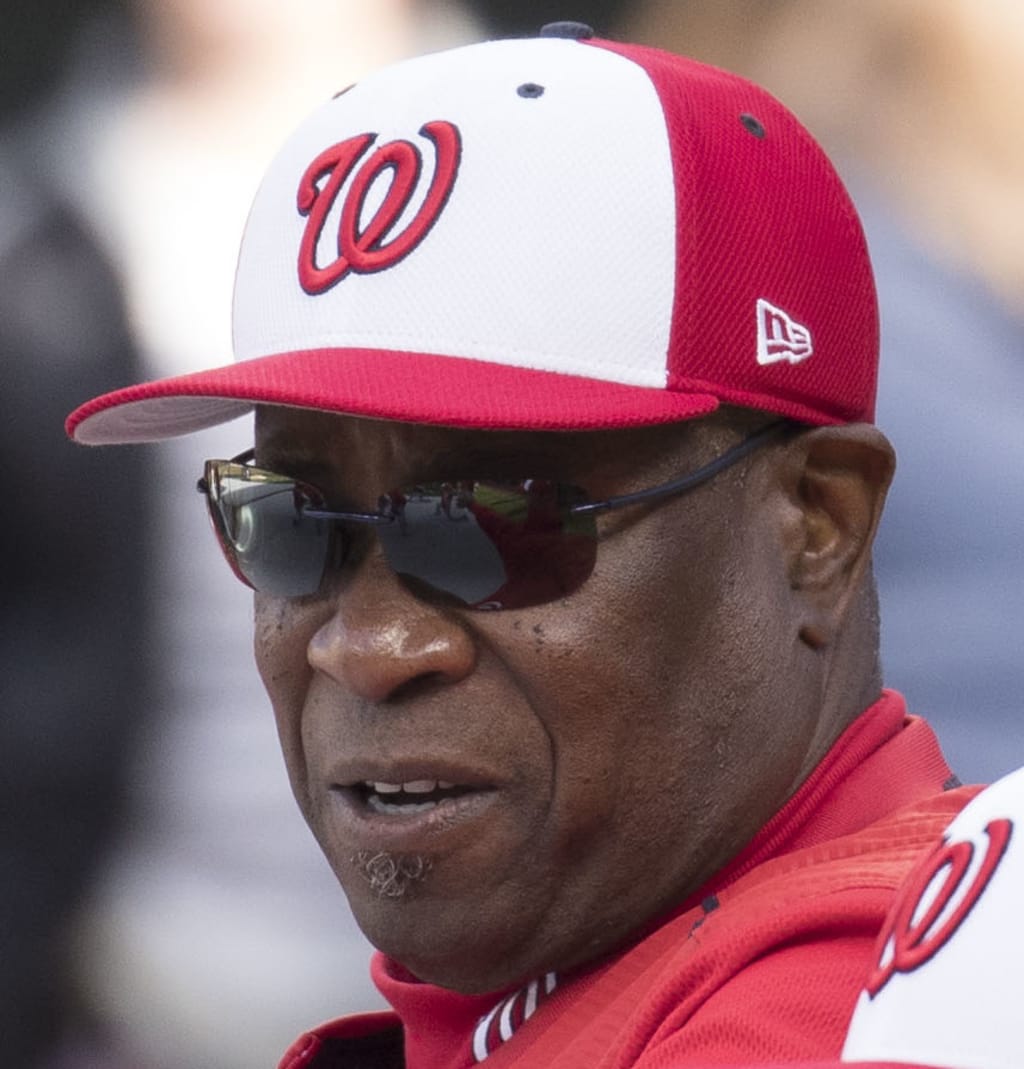 (Wikimedia Commons)
The Nationals lost one of the most gut-wrenching games in recent playoff history (or at least it must feel that way).
In what was becoming something to celebrate after another miraculous Michael A. Taylor homer was gutted by seeing Max Scherzer get beat by bloop singles. What was built up in that eighth inning rally was ripped away by Jose Lobaton getting his cleat awkwardly caught in first base leaving millimeters of space.
And hanging over all of this was the missed call in the fifth inning over Javier Baez hitting Matt Wieters on the backswing. It should have nullified a disastrous play and a torturous inning but the umpires just missed it.
Misery such as this has followed Dusty Baker for all his managerial career. He's one of the winningest managers of all time. With 3500 games at the helm, Baker has a .532 winning percentage in stints with the Giants, Reds, Cubs, and Nationals. Among the prestigious group of managers with more than 3,000 games managed, Baker's win pct is ninth best. Is that a flawed way of looking at it? Of course, but he's a manager who has been doing this a long time and has been successful.
Successful in the regular season that is. It couldn't be true torture if Baker-led teams weren't exceptional in the regular season. Always built up with the hope of October champagne showers and visions of hoisting a World Series trophy.
With all of his regular season success it's worth noting that Baker has managed in the playoffs for quite a bit. He's one of the 16 managers in MLB history with over 50 postseason games of experience.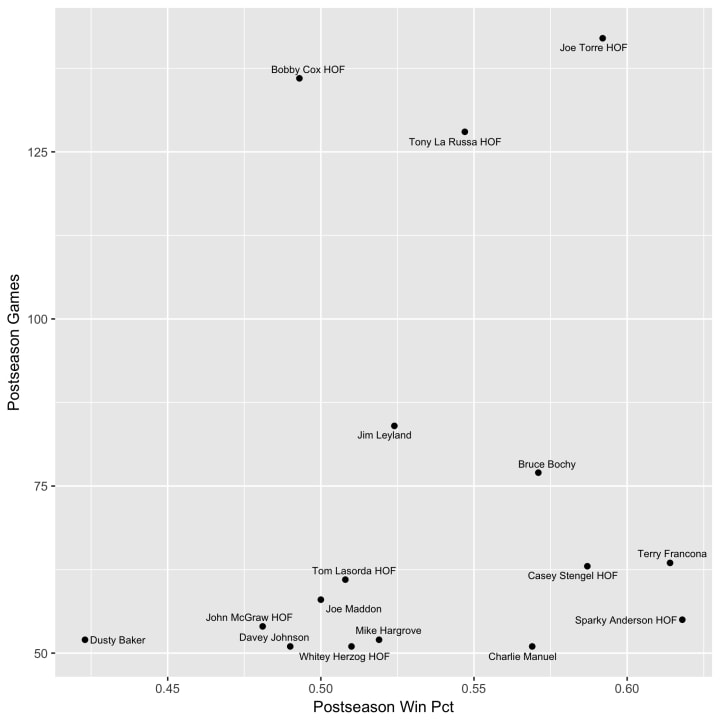 And there he is all the way in the corner with the lowest winning percentage.
What's notable as well is the differential between his regular season winning percentage and his postseason winning percentage.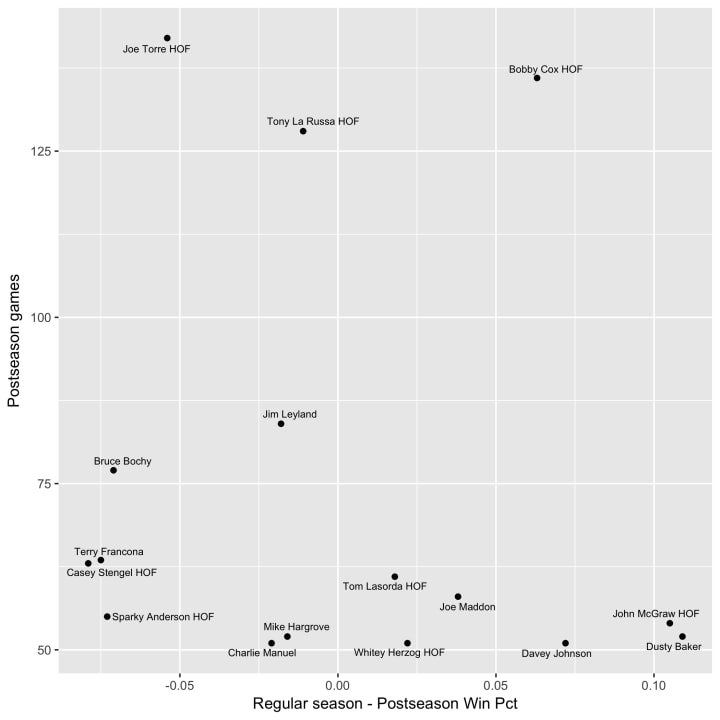 You can't expect the regular season win percentages to carry over into the playoffs, but man that difference is brutal. And all of this loss includes incredible heartbreak with each team he's been with.
2002 Giants
The Giants were riding high and on their way to a World Series title thanks to Barry Bonds and his .471/.700/1.294 line (that 1.294 is his SLG not his OPS). The Giants held a 3-2 series lead going into Game 6 and were on their way to bring the franchise its first title in SF and their first since 1954. They were up 5-0 in the sixth inning. All was set. Years of suffering for one of baseball's most historic franchises about to be ended, the ultimate culmination of Bonds's homecoming. And then it all fell apart at that instant.
The Giants blew the lead, the game, and ultimately the series.
2003 Cubs
New work for Dusty a year later, now managing for the Chicago Cubs who were nursing a World Series drought of their own (95 years at the time). The Cubs were up 3-2 in the NLCS and Mark Prior was DEALING the Cubs to a World Series berth. They were up 3-0 in the eighth and well, I think you know what happened from there.
2012 Reds
Jump forward nearly a decade later and Dusty has found himself leading a 97-win Reds team with Joey Votto, Johnny Cueto, and Aroldis Chapman leading the way. This team was damn good and had a 2-0 series lead on the Giants in the NLDS. The Reds dropped Game 3 in extras after a rare Scott Rolen bobble. The Giants owned Game 4 but Game 5 was in reach. In reach until Buster Posey stepped up with the bases loaded and struck down any such hope.
2016 Nats
In his first year with the Nats, Dusty was the one to come in and right all the wrongs done by Matt Williams. His team made their way back to the NLDS and were looking good with a 2-1 series lead. The Dodgers came back with a 4-3 victory in Game 4 and in Game 5 linked together Kenley Jansen and Clayton Kershaw for the last 9 outs. All three of the Nationals losses were one run games.
2017 Nats (Again)
I don't know if this is the play that will define this game and series but it sure does feel like it to me. It was everything that took hope away from Dusty Baker and the Nationals. Anyone watching this sequence just knew Davis was bound to give up another hit in that inning. It was just inevitable. But it was all deflated because of a few millimeters. It's the kind of play that makes you question replay and I'm sure for any Nats fan it felt cheap.
I don't agree with a lot of Dusty Baker's managerial decisions, I certainly think he's flawed and a good number of his decisions can be scrutinized. But no baseball man should go through all of this. To be on the other side of this much baseball history is incredible. I certainly hope the future is kinder to Dusty Baker. I hope he's still managing, I'll be rooting for him.
Reader insights
Be the first to share your insights about this piece.
Add your insights