Brendan Mckay Could Excel as a Two-Way Player
The Tampa Bay Rays announced they will let their fourth overall pick pitch and hit in the minor leagues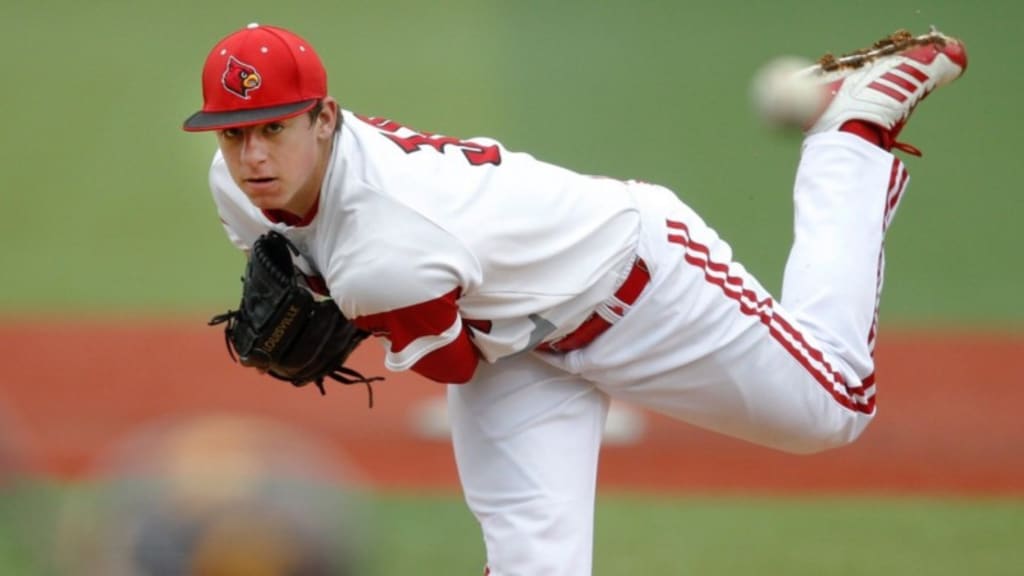 It's not too often you hear of a player being selected in the draft as a hitter and pitcher. Hunter Greene, the second overall pick by the Reds, was selected as a right handed pitcher thanks to a triple digit fastball. He could have also gone as a first round talent at shortstop, where he possesses a very strong arm and excellent bat speed at the plate.
Then there is Brendan Mckay, a junior out of the University of Louisville. He was arguably the best left handed pitcher in college baseball and one of the best pure hitters this past season. The 21-year old compiled a 31–10 record on the mound in three seasons at Lousville, with a 2.15 ERA and 385 strikeouts in just 310 innings. At the plate in 2017 he slashed a .343/.464/.657 line with 17 homers. Mckay has led the Cardinals to a College World Series appearance.
Initially the Rays did select Mckay as a first basemen. But after the draft, they made it clear they will let him pitch and hit once he starts his minor league career. He's had one of the best two way careers in the history of college baseball. There are certain guys in the big leagues who were great two way talents in college, but didn't get a chance to do it at the professional level. Names like AJ Reed, Brian Johnson, and Micah Owings come to mind. Mckay's 2017 season was one of the best on both sides of the ball since John Olerud's 1988 campaign at Washington State. That year Olerud hit .464/.558/.876 with 21 doubles, 23 home runs and 81 RBI as a first baseman and went 15–0 with a 2.49 ERA and 113 strikeouts in 122.2 innings. Of course, Olerud went on to have a very successful big league career as just a first basemen.
I think Brendan Mckay has a legitimate chance to make the big leagues as a two way player. He has all the stuff to be a starting pitcher, but I think the bat is too valuable. A move to the bullpen could benefit his career.
A reliever and first basemen
Mckay spent his college career as a starting pitcher and first basemen. He typically sits between 90 and 94 mph as a starter, with the velocity dropping into the high 80's in the latter innings. But if he made the transition to the bullpen, I guarantee you would see the velocity increase. This guy is clearly a rare talent who can literally do it all. Eventually if he continues to be a starting pitcher and a first baseman, his body will break down.
As a reliever, he can come in for one or two innings and give it all he's got. Even though there isn't typically a lot of throwing done at first base, you don't want him being sore all the time. Once he gets some coaching from professional pitching coaches, I believe he will be that much better on the mound.
He's going to hit, I don't think there is any doubt about that. He led the US Collegiate National team last summer with a .326 average, facing some of the best competition around the world. If there is any serious possibility of Mckay pitching and hitting once he gets to the big leagues, I believe it will be as a reliever. His stuff will be more explosive when he comes in for one or two innings. This way, he can still play first base every day, or even DH.
Most polished player in the draft
Mckay has nothing left to prove at the collegiate level. He has lit it up in all aspects of the game, both on the mound and at the plate. He is probably the most pro ready guy in the entire 2017 draft. Mckay has a very simple approach at the plate, with very good discipline. He doesn't have much movement in his hands or front foot when he loads up, but he has extremely quick hands. His power outlet has definitely increased over three years at Louisville, which will carry right over to pro ball, especially facing bigger arms. MLB.com projects Mckay to be a 20+ home run guy in the majors. The maturity level, bat speed and power is all there. Here's a video below showcasing his impressive bat.
Like I mentioned above, he was the best left handed pitcher in college baseball. He has a great feel for pitching. What makes him so successful despite not having a huge fastball is the deception in his delivery. He hides the ball very well prior to releasing, making it very difficult for hitters to pick up the pitch. Mckay has great fastball and curveball command, with the changeup being a working progress. Below is a look at Mckay on the mound.
He's a big, strong kid at the tender age of 21. He could fill out and mature even more, which is only going to help his game be that much better.
A glimpse into the future?
Brendan Mckay could be starting a trend of two way players in pro ball. Right now, he will be the first to do both. But there could be more guys coming along in the next few years who can pump gas on the mound and rake at the plate.
Only time will tell.
But for Brendan Mckay's sake, I believe a reliever role will allow Mckay to focus on the offensive side of his game as well, because after all the Rays draft pick is just as valuable at the plate.