Ardsley High School Athletes to Remember
A Look Back at a Few of Ardsley's Best.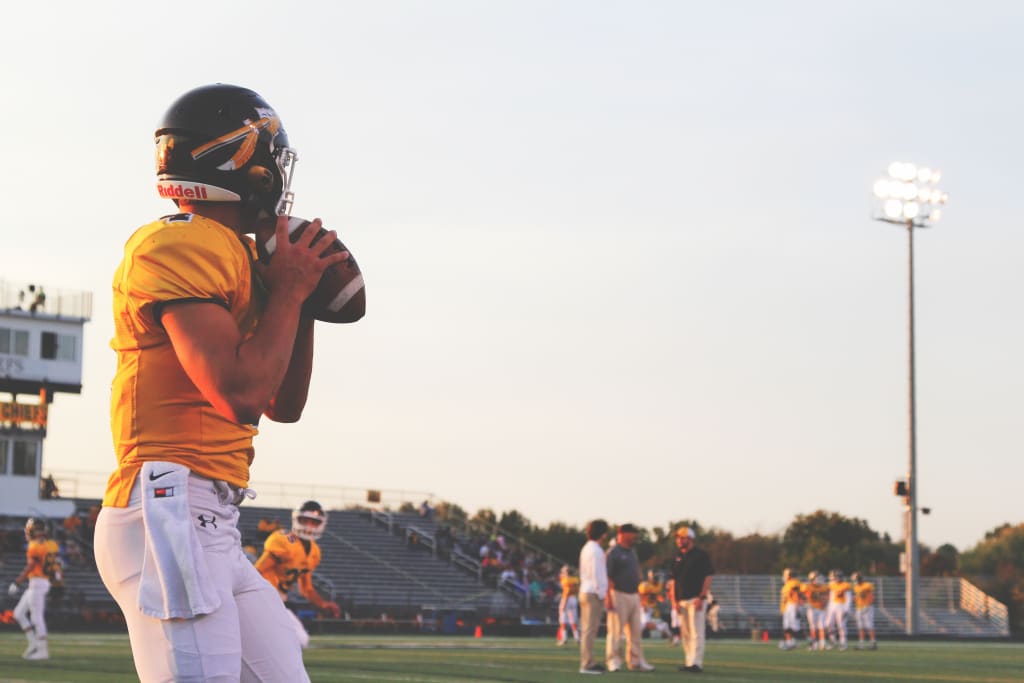 Ardsley Three Sport Athlete Strong Arms His Way as Quarterback
Dan Stein's first choice for a fall sport upon entering high school as a freshman would have been hockey. Minus that choice at Ardsley, the baseball and basketball player opted out of simply sitting around until the weather turned cold. "I thought I'd give football a try," he said. So as a baseball catcher, his strong arm put this eventual three sport athlete at the center of the gridiron for four full years.
At the time, the JV football coach was also Dan's baseball coach and he suggested Dan's healthy arm would suffice for a backup Quarterback. "The starter got hurt, and ever since that day, I took over and it's been a good fit," said Stein.
All-Section honorable mention last year, he and Ardsley finished at 4-5 the last two years. "We're not a big football school, but it's getting there," said the senior optimistically handing off the future.
Nonetheless, the buzz surrounding high school football games is something he feels lucky to have experienced. "The atmosphere," Stein asserted, "It's a great feeling."
The real world application of competing at the most difficult position in American sports is nothing to pass on either. "Being in that leadership role and developing that skill," he said, "helps translate to success in anything you do."
It's also not such a bad place to position yourself on the landscape of high school life. Even so, the pedestal didn't go to his head. In the end, Stein concluded, "We're all just high school kids."
Ardsley Volleyball Player Runs the Floor and Keeps the Ball Alive
Toni Pilla doesn't play above her head at 5'4" on the Ardsley Volleyball team. So on defense, she does all she can to make sure the big (and small) hits make it back to the front line for the kill.
Moving your arms and ready to slide, said the junior, "You got to get low and you got to dig the ball."
Of course, if the third hit ends up in the back row at her feet, she knows what to do despite being a little disadvantaged at 64 inches. "I'm not that big," she said. "It's a little hard to get it over the net and really hit it. But I'm alright."
As for providing cover when opponents dink, being a step ahead really pays off and not just because she keeps the point alive. "I love diving. I'm on the floor everywhere," Toni boasted.
Otherwise, her teammates are in good communication when it comes to covering the rest of the floor. "We work well together," she said.
After making it to the sectionals last year, but losing a couple of big hitters, picking up the slams are key on the agenda. "I've been working on it," she said.
Either way, Pilla enjoys the game, while conceding that her real talent lies on the basketball court. Nonetheless, she credits her coach with getting her up to speed in a pretty short time. "He really taught me a lot," Pilla said of Coach Ponterio. "Because I've gotten so much better in only like two years of playing."
Otherwise, Toni is not sure what she wants to study or where she wants to go to college. But she's already demonstrated that laying low and making the most of her niche will get her where she needs to go.
Ardsley Pitcher Excels in Sports and School
Senior Madi Dinaso is a three sport standout at Ardsley. As such, she closed her career with 12 of Ardsley's 15 wins, and the star pitcher dreams of playing softball in college. But looking back, she does not intent to go forward at the expense of what's truly important.
"I've been looking at division three schools in New England with very good academic programs, because that's what matters to me most," said the soccer, softball and basketball player.
At the same time, she gives mom and dad relatively equal weight in the success she's had. But the finer aspects of pitching were learned with the ups and downs that only a bullpen catcher would know. "That would be my dad," she revealed all the hours he spent crouching.
Mom had the bigger picture in mind in accumulating mileage and management skills as her little league coach. As for the competition now, she'll get you out with the screwball or sinker and reluctantly considers herself, "a pretty good hitter."
Batting cleanup, she has no reason to hesitate with a .600 bating average, and the 15-3 record aside, Ardsley accomplished a first in team history. They won their own tournament, drumming arch-rival Dobbs Ferry in the finals 22-11.
Otherwise, Coach Noreen Degnan keeps them on message by staying in constant contact. On the field, she has them loud and active, and off it, the inspirational text messages are always arriving. "She's a great motivator," said Madi.
All told, the team is expecting a big ending. "Our goal is to go as far as possible in the sectionals," she concluded.
Please Like My Facebook Page if you could.
Author can be reached at [email protected]