Andrew Luck for Comeback Player of the Year?
Having the Colts rolling after four straight wins, Luck is making a strong case for comeback player of the year.
Many experts and fans didn't know coming into the 2018 season how Colts QB Andrew Luck would fare this season. After missing the entire 2017 season due to shoulder surgery in his throwing shoulder, there were a lot of murmurs wondering if he will be the same QB again. Luck reassured fans and experts that he will come back better than he was, and his actions are reflecting that statement. Luck has once again threw the Colts into playoff contention, and it's safe to say that he should win the comeback player of the year award.
He's back and he's better.
Luck was confident that he'd come back as a better quarterback, and after 10 weeks his confidence has paid off. Luck has 29 touchdowns so far this season, which is ranked second in the NFL. The only person he is trailing is MVP candidate Patrick Mahomes. Luck has been on fire for a while now, as he has thrown for three or more touchdowns the last seven weeks of the season. Luck is on pace to break his own career high for passing touchdowns in a season. With all the passing touchdowns, Luck has only thrown nine interceptions. Luck's Achilles heel for his career has been ball security, but he seems to have worked on that aspect of his game.
One that can be credited to Luck's great play is his offensive line. The O-line has been a sore spot for Indianapolis since Luck has been drafted, but things have been coming together. The Colts O-line hasn't allowed Luck to be sacked in the last five games. If the big men up front can continue that trend, Luck is bound to shatter personal records by the end of the season.
Luck currently has career highs in completion percentage (67.3 percent), total quarterback rating (71.9) and passer rating (101.8). Luck's play has ignited a Colts team that was 3-13 the season before. Along with new head coach Frank Reich, they have given the Colts new life for the future.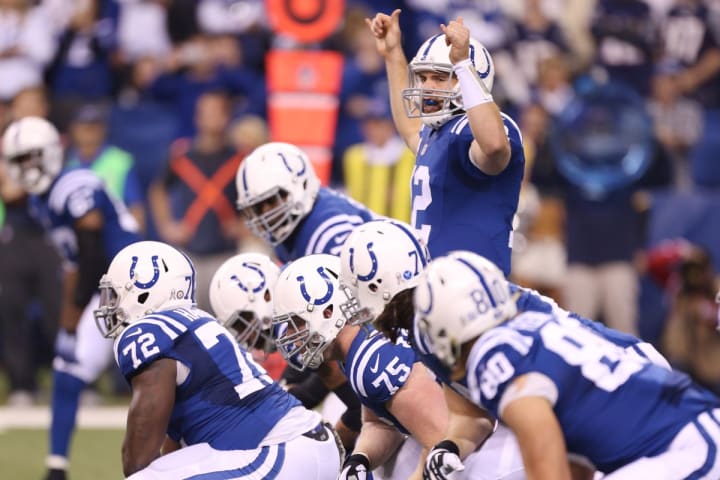 Completing the Comeback
Luck's play this season has put him in the conversation for comeback player of the year. The award is his to lose at this point and this award means more than many would think.
Luck's career longevity was brought into question at this point last year, as his shoulder injury raised questions if he could even play at that high level he once did ever again. Many were wondering if the Colts made the right decision to sign him to an extension worth over $120 million. Luck has had to answer many hard questions about his health and his anticipated level of play for this season. He has responded to those questions with an incredible season to this point and now he is almost a lock for the comeback POY award.
Now, Luck has to complete the comeback, which means keeping up this high level of play for the rest of the season. The Colts are in a multi-team tie for the sixth and final playoff spot after rattling four straight wins. If Luck can carry this team on his shoulders (see what I did there) and get them to the playoffs, that would be quite incredible. That could even put him in the MVP debate, but I'm sure Luck is more worried about taking it one game at a time.
football
About the author
I am a journalist who primarily writes about sports, but I also write about video games and music. I've written for multiple new organizations and have had success doing that. I love to inject facts and fun into my writing. I hope you enjoy
Reader insights
Be the first to share your insights about this piece.
Add your insights