Aaron Rodgers: The Baddest Man in The NFL
Between his consistentcy, stats, and winning streaks, Rodgers deserves his due as the best player in the league.
(Getty Images)
If it wasn't already apparent, or if anyone forgot during the Green Bay Packers four-game skid in the middle of the season, Aaron Rodgers is the baddest man in the NFL and the most deserving MVP candidate.
In fact, if you look at how Rodgers' has played all season, especially during the team's final six games, the Packers' QB is the epitome of the term "MVP."
While many were criticizing the three-time All-Pro and making claims that he was washed up or on the decline and calling for a complete overhaul in Green Bay, Rodgers did what he does best: R-E-L-A-X and make another prophetic statement to turn his team's season around as only a perennial MVP candidate could.
In all reality though, the claims weren't all that surprising even if they were off-based. The NFL is a "what-have-you-done-for-me-lately" league and at the time, Rodgers and the Pack weren't doing much to get anyone inspired or excited.
The Four-Game Apocalypse
Despite the QB's 316.3-yards per game, 12 touchdowns to just three interceptions, and average passer rating of 103.8, the team suffered through an abysmal four games that included the defense allowing 38-points per game and the rushing attack, devastated by injuries, gaining just 53.5-yards per game not including Rodgers. And yes, he led the team in rushing twice in that span.
If your quarterback is Cam Newton or Russell Wilson then sure, there are no issues with him leading your team in rushing. But when it's Aaron Rodgers, you might have a few problems.
Rodgers' truly did all he could during that four-game stretch and saying that he was the problem was so far from the truth.
Since his run the table comments, his team has actually joined him in the high level of play category. With another NFC North title and a now seven-game win streak, there's no questioning the Rodgers' MVP credentials.
Comparing the Stats
It's not just that Rodgers is an MVP candidate, again, or that his team is probably the one nobody wants to face right now. It's that consistently and without nearly as much recognition as deserved, Rodgers is the NFL's best player.
For many, the MVP is about stats and winning. If you have just one you're either a solid player on a great team or an elite star putting up points in garbage time. You need both things to nab the award for the league's best player.
So let's compare the stats with some of the other MVP QBs: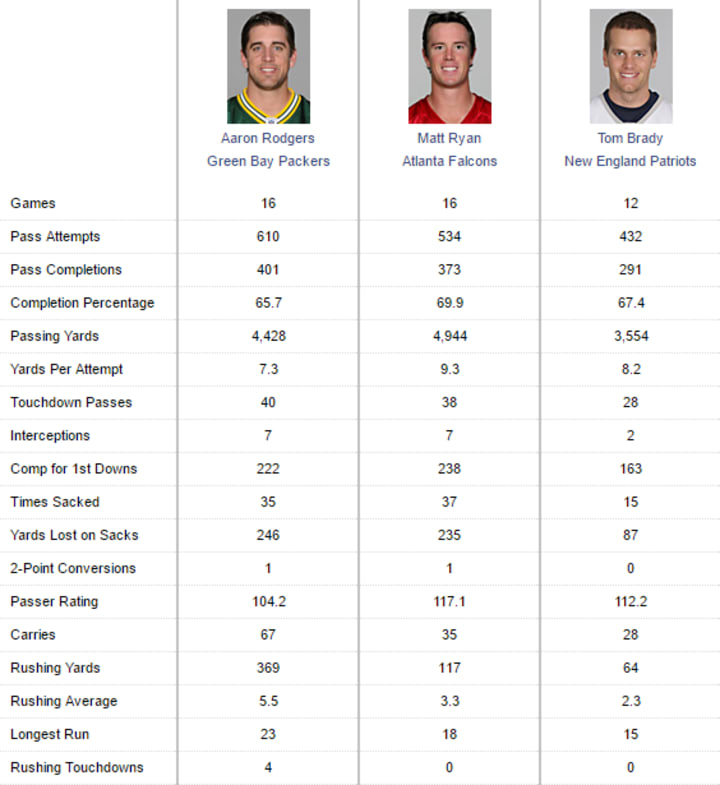 As we can see from the chart above, the three are all truly neck-and-neck if you take Brady's sample size into account. Rodgers and Ryan are nearly identical in fact with the two trading off who leads what category. And while none of these three would be classified as a running quarterback, Rodgers still managed quite a nice total of yards and touchdowns just to add to the resume that tell an important part of the story of his season.
Now let's narrow it down a bit. Brady of course had another terrific season and his 28 touchdowns to just two interceptions marked the best ratio in a season and certainly nothing to discount. But the four games missed also cannot be ignored and the team's 3–1 record without Brady also speaks to some degree.
So we're down to Rodgers and Ryan — two deserving candidates with nearly identical stats. To distinguish, let's look at records. The Packers ended 10–6 to the Falcons 11–5; another nearly identical stat. So, which is more impressive?
It's Green Bay's 10–6. Easy.
Atlanta led their division for much of the year. Although there was a scare from the Tampa Bay Bucs, they had it in the bag with relative ease. The Packers, on the other hand, had a tale of two halves with a four game skid followed by a six game win-streak to end the year.
Rodgers' performance, even in the skid where his team was the one letting him, down was truly that of an MVP. Sure, you can make the argument that an MVP would have been able to still command his team to wins in any of those games. However, when your supporting cast is down to a wide receiver at running back and pass catchers getting no separation (and for those of you thinking a sub-100% Jordy Nelson, oft-injured Randall Cobb and stone-handed Davante Adams is an elite bunch, think again) and a defense unable to stop anyone, literally anyone, Rodgers' gets a pass.
Not Just in 2016
It can be broken down in a number of ways but when you look at year-in and year-out production, it's tough to argue that Rodgers' isn't the best player in the league.
Take last year as an example. In 2015, Rodgers and the Packers made the playoffs as a wild card with a 10–6 record. It was a shock that the team had finally ceded the NFC North title for the first time in four seasons. Nonetheless, Rodgers dazzled in the playoffs with a famous overtime-forcing Hail Mary against the Cardinals.
That season though, the Packers QB received no talk in regards to the MVP award when in reality he could have won it again. In a "down" year, Rodgers threw for 3,821 yards and 31 touchdowns to just eight picks; quite an impressive down year to have.
Commanding a 15–1 team as Newton did in 2015 was more impressive, albeit with lesser stats, but that Rodgers' year was considered a rough one with no MVP talk is truly asinine and speaks volumes to just how under-appreciated he really is.
And with this under-appreciation comes the numerous mind-boggling plays that many now take for granted.
Cian Fahey, author of Pre-Snap Reads Quarterback Catalogue, routinely breaks down Rodgers' herculean efforts with plenty of GIFs for support that include his incredible footwork and evasion skills in the pocket.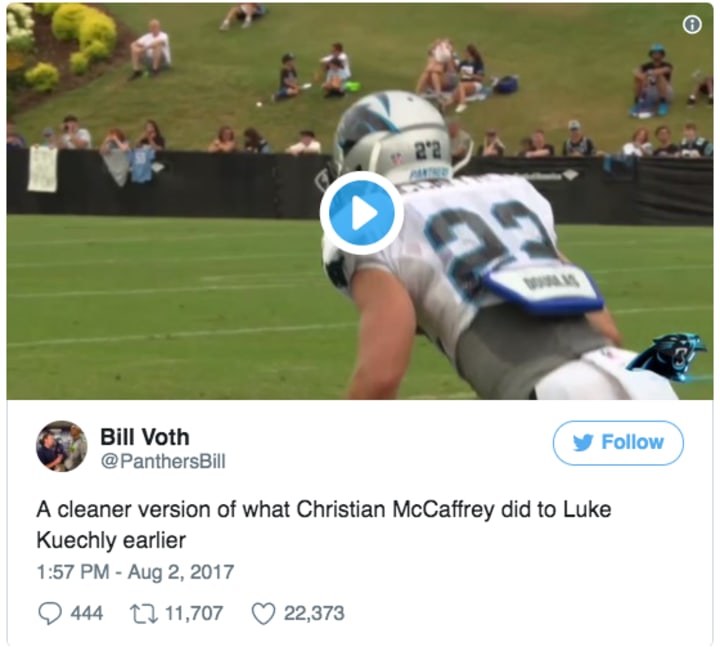 Across the field and body throws to covered receivers: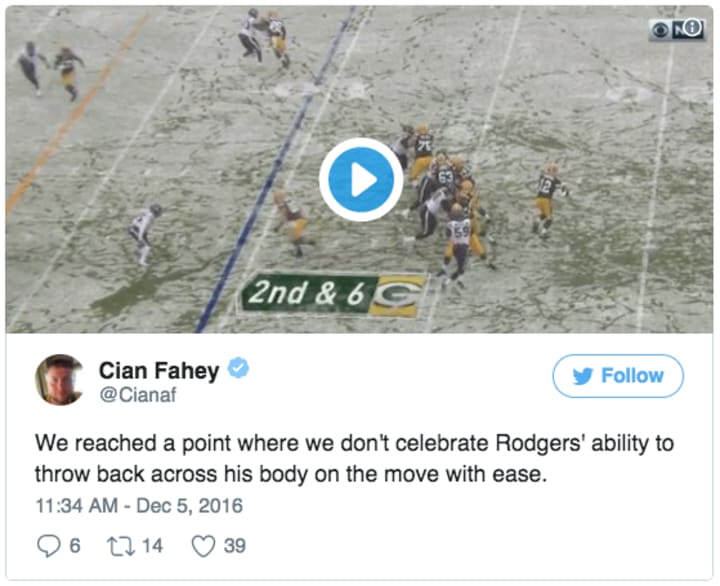 And his ability to have zero open receivers and still complete the ball: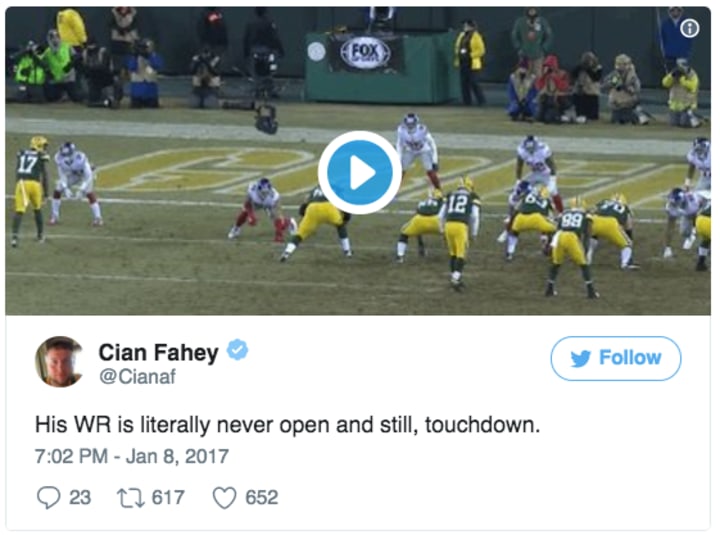 These are just a few of the many plays that Rodgers' makes that get glossed over as routine because for him, they are.
It's no surprise that these criticisms and critiques happen though. As with anything, if you're that good for so long, any drop-off is received with overly-critical remarks and frankly unfair claims.
Rodgers has been in the conversation as the best player and QB in the NFL for the last couple of years, and the fact that Green Bay has won only one Super Bowl with him remains a travesty. But no matter how many times the team fails to get him adequate help, Rodgers will still be slinging it like the bad man he is.
And he deserves all the credit.
About the Creator
Carolina Panthers & NFL Writer | UW-Milwaukee Journalism Grad | head baller, shot caller
Reader insights
Be the first to share your insights about this piece.
Add your insights