A Cleveland State Vikings Fan's Life Long Love Story
Celebrating the new Horizon League Champions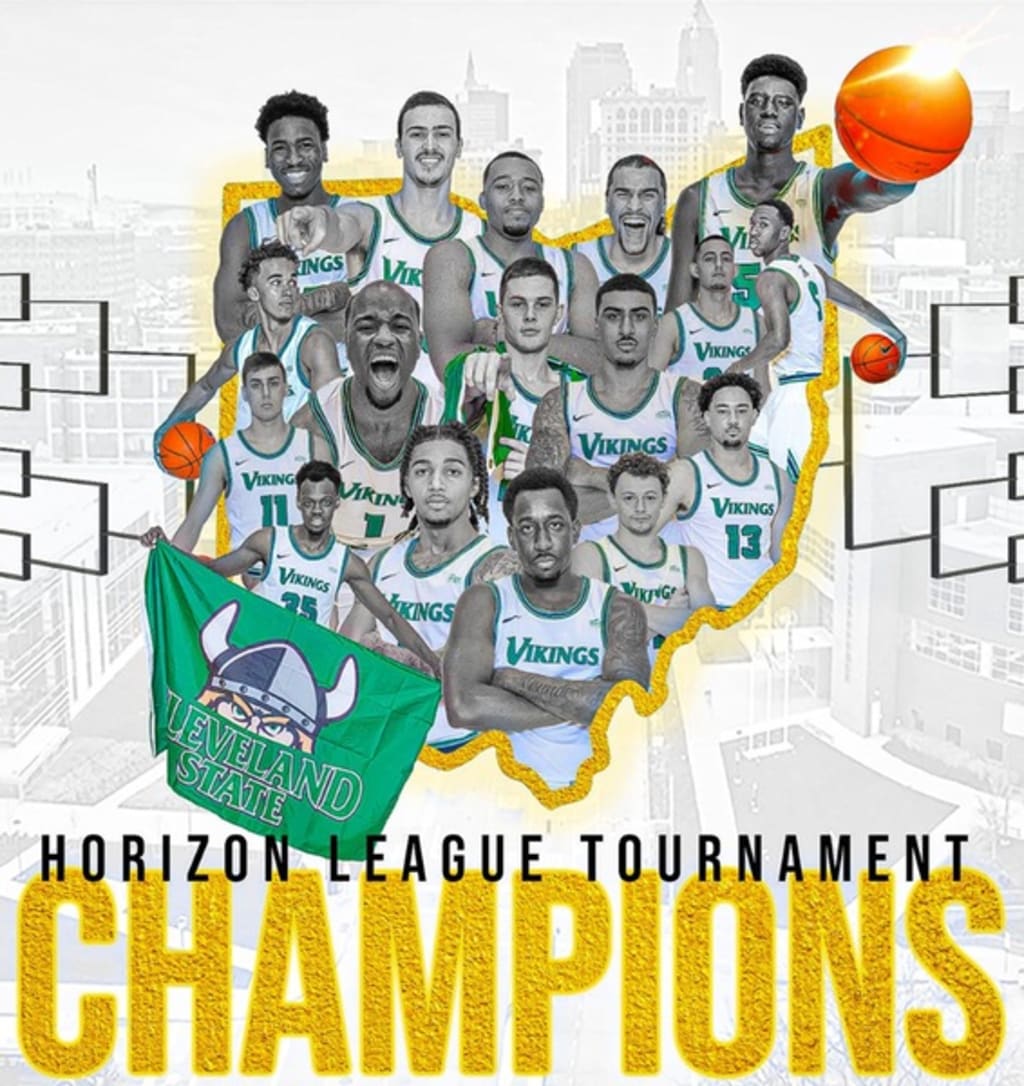 The 2020-21 Cleveland State Vikings
I have been a Cleveland State men's basketball fan since 1986. I remember being a little boy of six and seven years old obsessed with star player Kenny "Mouse" McFadden, listening to Vikings basketball games on WHK, an AM radio station, on a handheld stereo, while my mom did laundry at a laundromat.
I was six years old when CSU made it to the Sweet 16 of the NCAA Tournament. A year before, I had never known that Cleveland State or college basketball existed.
My introduction to the sport was a Cleveland State team that didn't have one player over the height of six-foot-seven but somehow found a way to race past there opponents and finished with a 29-4 record including an upset win over a Bobby Knight coached Indiana Hoosiers squad that went on to win the national championship in 1987.
Over the next two seasons Cleveland State continued to win but was on probation. According to what I heard, the NCAA was on a witch hunt to clean up the sport and somehow CSU was charged with giving future NBA tallest player ever Manute Bol either money, cars or a plane ticket or all of the above. Not sure. When I was seven and eight I didn't understand NCAA sanctions but I knew my favorite college basketball team was in the National Invitational Tournament.
During the 1986-87 and 1987-88 seasons, the Vikings made it to the second round of the NIT which was fine by me. I thought the NIT was a big deal, simply because my team was involved. When Mouse McFadden was about to play in his last game in 1989, I remember cutting out the article that was printed in the Plain Dealer that reviewed his career. He left the program as its all-time leader in points, assist and steals. He still holds the school's records in points and assists by the way. I thought I'd be seeing my favorite college player compete in the NBA for years to come. Unfortunately the Mouse became lost in the shuffle of the Continental Basketball Association.
The head coach of CSU at the time was perhaps the program's biggest star, the charismatic Kevin Mackey. I fell in love the coach that seemed to be able to win with any group of players that he found in sometimes the most undesirable places on the earth. By 1990 he was making a ton of money and was loved by the city. The problem is that some people were aware that he had developed a drug and alcohol problem and his every move was being watched.
The word got around that he would be in the ghettos of Cleveland getting high off of drugs. He eventually was pulled over with narcotics and a woman who wasn't his wife in the vehicle. Cleveland State almost immediately parted ways.
Despite the embarrassment Mackey's last recruiting class were seniors during the 1992-93 season and it appeared that happy days were returning to Cleveland State. They were coached by Mike Boyd who was an assistant coach at Michigan in 1989, when the school won the NCAA Tournament. He brought with him ex-Wolverine, Sam Mitchell who left because a talented group of freshman led by Chris Webber and Jalen Rose were coming and playing time was going to be sparse.
Mitchell became my second favorite Viking of all-time. He was a bruising, chunky six-foot-eight undersized center who powered the talented squad to a 22-6 finish and a 15-1 Mid-Continent Conference regular season championship. I was ready for another NCAA Tournament run. All of that went up in smoke when the Vikes fell in the conference tournament to future Seattle Supersonic Sherrell Ford and the Illinois-Chicago Flames.
"Okay," I thought, "1993-94 is gonna be the season." CSU kicked off the season with a close loss to future NBA star Marcus Camby and UMass on ESPN. That game was as good as it got that year as the Vikings finished 14-15. That was Sam Mitchell's final year at CSU. He went on to become a pro overseas but he passed away in 1995, at just 24 years old in Italy after a carbon monoxide leak killed him in his hotel room.
The 1990s became hard for CSU, but the biggest win in the mid-1990s came when I saw my favorite college program beat Ohio State during the 1994-95 season after Malcolm Simms hit a buzzer beater. After the joy of that night CSU didn't do so well. It's star of the future Jamal Jackson was murdered during the off-season back home in Boston. I promise that I don't think Cleveland State ever had a forward as talented before or since.
Throughout my college years in the late 1990s and early 2000s I continued to follow Cleveland State. I was so proud that one of the biggest stars from my high school (Shaw High School), Steve Bowie was able to lace up his shoes and take the court as a Viking. Cleveland State hired Rollie Massimino as its head coach. He led Villanova to an NCAA title in 1985.
Massimino was able to keep local stars like Theo Dixon and Jamal Harris in town to field a competitive squad. Even Ohio State star Damon Stringer transferred to Cleveland State. With of all that talent, the Vikings still had a hard time getting over the hump.
After college as a student at the University of Toledo, I became a news reporter. I turned down a position to write for the Associated Press, to write for an African American newspaper. While working for that outlet I was able to pick my own beats. One of the first priorities was to cover Cleveland State basketball.
At that time Omari Westley was a star at CSU. He and I grew up on the same street and we played together as kids. Westley was the most athletically gifted forward at CSU since Jamal Jackson. He became an all-conference player but the program was on shaky ground due to transfers, injuries and maturity issues.
Coach Mike Garland (2003-06) caught the short end of the stick. He was the right coach but it was the wrong time with not enough time.
I left Cleveland in 2007 and by the next year a renaissance in Cleveland State basketball occurred. Coach Gary Waters led CSU to five 20-win seasons from 2008-14. In 2008 I took my family to the Horizon League Championship game in Indianapolis. The Vikings loss but it was beautiful to see the progress that the team made when I'd seen it win four games in the 2003-04 season. My wife was pregnant that game with my youngest son, who loves the game of basketball. He is currently 6-4 at the age of 12-years-old. I tell him all the time that he's a future CSU Viking.
In 2009 my heart was so full to see Cleveland State back in the NCAA Tournament. Players like J'Nathan Bullock, who I covered in his first season with the program along with future NBA players Norrris Cole and Cedric Jackson led the Vikings to the second round of the "Big Dance." I felt the same joy as a 29-year-old as I felt when I was six. The highlight of 2009 was when the Vikings toppled Wake Forest in the first round.
Over the next few seasons Cleveland State made post season appearances in the lesser tournaments but it all came to an end once coach Waters' tenure wound down.
From 2015-19 so many players came and went. I stayed faithful to my squad. I travelled to see them play at Kentucky back in 2016 and it felt like I was the only CSU fan in the whole gym as I sat way up in the nosebleeds.
In 2018 the Vikings made a surprising run the Horizon League Championship game despite a 12-23 record. I was at the conference championship game in Detroit in a floor seat right behind the bench rooting the guys on alongside players from the 1986 squad which included my boyhood hero Mouse McFadden.
I even went to watch the guys play against Ohio State during the 2018-19 season, hoping they could upset the Buckeyes like they did back in 1994.
Out of nowhere in 2019, Dennis Gates was hired to replace coach Dennis Felton. Being busy with my grownup life, I didn't quite understand what was happening at Cleveland State behind the scenes. Just about every good player transferred and it felt like the dark days of the mid-1990s and early 2000s were back again.
Nothing could've been further from the truth. Coach Gates was able to paste together a squad and by his second season CSU turned around its record from 11-21 to 19-7, earning the Horizon League Championship and a trip to this year's NCAA Tournament.
Players like Tre Gomillion, Torrey Patton and Al Eichelberger play with a passion that is refreshing. I can't lie, sometimes I would wonder if many guys in the past really cared that they played for Cleveland State. The pride in the program has had its up and down times, but this year those guys and their teammates play like they wouldn't want to be anything but Cleveland State Vikings.
This team got my attention when it lost to Ohio University 101-46. That's right Ohio University, not Ohio State or Baylor or Gonzaga. I had friends calling and texting me. They shook there heads saying, "Look at your team. Why do you even bother?"
As a man, I was interested in seeing how the Vikings would get back up after being knocked down. The team's loss was on display on ESPN's Sports Center, Twitter and YouTube. It seemed like the entire college basketball world was laughing at Cleveland State. Everybody expected CSU to surrender and become a punching bag for the rest of its opponents.
The Vikings did anything but, surrender. After the Ohio loss, Cleveland State went 19-5. Every week the team stood taller and stronger. The guys didn't define themselves by embarrassment. They didn't confine themselves to the thoughts and imaginations of their critics. The Cleveland State Vikings moved forward and made their beliefs of their own greatness a reality.
That's the best way to live.
After Cleveland State won the Horizon League Tournament on March 9, I listened to the postgame of the radio and television broadcasts. I couldn't get enough. As a fan, I wanted to celebrate all night. The biggest moment of the night personally came when I played the coach's press conference on YouTube.
Coach Dennis Gates dedicated the win to the coaches and players of the past. Of those he mentioned, Gates spoke the name of Kevin Mackey. For the longest time, it felt like it was a no-no to say Kevin Mackey. He seemed to be cancelled before cancel culture was a thing.
Despite how it ended, it cannot be disputed that Kevin Mackey worked hard to make Cleveland State a winner. He provided educational and future career opportunities to many athletes who may not have gotten those chances anywhere else. His belief in his players helped them to become national darlings and experience a form of success with a game that most people could only dream about achieving.
Dennis Gates showed a lot of class by mentioning Mackey and to me as a fan whose roots go back to 1986, he connected with my heart and made me tear up a bit. Coach Gates showed this lonely Cleveland State fan that being the coach of this program is important and somehow that energy transferred to me.
As the night close I thought about the 2020-21 Cleveland State men's basketball program with nothing short of a smile. From deep down in my heart I just want to say thank you.
Thank you for this moment. Thank you for being great examples in life on how to overcome obstacles. Thank you for making the six-year-old boy inside of me jump up and celebrate. Thank you for showing the 41-year-old man that I am now that victory is a choice and nobody determines what you are more than you.
Thank you for allowing me to be able to scream proudly, "Hell yes, I am a Cleveland State Vikings fan and my team is a champion!"