Best Apps for Micro-Investing
Want to make more money, but don't have much to spare? These apps for micro-investing are just perfect for you.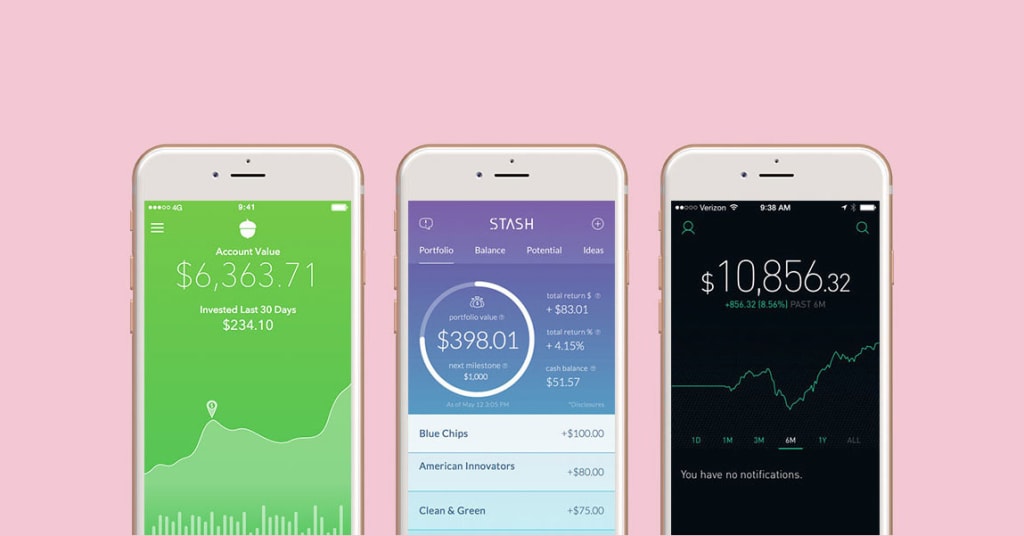 During a study trying to figure out how much Millennials knew about the stock market, researchers asked them what was the biggest issue they faced when trying to invest. Almost 35 percent of non-investing respondents said that the reason they couldn't invest dealt with the fact that they couldn't afford to invest.
The finance world listened and came up with a solution. This solution is called micro-investing, and it allows you to invest as little as a couple of pennies at a time into stocks that would otherwise be unaffordable.
Most recently, apps have started to hit the marketplace that make micro-investing doable at any budget. Speaking as a fan of this new practice, these are the best apps for micro-investing out there...
Stash is one of the first apps for micro-investing ever made, and remains one of the most popular of today. This app focuses on offering investments for as little as $5 a pop. Users get to choose from a variety of themed ETFs, as well as some of the most popular single stocks on the market.
This app has all the bells and whistles for new savers. It has Smart Save that saves random change you'd typically spend, Auto-Stash for a "set and forget," approach, Stash Learn for lessons on how to invest wisely, and also shows you how much money you can expect from your investments as time passes. Some users even can use Stash Retire to fund a Roth IRA.
If you're looking to save money in small increments and watch it grow, this will be an app you need to check out. To this date, Stash is considered one of the top micro-investing apps out there.
Acorns is one of the other apps for micro-investing that can claim it's one of the first out there. Unlike Stash, which focuses on $5 increments, Acorns is all about investing spare change from every transaction you make.
The way it works is simple. You link a debit card or a bank account to Acorns. You answer a series of questions, and then Acorns acts as a robotic advisor to help you choose the right investments for your needs. Then, every time you spend money, Acorns rounds it up to the nearest dollar.
Once it's rounded up, you can choose to multiply it to increase your investment. Either way, the round-ups get deposited into a personalized investment account for you.
Acorns also has a Found Money portion that allows you to invest extra cash from purchases you make via its mobile app. It takes 120 days to clear, but even so, it's a nice feature to have.
If you have a little more money and just want to buy a single stock at a time, then you'll find Robinhood to be one of the best micro-investing apps out there for your investment style.
In a lot of ways, this is a more traditional form of investing. You can buy full shares, but not partial ones. The only difference is that there are no minimum trade amounts, and no fees. So, you can invest as little or as much as you want.
This is one the only apps for micro-investing that also allows you to invest in options, day trade, and even check out cryptocurrencies to buy.
Vanguard makes some of the best mutual funds and ETFs on the market, and now, they also have one of the best apps for micro-investing individuals looking for high returns.
Clink is one of the newer apps on the market to take micro-investments into account, and it's a blend between Acorns and Stash. You get to choose how much money you want to save, and then you choose what you want to invest in.
Currently, Clink involves investments starting at $5 a pop and lets you invest in one of six ETFs. You get to watch your money grow, and you also get to invest added goods whenever you shop through Clink. It's a great app for people who love Vanguard.
If you're looking for a free financial advisor, you might like WiseBanyan. No fees, low initial investments that allow you to invest as little as a cup of coffee's worth, and an optional tax-benefit add-on makes this one of the best apps for micro-investing as well as one of the most popular robo-advisors out there.
All the investments in this app are ETFs, and the app chooses which one is right for you based on a risk assessment it does. It's easy as a slice of pie.
Auto-investing is doable with this app, as are deposits as low as $1. If you're looking to free your money and learn how to make your financial state better, WiseBanyan is the app you've been waiting for.
You might have already heard of Betterment. It's one of the best robo-advisors out there, and while it used to cost a pretty penny to join, it's now lowered its costs for investors of all walks of life. As a result, Betterment also now ranks among the top apps for micro-investors.
Investments with this app can be as low as $1, and come with excellent investment advice. You can even get tax benefits added to your investment kit for both you and your spouse! Best of all, fees are as low as can be.
Needless to say, this is one of the top app picks among serious investors—even if you have plenty of cash for a normal portfolio. We also think it's one of the best apps for first-time investors, too.
Ever wonder which stocks billionaire own? Ever want to invest like a billionaire? This is one of the newest apps for micro-investing and it actually models its investments off of the portfolios of top billionaires and investment companies.
People get to enjoy investing as little as $5 a pop, and get to have the confidence that they are doing what Warren Buffett would do. Not only does it allow you to invest like a billionaire, but it even shows you what you'd earn if you had invested a year ago.
Motivational? Oh, absolutely. You'll be hooked on iBillionaire.
In the market for a brand new IRA? Finhabits is one of the few apps for micro-investing specifically dedicated to helping you plan for your retirement. This simple app allows you to invest as little as $5 per week into an IRA account—and does so automatically, if you want it to.
Individual accounts, traditional IRA accounts, and Roth IRAs are all supported by this app. For those looking for a new way to improve their bottom line on both retirement and their overall tax situations later on, Finhabits is a fine choice.
Are you looking for a more unusual way to invest your money? Want to invest in Bitcoin but don't have thousands of dollars? Coinflash is one of the newest apps for micro-investing, and it's currently the only one that works by investing spare change into cryptocurrencies.
This is one of the best ways to invest in cryptocurrencies without having to worry about dodgy sites like Coinbase. Using this app is risky, though, since cryptocurrencies tend to be very volatile. Even so, if you've wanted to invest in Bitcoin and other currencies, this is a smart way to do it.
So far, returns are high. We can't argue with proof.
About the Creator
Ossiana Tepfenhart is a writer based out of New Jersey. This is her work account. She loves gifts and tips, so if you like something, tip her!
Reader insights
Be the first to share your insights about this piece.
Add your insights