Was a Summary Judgement by a Federal Court Granted in Favor of a Kansas-Based Employer That Allegedly Violated Civil Rights?
Uncertified documents were used to persuade a federal judge to rule adversely against a plaintiff in an employment discrimination case under Title VII.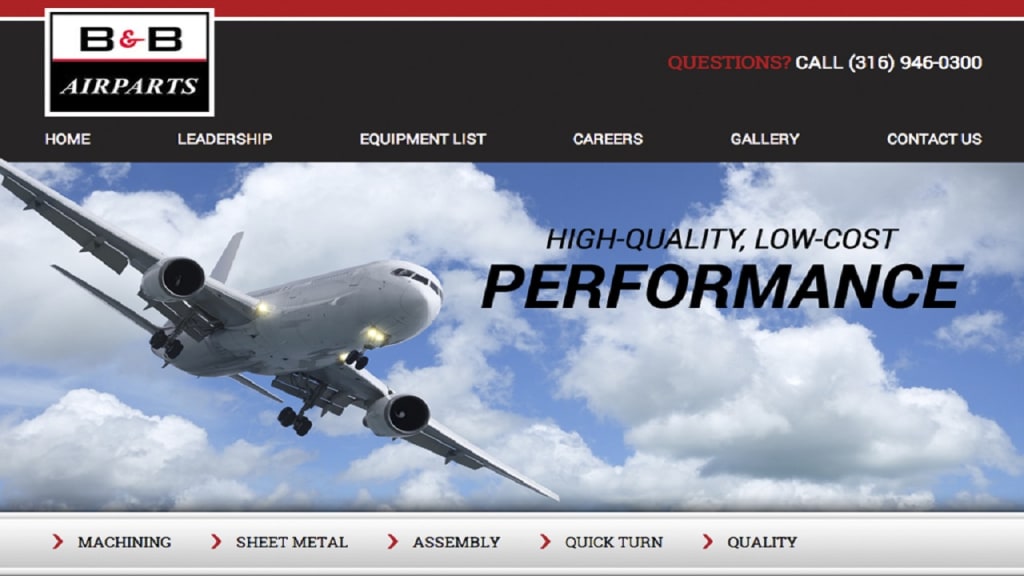 Photo credits: B&B Airparts official website
In May of 2018, the 10th Circuit of the United States Court of Appeals affirmed the Kansas Federal District Court's decision to dismiss a Kansas man's lawsuit under Title VII of the Civil Rights Act of 1964. Title VII protects against discrimination in the workplace based on race, color, religion, sex and national origin. The man who brought this suit is named Jerome Christmon. Christmon is a practicing Hebrew Israelite and filed suit against his former employer, B&B Airparts Inc., an aircraft parts supplier based in Wichita, Kansas.
Christmon sued B&B for religious discrimination in May of 2016 after several months of being denied a religious request, according to his lawsuit. Mr. Christmon simply asked to have his work schedule modified to show Saturday (The Sabbath) as his guaranteed off day with Sunday being an available overtime day. "[B&B could have] made it possible [for me] to observe my faith and work overtime when needed," Christmon claimed. His simple request did not appear to be something that would have put the company in an adverse position if granted.
In its response to the lawsuit, B&B Airparts Inc. claims that even though they had continued to schedule Mr. Christmon on The Sabbath, they had not violated his rights under Title VII of The Civil Right Act of 1964. The Court's eventual decision to end Christmon's case relied largely on a summary judgment motion, which contained excerpts from the plaintiff's uncertified deposition. Although the state of Kansas does not require certification when submitting a summary judgment motion, the Superior Courts have established the following:
"Only evidence that would be admissible at trial may be used to support or oppose a motion for summary judgment." Harlow v. Cee-It-Live, LLC, 2005 Ct. Sup. 661 (Conn. Super. Ct. 2005).
This means that without a certification of the deposition, which was used by B&B Airparts Inc., the company could not lawfully file for a summary judgment motion. Mr. Christmon, acting as a Pro Se litigant, filed an emergency hearing motion to inform the court that uncertified documents were being used and that certification of those documents was impossible, due to Rule 30(e) of "The Federal Rules of Civil Procedures." An article of this vast set of litigation guidelines reads partially as follows:
Changes Indicated in the Officer's Certificate. "The officer must note in the certificate prescribed by Rule 30(f)(1) whether a review was requested and, if so, must attach any changes the deponent makes during the 30-day period." Civ R. 30(e).
It surely came as a surprise to Mr. Christmon to hear that he would have to file a response to an improperly filed motion. After responding accordingly, Mr. Christmon received notice of a pre-trial order, which clearly stated that a jury trial date was set for Oct. 30, 2017. A summary judgment is a fickle beast in itself. Here is why. It has not been definitively ruled on whether the use of certified or uncertified depositions are judicious when applied to summary judgments. The filing of such a motion is often accompanied with questions of legality and ethics.
In August of 2017, just months before the jury trial was set to start, the Kansas Federal District Court judge assigned to Christmon's case (the same judge that previously elicited the unwarranted response from Christmon) decided to end litigations by granting the moving parties an illegitimate summary judgment motion. The court made the assertion that Christmon failed to show the existence of opposing facts. Despite the moving party failing to adhere to the strict standards set forth by the Federal Rules of Civil Procedure, Christmon's repeated series of motions championed these truths.
The reviewing and revising of his deposition before it was given to the court for certification and the fact that the deadline for filing a summary judgment motion on March 30, 2017 had passed, any possibility for the defendant to gain the needed certification was removed. However, according to the 10th Circuit Appellate Court, that certification had been obtained and present with the court. Mr. Christmon is not a judge or an attorney, but he is a concerned citizen of the United States. With the chaos of the political landscape, it does not ease concerns when citizens see that America's judicial system (which is supposed to be fair and unbiased) is missing the proverbial mark.
In closing, it is worth noting that an update with this case has transpired. Christmon has recently applied for a writ of certiorari with the United States Supreme Court with the hopes that he will finally get to exercise his right to a fair and speedy trial with an outcome determined by a jury of his peers.
About the Creator
Mr. Trammell is an award-winning digital media producer, freelance journalist, and author. Formerly, he wrote national radio content for the Michael Baisden Show. He also served as Senior Editor at the Your Black World online news network.
Reader insights
Be the first to share your insights about this piece.
Add your insights