Disgraced Former Congressman Anthony Weiner to Face the Music Over Sexting Scandal Involving an Underage Girl
Federal prosecutors are asking for a prison term of just over two years for the sexually perverted ex-politician; sentencing is scheduled for next week.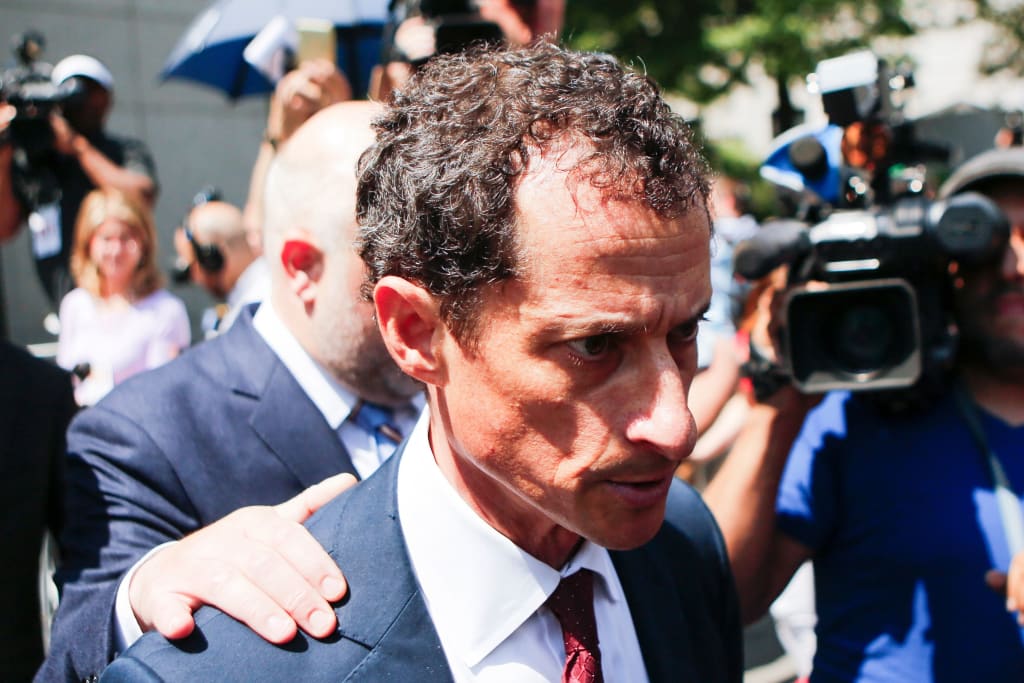 Anthony Weiner leaves federal court while being video recorded by various members of the press (Photo credits: Getty Images).
The downward spiral that former Democratic US Congressman Anthony D. Weiner has been descending on over the years finally reached a threshold, which will inevitably lead him to a prison cell.
This past May, Weiner, 53, pleaded guilty to a federal charge, which involved felonious sexual misconduct on his part. During a pre-sentencing court hearing that was held in the middle of last week, attorneys argued for leniency on Weiner's behalf in the Federal District Court of Manhattan, New York. However, this past Wednesday (September 20) Judge Denise L. Cote received a sentencing memorandum from the office of Joon H. Kim, the acting US Attorney in Manhattan.
The memorandum explicitly detailed the crimes that Weiner has admitted to and expressed the sentencing request of prosecutors. The office of the US Attorney in Manhattan has asked for a federal prison term of 21 to 27 months. The story of this sick case began in February of 2016. At that time, Weiner began communicating online with a 15-year-old girl from North Carolina. During three Skype sessions, Weiner engaged in lewd and lascivious communications with the girl, who told him she was underage.
But the girl's honesty about her age did nothing to prevent Weiner from pursuing his depraved agenda. "[Weiner] used graphic and obscene language [to entice the unnamed 15-year-old girl] to display her naked body and fondle herself, which she did," reads the federal prosecution team's sentencing memorandum. Prosecutors also stressed that Weiner's requests for leniency contain terms of punishment, which do not sufficiently match the severity of the crimes he has pleaded guilty to.
In addition to illegally and immorally communicating with the underage female, prosecutors also claim that Weiner talked about what kind of disgusting things he would do to her if she were of legal age. However, at some point during this case, attorneys for Weiner tried to smear the victim by bringing up what may have motivated her to entertain their client's fiendish desires. Weiner's defense team claimed the girl sold her story to a popular British newspaper for $30,000.
Weiner's lawyers also said that the girl is interested in compiling juicy material for a tell-all book and is currently shopping her ideas to publishers. However, prosecutors remained steadfast in their sentencing memo and argued that Weiner is a "grown man, a father, a former lawmaker, [who] willfully and knowingly asked a 15-year-old girl to display her body and engage in sexually explicit conduct with him online." They also said that, "Weiner should be sentenced [to prison time]."
Weiner's diabolical plunge into a sexually perverted abyss was initially exposed in May of 2011. Around that time, the disgraced federal legislator reportedly used Twitter to send a photo of his erect penis concealed by a pair of men's underwear to a 21-year-old female college student who had been following him on social media. Weiner subsequently resigned from Congress roughly a month after becoming embroiled in this first scandal. But Weiner was not through exhibiting his shameful circus just yet.
In April of 2013, Weiner made a political comeback. This time, he embarked on a bid to be the mayor of New York City. However, he became the center of some more very negative attention after additional illicit photos were made public. On top of losing the mayoral primary that year, it was revealed that Weiner had engaged in sexting activities with at least three other women since he resigned from Congress in June of 2011. Weiner's wife Huma Abedin finally filed for divorce in May of 2017.
Weiner's once promising political career and abrupt fall from grace is a story of controversy for the ages. The demented ex-politician will be sentenced in his federal case on Monday (September 25).
About the Creator
Mr. Trammell is an award-winning digital media producer, freelance journalist, and author. Formerly, he wrote national radio content for the Michael Baisden Show. He also served as Senior Editor at the Your Black World online news network.
Reader insights
Be the first to share your insights about this piece.
Add your insights