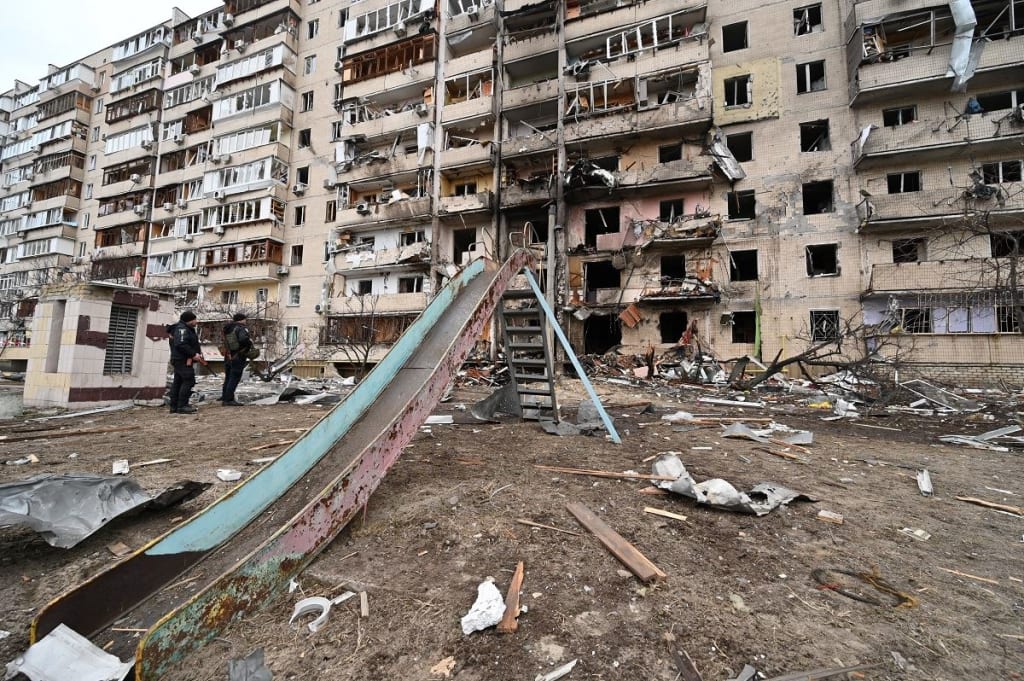 On the same day that his forces launched another salvo of missiles into Ukraine's infrastructure, Russian President Vladimir Putin met with his military leaders.
At the "special military operation" headquarters on Friday, Mr. Putin discussed possible strategies for Russia's upcoming action.
This news comes after some military officers in Ukraine alleged that Russia was preparing to launch an offensive, possibly early in 2019.
The electricity grid in Ukraine has been attacked by Russia, leaving millions in the dark.
Video from the meeting on Friday showed Valeriy Gerasimov, the head of the armed forces, and Sergei Shoigu, the minister of defense.
The Kremlin leader was seen on state television telling military officials, "We will listen to the commanders in each operational direction, and I would like to hear your ideas on our immediate and medium-term activities."
Online rumors that Gen. Gerasimov had been fired from his position have been put to rest by his appearance. Hawkish commentators have heavily criticized the 67-year-old, alleging that he is being overly cautious.
Photos issued by state media indicated that the Russian commander in Ukraine and general of the air force Sergei Surovikin were also present at the meeting.
In recent months, Ukrainian forces have won a number of significant gains, including retaking Kherson, the only significant city so far taken by Russian forces.
Additionally, once Moscow's forces in eastern Ukraine collapsed earlier this year, military leaders faced a barrage of criticism from pro-Kremlin media personalities.
The meeting was called in response to General Valerii Zaluzhnyi's statements that Moscow would try to start a new offensive in early 2023. He issued a warning that Russia was assembling some 200,000 soldiers for the assault.
He continued, "I have no doubt they'll try Kyiv again. " I am aware of how many combat units I currently have and how many I will need to develop by the end of the year. Most importantly, I am not touching them at this time. despite how difficult it is."
He continued by saying that the attack might come from "the direction of Kyiv" and could perhaps come from Belarus.
Russian troops crossed the border from Belarus in February and moved towards Kyiv, the capital of Ukraine.
Thousands of Russian troops are presently present there, participating in what Moscow's defense ministry has referred to as "intense combat training," despite the fact that the country's leader, Alexander Lukashenko, has consistently denied that his forces will join the invasion.
On Monday, Mr. Putin will travel to Minsk to meet with his Belarusian colleague.
The White House spokesperson John Kirby stated that US intelligence agencies "aren't seeing any indication that there's an imminent move on Kyiv," but commentators have questioned Russia's capacity to mount a fresh onslaught against the Ukrainian capital.
Senior US defense sources told Reuters that as Russia depletes its supply, it is being forced to use ammunition that is decades old and has a high failure rate.
They said that by early 2023, they might run out of effective ammunition due to "the rate of fire that Russia has been using its artillery and rocket weapons."
After the most recent wave of Russian assaults on the nation's electricity grid, Ukraine's President Volodymyr Zelensky announced on Saturday that power has been restored to nearly six million people.
The metro system had been reopened and the water supply had been restored, according to Vitali Klitschko, the mayor of Kyiv.
Additionally, he shared images of a sizable Christmas tree that had been modified to fit the requirements of winter during a war on Telegram. Energy-efficient LEDs powered by a generator will be used to light the tree, he said.
Authorities said that Kharkiv, the country's second-largest city, now has electricity after being without it for hours due to Friday's round of strikes that targeted energy plants all over the nation.
Since the wave of attacks on power facilities began on October 10, Russia has launched more than 1,000 missiles and attack drones built in Iran. International officials have argued that the strikes constitute a war crime, notably French President Emmanuel Macron.
According to the UK Ministry of Defence, Russia's campaign of long-range strikes against Ukraine's vital infrastructure had recently "upped."
About the Creator
Welcome to my page, where you will find valuable information that can change your life! Whether you're looking to improve your health, learn new skills, or simply gain a new perspective on the world, you've come to the right place.
Reader insights
Be the first to share your insights about this piece.
Add your insights