Tim Hortons Helps Canadians Cut Down on Coffee Consumption by Being Total D*cks to Their Staff
It's incredible what a little violation of labour rights can inspire.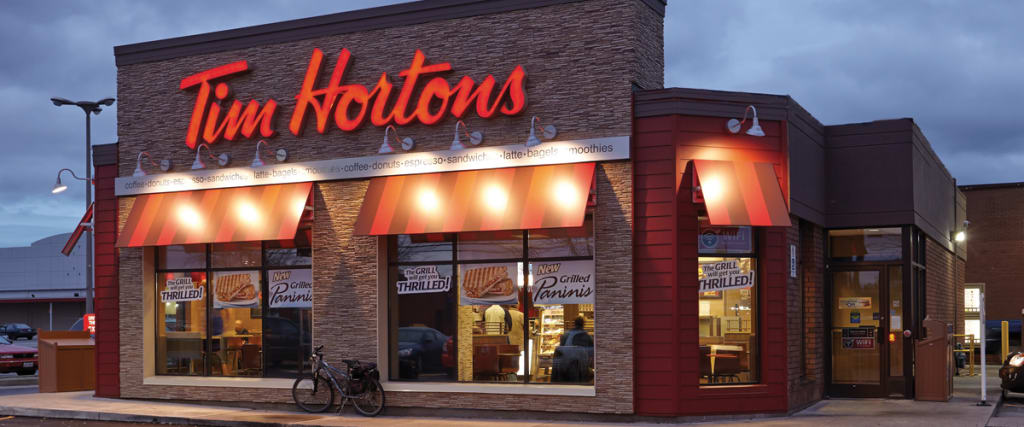 Behold: a Tim Horton's with a reasonable line up.
COBOURG, ON—Ontario's Liberal government made a lot of plans to improve the lives of Canadians for 2018, and Tim Hortons franchisees were not interested in being left out.
"We've noticed that a lot of people make resolutions to cut coffee or caffeine consumption every year, but fail to accomplish this goal," one franchisee stated. "We've tried selling blander coffee and longer line ups to aid in their journey, but to no avail."
After Ontario's Premier, Kathleen Wynne, passed legislation to increase minimum wage to 15 dollars for January of 2018, several franchise owners across the province decided to independently penalize their employees from cuts to benefits to insisting workers hand over their tips to the company and the reaction from Canadians was shocking.
"All of a sudden, people are meeting their goals," a Whitby franchise owner commented. "If I had thought I could have had such a positive effect on the lives of average Canadians, I would have pressured my employees about their political choices years ago!"
Many people in Ontario have voiced concerns about the company that has made such an effort to engrave itself in Canadian identity taking the opportunity to be kind of dick-ish to it's work force.
Marie Jones* of Cobourg stated she was particularly upset about the individual franchises making these choices based on finance instead of character.
"Employees should have had their wages passive-aggressively subverted—the Canadian way, not openly broadcasted in a back room with a passive aggressive note! This is Canada. Our injustices are much more subtle than that."
The social media team with Tim Hortons is currently reporting some of the highest numbers of publicity with young people, citing "probably the recent close of Teavana."
"We've got hashtag trends from #NoTimmiesTuesday to #IJustWantToEatSomethingNotFromTheFoodBankTims and it's a really exciting time, because our division was almost closed when we realized only old people frequent our restaurants and the Tim's donuts are primarily utilized as duck food," Jessica* from Tim's media team explained. "The franchise owners have been so pleased that they may let us disconnect from our iPhones for our bathroom breaks now."
Not every franchise owner is pleased, though. Due to the time of year, many franchisees are making these decisions from summer homes and international vacation destinations. One franchise owner's mother was particularly outspoken about the timing from the Liberals to put this increase at peak vacation time.
"My son is an average middle class Canadian who happened to be able to afford a multi-million dollar franchise," she stated in a press release last week. "Making these important decisions to improve so many lives is difficult to do beachside and the Liberals really should have ensured their increase to workers' wages wasn't going to effect prime vacation time for those who had to undermine those increases."
Public opinion is mixed when it comes to Tim Hortons new effort to aid in New Year's resolutions though. Many Canadians voiced that they didn't care how poorly workers were treated, they still wanted their double-doubles.
"Look. I'm happy for other people making progress for their health, but I simply see this as an opportunity to get through the drive-thru in under three CBC Radio One segments, and that's another sort of improvement on my life that I won't waste without coffee."
No Tim Hortons workers were available for comment, aside from fervent whispers about losing their jobs.
*Names may have been changed to protect individuals from being forced to taste test the new mystery breakfast sandwich.
—
January 17th, 2018 by Ray Pluie.
Follow Ray on Twitter or call out her name into the next storm cloud and hope the sky releases her.