Virtue and Moir's Gold Medal Performance Cause for Concern with Climate Change Activists
"I am not confident the Earth can handle such a surge in Celsius."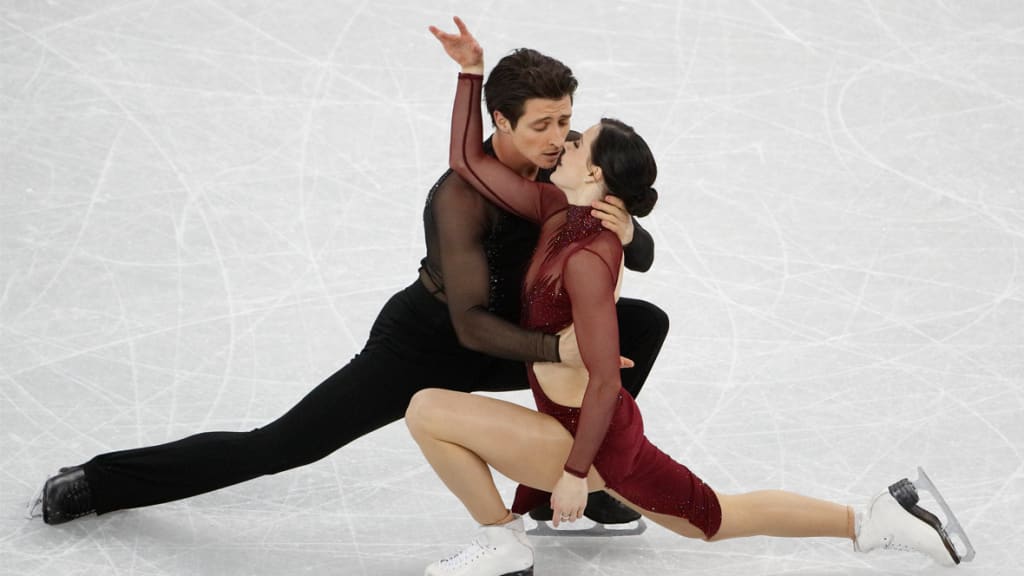 An unexpected consequence to being so hot.
PYEONGCHANG, KOREA — Canada is not best known for being a heat source. Although the country has signed onto the Paris Accord, they have never been considered a major player in the fight for climate change.
Until this week.
Climate change activists and the scientific community have been disrupted by the recent gold medal win from Canadian ice dancing duo Tessa Virtue and Scott Moir. Their Monday night performance had viewers tuning-in to a seductive rendition of Moulin Rouge's "Roxanne," which failed to include a warning about watching with your family or with access to an air conditioning unit.
The routine was so provocative, climate change expert Dr. Harriet Tucker decided to check into the temperature averages surrounding the Korean province hosting the Olympics.
The results were shocking.
"I couldn't believe it," Dr. Tucker recalls, "Looking back at the temperature averages for Pyeongchang, every night that Virtue and Moir danced there was an increase in celsius."
This was alarming enough, but Dr. Tucker then captured Monday night's temperature and went to Twitter to report it.
"The Paris Agreement is a measure to see global temperatures decrease by an average of 2 degrees Celsius. After that performance, the entire province of Pyeongchang lit up higher than a summer day and will likely keep the community from reaching it's goal. I'm not confident the Earth can handle this surge in Celsius."
Dr. Tucker's take to twitter created a rallying cry for climate change activists who are now protesting outside of the Olympics Ice Rink in Korea and starting campaigns online.
"They are incredibly sexy, but the Earth just can't handle it." was the statement released from the World Wildlife Federation.
NASA stated that they are closely observing this development as a high level threat to global safety.
Even the gentleman of science, Will Sprye, was quoted as feeling, "conflicting emotions" through this time of political divide.
"I love the environment, but I also love the Olympics and Virtue and Moir are so fantastic — I'm just not sure about anything anymore."
Online comments ranged from demanding the Olympic duo be separated from each other for life to inviting an early death from global warming for more performances.
Gavin Mitchell, head of the "Scott-and-Tessa-4-Lyfe" Instagram, mentioned that the discovery — although shocking — was not truly surprising and that it would be a worthwhile way to go.
"Listen, the world is going to end anyway. Climate change is insurmountable, but Scott's face is not. Let Tessa climb her mountain while we watch in awe."
Climate change deniers have also grasped onto this discovery with mixed emotions, citing a godly intervention.
"I don't believe in the warming of the Earth, but I can understand the devil and what those two unmarried people did on that ice? That was channeling Satan as far as I'm concerned," Sharon Brigs stated in her blog that explores global warming in relation to images of Christian messages in toasted breads.
"I just hope they finally put a ring on and beg for forgiveness from the Lord. They are dating, right?"
The Canadian darlings and their representatives have yet to release a statement on this occurrence. They have also not left their mutually shared hotel room since the win. Family has mentioned that this is a normal part of their friendship and close bond.
In other news, the Canadian Government is excited to celebrate an early spring when Tessa and Scott return home with their gold medal in tow.
-----
The above is a not-so-clever satire as submitted on February 20, 2018 by Ray Pluie.
Follow Ray on Twitter or find her selling poorly developed childhood photos of Tessa and Scott to lonely housewives.