The Death of Ruth Bader Ginsburg
How her life and death affect us and what's to come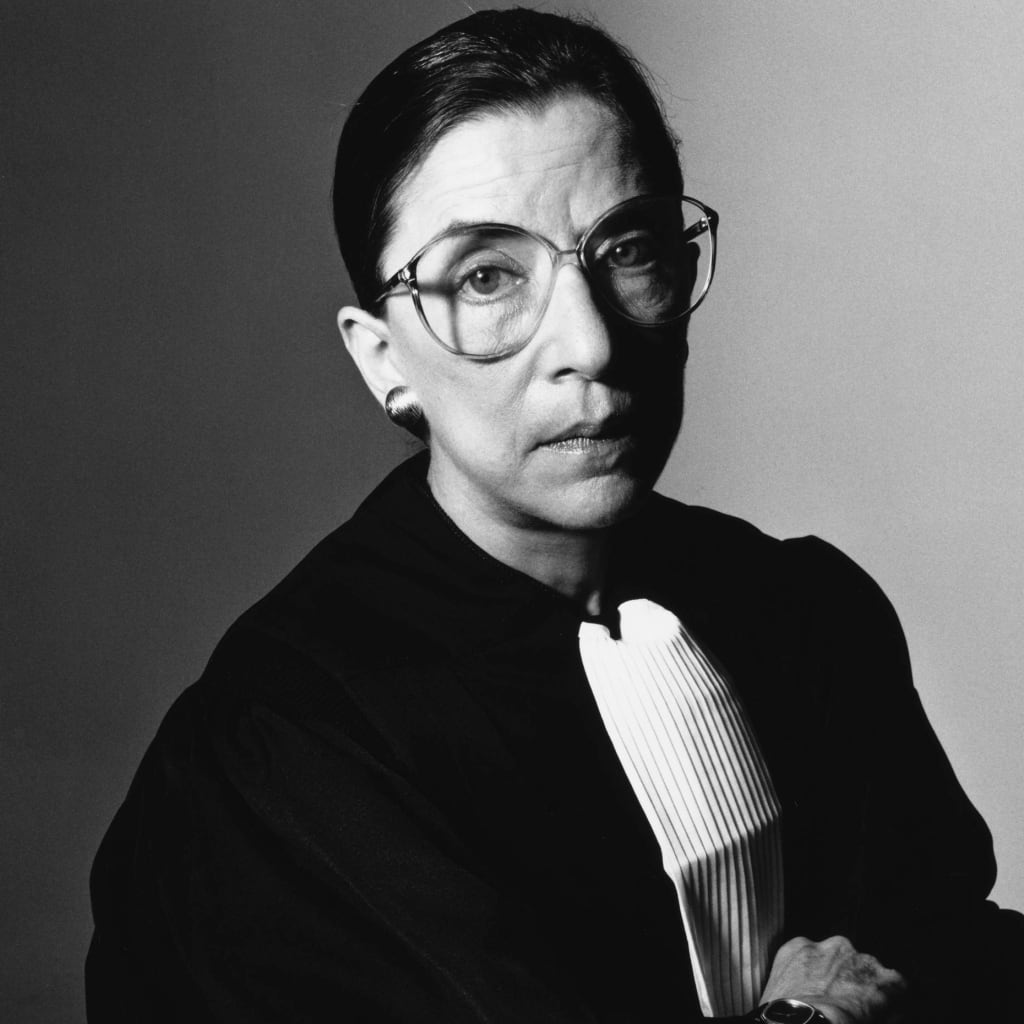 When the news broke on September 18th 2020 that Ruth Ginsburg had died, I got physically ill and sobbed. It was like losing my grandmother all over again. Honestly, I'm still not over it. I never met her but wish I had gotten the chance to.
I'm sure I'm not the only one who felt sick when she died. I'm also sure that the gravity of her death hasn't hit for a lot of people, specifically women who may not be involved in politics or who maybe don't realize why she was so important and why her death is frightening for those of us who do understand. I was hoping she would have hung on for a few more years in all honesty.
Ginsburg had worked her entire career to eliminate gender-based stereotyping in legislation and regulations. If it wasn't for her, women would not even be able to get a credit card in their own name. Think about that for a second. How crazy is that to think that right now in 2020, a woman might not have even been able to have her own credit card if Ruth hadn't done something. That's nuts right? That's not all. The list is long.
Ginsburg was a female empowerment icon. In 1972, she became the first tenured female Columbia Law School professor. As she co-wrote the first law school casebook on sex discrimination in 1974, she practiced what she preached. At the university, she fought for her female colleagues to earn the same retirement benefits as her male counterparts. It's truly sad she even had to fight for that.
Ginsburg was fought passionately for equality everywhere, even the rights of the LGBTQ community, undocumented immigrants and disabled people. She truly was a voice for people.
Her death comes at truly the worst time, right before an election. Who knows who her replacement might be . I worry about the outcome of it. I'm most worried about women's rights. Visions of a Handmaid's Tale flash before my eyes. I think about how in the beginning of that series where all the women had their bank accounts and credit cards frozen and they were confused and had no idea why. I think about how they were all turned into slaves and used for things. It scares me. I'm also worried about how the right to choose could be stripped away from us.
If the right to choose is taken away, women will no longer be in charge of their own bodies. We will no longer have body autonomy. That's a scary thought. I think about what kind of future my children and grandchildren might have to deal with in a world where women might be treated as second class citizens or worse. I don't want my daughters to not have the right to govern their own bodies.
Apparently Trump has already picked who he wants to be Ginsburg's replacement. As suspected, his pick is very anti choice and super religious to the point of it being cult like. Years ago, when a Handmaid's Tale came out, we thought there was no way that our own society could ever become like their society had transformed. It was too shocking, too crazy to think that that could even happen in today's modern age. However given the events of 2020 so far, nothing is shocking anymore, anything can and will happen during this year if we let it happen.
I think the only positive in Ginsburg's death is if anything, it has stirred that fire inside us all even more to keep fighting for women's rights and to not back down. That fire that is primal, that calls us to action. We will not back down and roll over and let them win. We will keep fighting. We owe it to ourselves, to future generations. We will not go backwards.