Scottish and German Links
Political, Social and Commercial Connections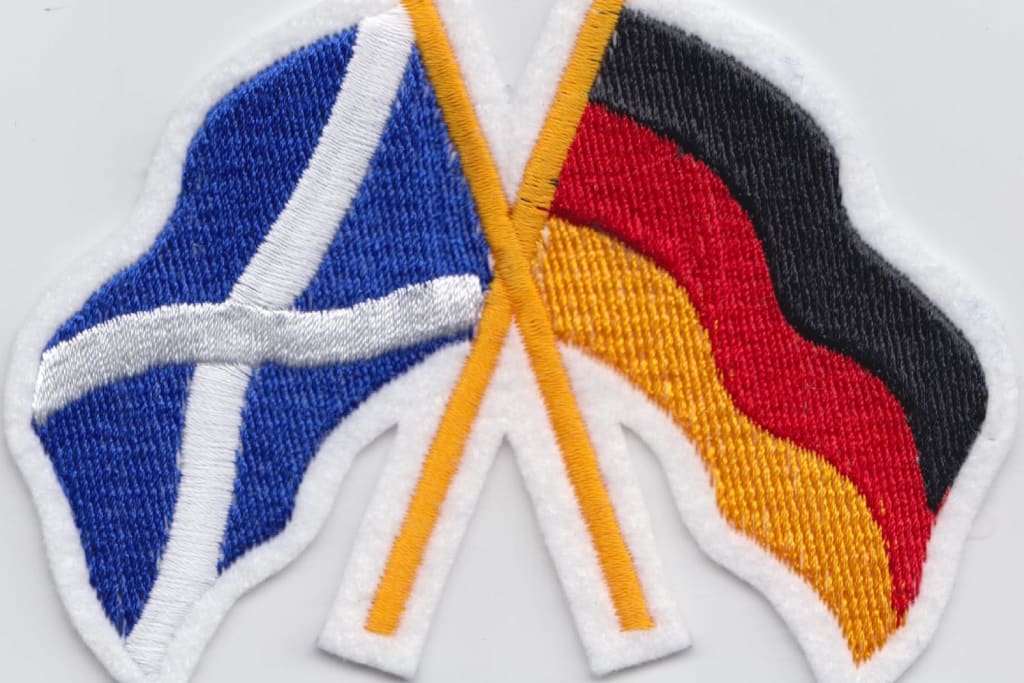 Is History Repeating Itself?
Brexit trade "threats" and the Wallace Lubeck Letter of 1297 – is history repeating itself?
The Lubeck Letter
After the historic win at Stirling Bridge, William Wallace and Andrew Moray were made Guardians of Scotland and 'liberum ansum' (literal meaning: free trade) was granted to set trade routes back up which had been blocked or disrupted by English invaders.
The Lubeck letter of 1297 was written to advise that merchant routes were safe to use and invite Germany to begin exporting goods to Scotland again. Safe access at all Scottish Ports was guaranteed by Wallace, with the help of French Sovereign Philip IV.
The letter was returned to Scotland in 2012 and went on display at the Scottish Parliament.
The Brexit scaremongering tactics regarding trade links being severed, and Scots being told "you won't get this any more" once UK leaves the EU is absolute nonsense!
If no longer part of the EU we may have to pay a little more due to no longer having "mates rates" for excise or shipping routes, but hey, don't prices go up every year anyway?
And as for lack of access to goods currently imported – we don't have Trump, so it's not as if a wall is going to be built, lol!
At the end of the day – if people want to buy something they simply find somewhere to buy it from……..and this time the rescue effort comes not from a letter delivered by William Wallace, but a collaboration between Nicola Sturgeon, the Scottish Parliament and the Bavarian Economy Minister.
Scotland is looking to strengthen trade links before Britain leaves the EU, and open its own trade representation in Berlin. Sturgeon traveled to Germany in 2016 and met with Germany's Minister of State for Europe Michael Roth, and has since been working to forge closer relations through business cooperation.
When Britain voted to leave the EU, Berlin's regional minister pledged Edinburgh its support for efforts to remain if Scotland decided to split from the UK. And just 3 days after the referendum the head of the EU affairs committee in the German Parliament referred to Scotland in the following statement:
"the EU will continue to have 28 member states, as I expect another independence referendum in Scotland"
This comment was followed by Sigmar Gabriel (now Foreign Minister) saying that
"the EU will certainly take in Scotland, if it wants to leave the UK and enter the EU"
- this quote was given to Politico, as part of an article called When Scotland met Germany, March 2017
So basically – Scotland's ability (and wish) to carry on trading with Germany and other European neighbours is being threatened by English governance, and yet again Scotland has been given support from elsewhere to create stronger business links, and commercial cooperation.
Scottish Enterprise – Renewable Sector Industries
Although Scottish exports tend to be thought of in the form of Haggis, Whisky or Shetland Wool, our renewable energy sources are also valued and much needed by other nations.
Maggie McGinley, Scottish Enterprises' Director of Energy & Clean Technologies wrote in a recent article that although international competitiveness is important for Scotland's future, our Offshore Wind Sector can play a critical role in a more collaborative way.
Germany is more practiced at "greener" living, with stricter recycling practices, cleaner environment and building practices and more eco-friendly living spaces than Scotland - but it should be pointed out that Scotland's' natural resources and the skills required to operate them are very much in demand from our European neighbours.
Companies such as FoundOcean have established trade links with areas on the north coast of Germany in the hope of being established as wind-power energy suppliers to this part of Europe.
FoundOcean has over 40 years experience in the oil and gas sector but is now expanding to include wind power, having opened up a business office in Bremen in the hope of getting into the German offshore wind market. They have already developed two windfarms off the German Coast and are looking to expand further into Europe. The expertise of the Scottish Oil and Gas businesses will be put to good use for both daily operations and training purposes with the local German workforce.
Also involved in trade development are the Scottish Rural Network who work with the EU as well as local Government to develop opportunities beneficial to Scotland. One project with Scottish/ German links is the Aquaponics Project in Western-Pomerania, Germany.
In this project the SRN focus is on the transfer of knowledge, sharing of experience and innovation rather than just funding alone.
This EU funded project is furthering work on the FishGlassHouse project at the University of Rostock which aims to improve production methods for fish and plant-life, creating a more sustainable food chain.
The Scottish link is the shared knowledge both given (from our Fishing and Farming industries) and given by the German experts on this project. The exchange of knowledge and expertise is beneficial and useful to both countries. Information about this can be found on the Scottish Rural Network Website along with other example of planned knowledge exchange.
Everybody Needs Friends...Twinned Towns
Being a twin, normally applicable to people; but also to Towns?
Yes!
Twinning Towns is a concept designed to partner similar sized towns in two countries in the hope of creating a positive cultural exchange. The Carnegie Trust forms partnerships between towns with similar characteristics or challenges in the hope that they can help each other with shared knowledge, economic strategies or antisocial issues within the UK, but local governments can be twinned internationally too. Twinned Scottish Towns include:
Kirkcaldy twinned with Ingolstadt; Edinburgh with Munich; Glasgow with Nuremberg; Falkirk with Odenwald and Elgin with Landshut (previously mentioned).
Everybody Needs friends..........Twinned Towns