Russian has been sanctioned in every way, so what else can they lose?
Biden has stated that there is a greater chance of a tactical nuclear weapon being used by Russia now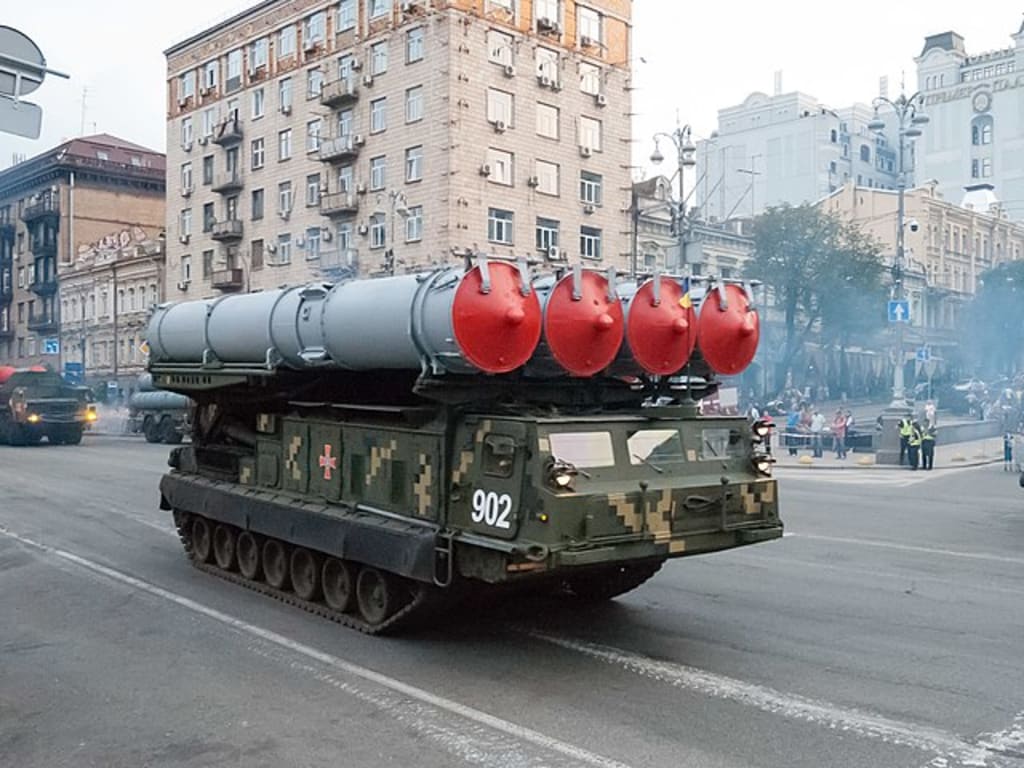 Photo By Wikimedia Common
Putin reportedly sent President Xi of China a message of congratulations on his re-inauguration to a third term as president.
However, after their tangled history good relationship and secrets communication between the two countries leadership , on Saturday (Oct. 15), the Chinese Foreign Ministry suddenly issued an urgent notice, advising all Chinese nationals in Ukraine to leave immediately.
Importantly, the Chinese Embassy has issued "three notices" since Monday (Oct 17), warning of the "grave safety situation" in Ukraine and reminding its citizens to take "emergency shelter and prepare emergency supplies." As per the embassy's request, one should only remain in the country if doing so is absolutely necessary, and one should depart the country as soon as it is secure to do so.
Similar instructions have also been issued for citizens of eight other countries: Serbia, Kazakhstan, Uzbekistan, Turkmenistan, Krygyzstan, Tajikistan, Belarus, and Egypt. Reports also suggest that Kazakhstan has closed its embassy in Kyiv, the capital of Ukraine. It's interesting to note that all of these countries have strong political ties to Russia.
The question then becomes:
Does China know something that we don't? Russia may be planning to escalate its invasion of Ukraine, and Beijing's sudden announcement suggests as much because of Beijing's close relationship with Moscow.
Now President Xi has been sworn into for the third term, situation may favor to Russia as Now Xi has total freehand and may in turn be ready support Russia openly ,as long the US does not pissed him off with policy such as the current round of sanctions from the Biden administration targets so-called US persons who assist in the design, manufacture, or use of integrated circuits at certain Chinese chip factories. The rules, which go into effect on October 12, are broad enough to include US green card holders as well as US residents and American citizens, so encompassing a large proportion of the top executives of Chinese semiconductor firms.
this shocking news will restrict China capacity in their development for IC semiconductor chips and President Xi seems cool headed for the moment, but it can be assured ,that the Chinese will not be taking it lightly
For Russia , Vladimir Putin may, at best, step up missile attacks on Ukraine. Perhaps as much as an additional 20 percent of Russia's military might be sent into battle by Putin this time around, but he'll do whatever it takes to keep the conflict going through the colder months on a longer haul
The fact that Russia has sent around 9,800 troops to Belarus hasn't helped matters. According to Belarusian President Alexander Lukashenko's statement from the 10th of October, Russia and Belarus have agreed to deploy a joint regional group of troops due to the "escalation" on the western borders of Belarus, implying that the Ukraine War could spread, even possibly dragging NATO forces directly into the conflict.
The Oct. 8 attack on the Crimean Bridge marks a turning point in the conflict between Russia and Ukraine. Russia takes great pride in its engineering and national identity, which are both represented by the Kerch Strait Bridge, the longest bridge in Europe at 19 kilometers.
Independent military experts released a report suggesting a U.S. drone was responsible for the attack on the strategic Crimean Bridge, contradicting the findings of Russian investigation agencies who blamed a truck bomb. Following the arrest of eight suspects, the Russian FSB claimed that the attack had been orchestrated by Ukrainian military intelligence with support from the British intelligence service. While Russia tried to make a Bang on the News, the Western Media doesn't seems to bother
Before anything else, Putin called the bridge explosion a "terrorist attack." and retaliated by firing over 84 cruise missiles at Ukraine's power, military command, and communications infrastructure on the same day followed by additional combination of 200 missiles and drones attacks causing damage to vital infrastructure and energy facilities in Kyiv and 12 regions caused blackouts with almost 30% of their power station in various regions all being damaged
The Drones were able to take out American self-propelled howitzers and could potentially take out Himars missile launchers or other similarly sophisticated weapon .
U.S. and Western powers have complained that Iranian weapons, repainted in Russian colors and rebranded as Geranium 2, have caused so much damage to Ukrainian forces that they violate UN Security Council Resolution
The United States and NATO are so infuriated that they have begun sanctioning senior Iranian military figures because Iran provides hundreds of kamikaze drones to tip the scales in favor of Putin
The U.S. was warned by the Biden administration that Iran was going to give Russia hundreds of drones to use in Ukraine, but nobody expected them to be kamikaze drones. Officials in Washington speculated that Iran would send drones equipped to launch missiles. Iran's government has flatly denied allegations that it is providing Russia with drones for use in the conflict in Ukraine.
Putin will inevitably retaliate if the U.S. decides to send more advanced military hardware to Ukraine to attack Russia. While Moscow has made threats to use nuclear weapons, no actual movement of tactical nuclear weapons has occurred.
Since the United States is already aware of and closely monitoring Russia's Defcon almost 180 ready nuclear weapons launch sites, any preparations for using the weapons would be easily observable. If Russia were to detonate a Tactical small size nuclear bomb in or near Ukraine, reports say, Western nations have been "planning" behind the scenes to prevent chaos and panic at home
President Biden has stated that there is a greater chance of a tactical nuclear weapon being used by Russia now than there has been since the Cuban Missile Crisis. President Macron of France has dissented by saying he would not order a nuclear attack in retaliation for a Russian nuclear strike on Ukraine , meanwhile protestor erupted in almost every Nato member cities pushing for their leaders to exit from NATO
In spite of the fact that the United States has already warned Russia that using nuclear weapons would have "catastrophic consequences," it seems unlikely that the United States would risk starting the world's first nuclear war with Russia over Ukraine. In the event of a nuclear exchange, the United States stands to benefits the most and NATO will be the biggest scapegoat that will suffers just as bad with Ukraine and Russia itself
During World War II, the United States was the only nuclear power in the world. Russia is one of nine countries with nuclear weapons now. Putin's disturbing comments last month, in which he implied that America's use of nuclear weapons against Japan set a "precedent" that would make Russia's use of nuclear weapons acceptable, were deeply unsettling. ,and as we mentioned, Russia felt they have nothing to lose ,as the USA and Rest of the World will sanction them even after the WAR
Russian President Vladimir Putin said on Tuesday, October 18 that the four regions of Ukraine (Donetsk, Luhansk, Kherson, and Zaporizhzhia) that Russia annexed last month are now safe from nuclear attack.
On Twitter, Elon Musk expressed concern that a nuclear war was getting closer and his concerns seems, "If Russia is faced with the choice of losing Crimea or using battlefield nukes, they will choose the latter." We have effectively isolated Russia economically and diplomatically at this point, so what do they have to lose if they choose to ignore our demands?
If we nuke Russia, they'll nuke us, and then World War 3 will have begun.
#Disclaimer Note :
The author has made every reasonable effort to be as accurate and complete as possible in the creation of this article and to ensure that the information provided is free from errors; however, the author/publisher/ reseller assumes no responsibility for errors, omissions, or contrary interpretation of the subject matter herein and does not warrant or represent at any time that the contents within are accurate due to the rapidly changing nature of the Internet. Any perceived slights of specific persons, peoples, or organizations are unintentional.
This publication is not intended for use as a source of any financial , money making ,political , military , medical or accounting advice. The information contained in this guide may be subject to laws in the United States and other jurisdictions. We suggest carefully reading the necessary terms of the services/products used before applying it to any activity which is, or may be, regulated. We do not assume any responsibility for what you choose to do with this information. This article is not meant for financial nor Military advice , Use with your own judgment
About the Creator
Estalontech is an Indie publisher with over 400 Book titles on Amazon KDP. Being a Publisher , it is normal for us to co author and brainstorm on interesting contents for this publication which we will like to share on this platform
Reader insights
Be the first to share your insights about this piece.
Add your insights