Political Sex Scandals That Nobody Will Forget
Political sex scandals have been around for millennia—and some are definitely more famous than others. These are the ones that will forever be remembered throughout the ages.
They say that power is the ultimate aphrodisiac—so perhaps that's why so many politicians have had sex scandals throughout their careers. Politics can be sexy, and it's almost inevitable that the power they wield will end up having them act out some vices.
Over the years, though, there are some political sex scandals that really stand out among the rest. The following scandals are so juicy, so insane, that they still remain in the public consciousness for decades, centuries, or even millennia after they've happened.
Check out the worst of the batch here, and what happened that made them so insanely memorable.
The Ancient Roman Empress's Sex-Off
Romans really, truly, loved getting in on. There also was far less stigma tied to sex than there is in our Puritanical society. So, it's safe to say that any political sex scandals involving them would have to be at least one order of magnitude more extreme than the next.
Perhaps one of the most legendary politicians in the Ancient Roman world was Valeria Messalina, third wife to Emperor Claudius. At one point, she shocked the ancient world by challenging a famous prostitute to a sex-off.
Not only did the courtesan agree to it, but she also lost. Valeria won by sleeping with 25 different men in the span of a day.
Caligula's Love Life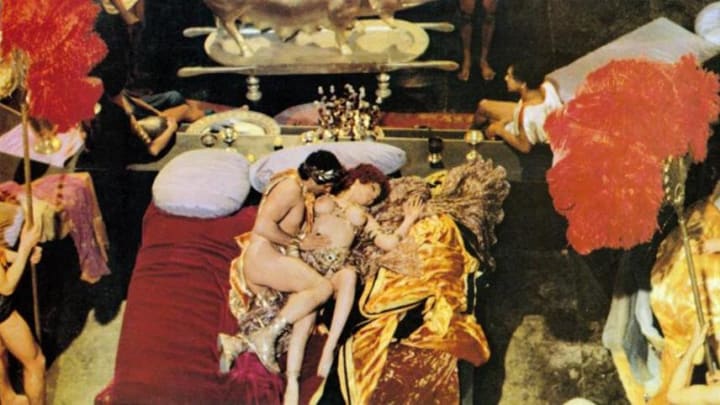 Caligula has been the center of so many political sex scandals in the ancient world, it's really hard to nail down just one scandal. He was a straight-up sex addict, and not in a good way. His excess actually contributed to his downfall as a politician.
Over the time he spent as Emperor, he did the following:
Attended a wedding and left with the bride. Because, you know, Emperor status allows you to do that.
Slept with his guests' wives and then bragged about how it went down to the guests. You know, maybe it's not a good thing to do that to your bros' wives. That may be why Caligula was assassinated.
Had sex with all his siblings. His favorite was his sister, Drusilla, who he apparently had actually fallen in love with.
Pimped out his sisters. Yeah, when he wasn't sleeping with them himself, Caligula had a tendency of pimping out his relatives to his friends in exchange for more political power.
Turned his palace into a brothel. Apparently, he really liked the pimping thing.
Most famously, he named a horse a senator and had sex with it. Some rumors also involve him having sex with the horse, or forcing prisoners to have sex with it. This was also attributed to fellow Roman deviant, Nero.
Basically, the dude was a sex manic-nutcase.
"Grab Em By The Pussy!"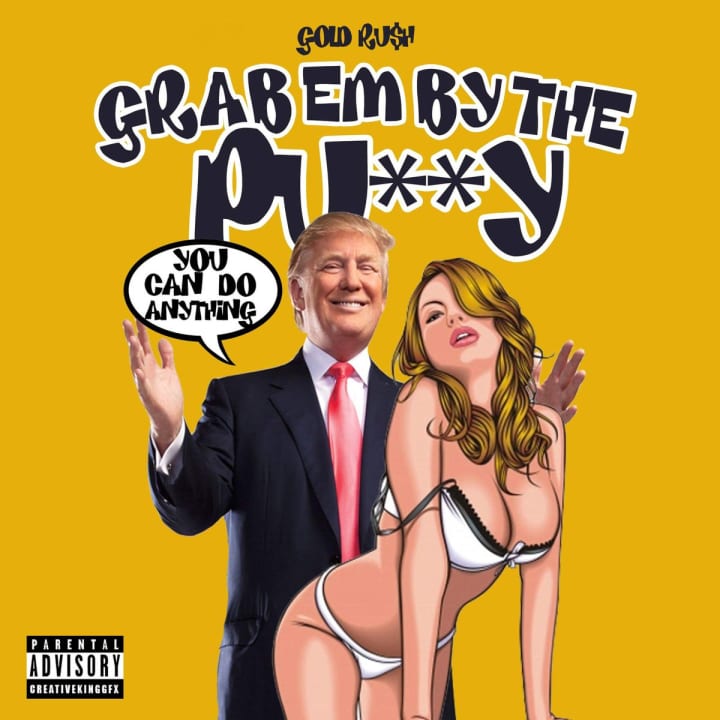 It's not a list of political sex scandals without talking about the scandal that coined several major online movements. Of course, I'm talking about Donald Trump.
Prior to being elected President of the United States, Donald Trump was recorded explaining that he tried to have sex with married women and that he would just randomly start grabbing women as he saw fit.
The tape, which had him confessing what sounded like sexual assault, was reported by almost every major news outlet, including the New York Times. Trump claimed that the tape wasn't real, and then later called it "locker room talk."
Over the year that he's spent in the White House, multiple women came forth to complain about unwanted sexual advances—or downright sexual assault—at the hands of Donald Trump. Since then, women have called for an investigation into the alleged sexual misconduct.
The incidents ended up becoming a major symbol of toxic masculinity in mainstream American culture and also helped spark the #metoo movement.
Anyone who's even grazed American political history knows that JFK had a lot of women in his life—even after he was married. In fact, during his time in office, it was so common hearing about his affairs that it didn't really shock anyone to hear about him fooling around.
Well, except for one alleged mistress, anyway.
Few political sex scandals are as juicy (or as badass) as John F. Kennedy's alleged tryst with pop culture icon, sex symbol, and famous pinup model Marilyn Monroe. It's easy to see where the chemistry was—just watching her sing "Happy Birthday, Mr. President" says it all.
As famous as this sex scandal may have been, some believe that the Monroe-Kennedy sex scandal may never have actually occurred. Magazines constantly talked about their tryst, despite not having any photos of the two of them together.
True or not, the alleged affair had a serious impact on the folks in the White House. Jackie Onassis, Kennedy's wife, was fuming about the affair—though she outwardly made a point of turning a blind eye to all the mistresses.
Later on, she admitted that his affair with Monroe was the most hurtful, primarily because "she was a loose cannon" who could have put her into public ridicule as a result of the affair.
John Edwards Cheating On His Dying Wife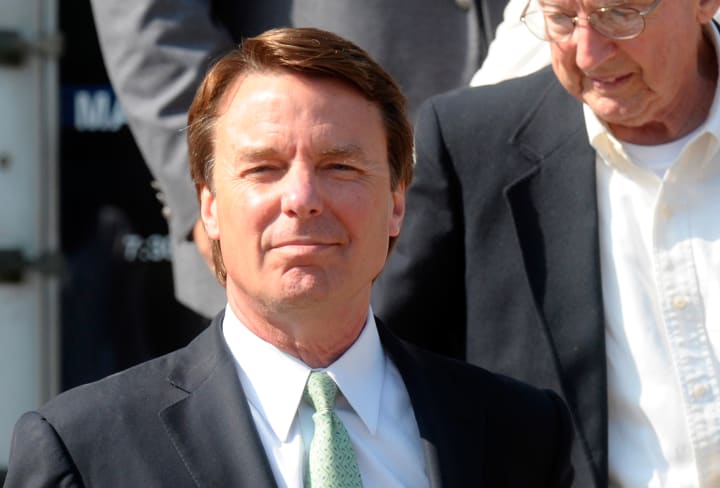 Many American political sex scandals involve presidents and extramarital affairs. However, Democratic representative John Edwards did something so foul, it actually overshadowed many other political scandals of the time.
The once-superstar of the Democratic party was discovered having an affair with a presidential campaign aide called Rielle Hunter. This was pretty standard, right? It was, but then it quickly turned into one of the most insane political scandals at the time.
When word got out, Edwards claimed that she was just a one-night stand. Seems par for the course, right? Well, news also broke that Edwards's wife, Elizabeth, was told her breast cancer came back and that she'd be seeking treatment.
John Edwards, being the standup guy he was, continued to see Rielle Hunter. Rielle then announced that she was pregnant with Edwards's child, and that it was conceived fairly recently.
To make matters worse, the political sex scandals that unfolded showed that John Edwards cursed her out and tried to convince her to have an abortion. The National Enquirer delved deeper, and as the scandal erupted, his entire political career went up in smoke.
Heartbreakingly, Elizabeth actually was strong enough to meet the lovechild after the birth and even gave Rielle presents. Then, she filed for divorce. She passed away soon before the divorce was finalized.
The BJ Heard Around The World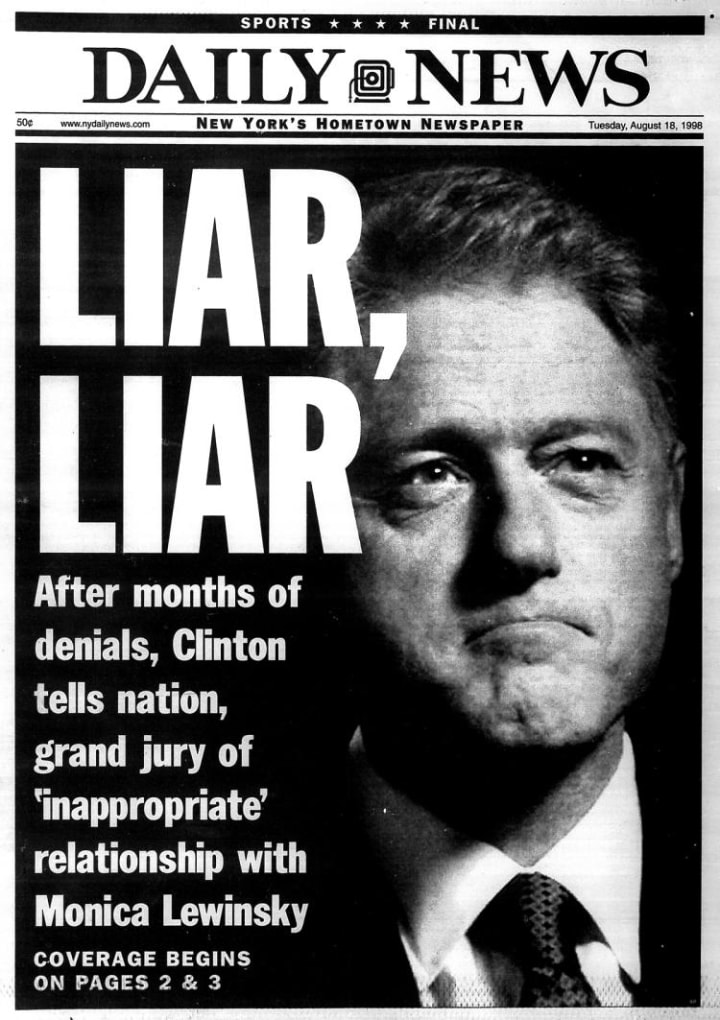 Most presidential sex scandals do not involve too much issue to the public eye, but not the Lewinsky scandal. This is because many presidents openly admit that they have affairs.
Bill Clinton's political sex scandals were infamous, and almost became a reason to impeach him. Why? Because he lied under oath about Monica Lewinsky giving him oral sex. Other accusations involved alleged sexual contact involving a cigar, as well as phone sex.
However, most people don't realize that political sex scandals involving Cliton didn't stop there. He was also accused of rape by Juanita Broaddrick, and of groping Kathleen Willey.
Even outside the White House days, Clinton has been seen in some pretty strange company. He and Trump were both called a "person of interest" in the Jeffrey Epstein child sex slave scandal that roiled the fashion community after his number appeared in Epstein's black book.
At the end of the day, Bill Clinton faced trial but finished up his stint as president.
Grover Cleveland's Covered Up Sex Scandal
Back in the olden days, presidents had affairs and kept them quiet. This is why it took over a hundred years for Thomas Jefferson's "affair" that resulted in many mixed race children to be born to surface. So, some of the names that you may hear involved in presidential scandals might surprise you.
One of the most hotly discussed presidential political sex scandals back in the day was Grover Cleveland's. According to an 1873 affidavit, Cleveland approached a local shopkeeper, took her on a date, then raped her in his hotel room.
Maria Halpin, his victim, then soon discovered she was pregnant with his child. The boy was born in a hospital for unwed mothers because it was the 1870s. Cleveland, not being happy with the arrangement, worked to get the baby taken from her and placed into the Buffalo Orphan Asylum.
Halpin was then committed to a lunatic asylum where it was determined she was placed there as an abuse of political power. Her name became associated with political sex scandals and harlotry.
She died when she was 66 with only $200 to her name. According to those around her, she begged for a private funeral, saying:
"Do not let the funeral be too public. I do not want strangers to come and gaze upon my face. Let everything be very quiet. Let me rest."
Thomas Jefferson's Illegitimate Family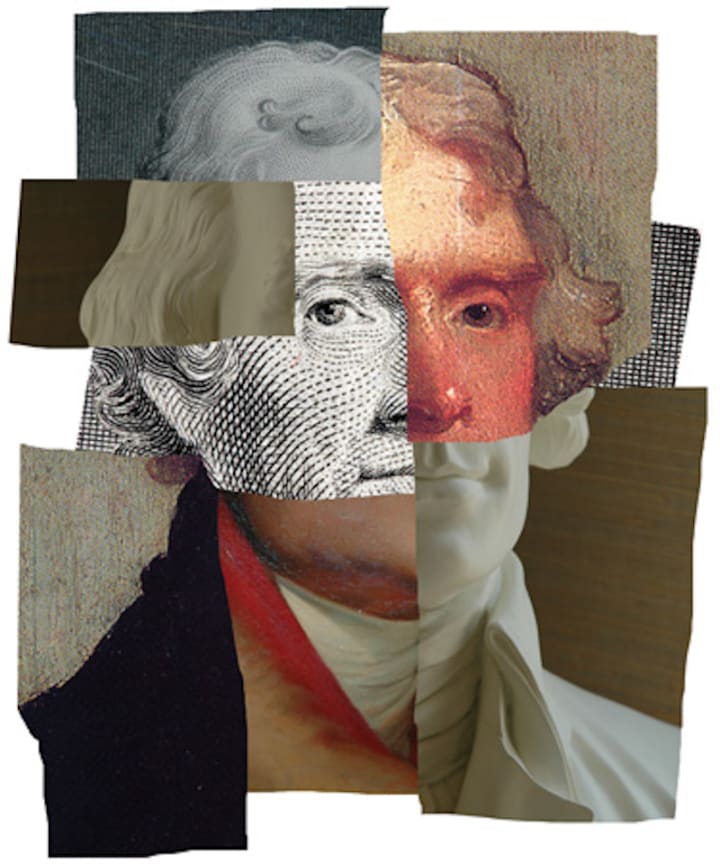 Another one of the most famous political sex scandals out there involved Thomas Jefferson, who allegedly had an affair with a slave he owned. (It's hard to say whether it's actually an affair, because he could have easily raped her considering that he owned this human being.)
According to the documents, his half-black affair partner, Sally Hemings, was his wife's half-sister. Jefferson fathered six children with her, and took both his wife and Sally everywhere they went—including Paris. All their children were said to be of light complexion.
What's really telling about this is that Jefferson never granted Sally her freedom, despite her being related to his wife and being his lover. It was his daughter's duty to do that, after his death.
The Silvio Berlusconi Sex Scandals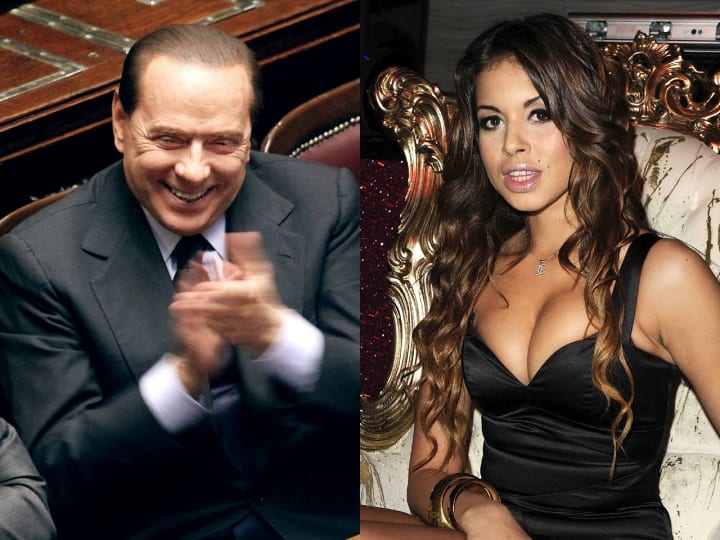 Europe's not immune to modern political sex scandals either, it seems. Italian Prime minister Silvio Berlusconi had a serious scandal on his hands after it was revealed that he had a passionate relationship with a nightclub dancer named Karima el-Mahroug.
Karima, also known as Ruby Heart-Stealer, claimed that the Prime Minister paid her for sex while she was still underage. She was later arrested for theft, but allegedly called Berlusconi to help get her out of trouble—which he did.
This isn't the only thing he's been noted for. Other women he's paid for sex include escort Patrizia D'Addario, and underage dancer Noemi Letizia.
Lady Mordaunt's Syphilitic Affairs
Syphilis, back in the 19th century, was a very, very common issue—and was one of the only really obvious signs of an extramarital affair. Lady Mordaunt, a married socialite from Britain, found herself to be the focal point of multiple political sex scandals when it was revealed that she had syphilis and that the syphilis got passed to her newborn.
Her husband, Charles, demanded a divorce. The British courts would only grant it if she testified about her affairs...and that's when it came out that she slept with quite a few guys. She was quoted as saying:
"I have been very wicked. I have done very wrong. With Lord Cole, Sir Frederic Johnstone, and the Prince of Wales and with others, often and in open day."
After that didn't work to get a divorce, she pled insanity and was hauled off to a psych ward. Her family disowned her, and very little was ever really heard from her again.
history
Ossiana Tepfenhart is a writer based out of New Jersey. This is her work account. She loves gifts and tips, so if you like something, tip her!
Receive stories by Ossiana Tepfenhart in

your feed