Melania Trump breaks First Lady tradition and snubs Jill Biden
The current presidents wife continues to ignore the routines of those who proceeded her.
There has been a tradition in America where outgoing First Ladies extend kindness to the FLOTUS who will succeed them. Laura Bush graciously reached out to Michelle Obama and offered to help her in any way that she could in the role of First Lady. Mrs. Obama did d the same for Melania Trump but was met with fierce resistance. Melania's representative said she was an independent woman who did not need help and would navigate the role of First Lady on her own terms. Donald Trump's wife did however accept an invitation from Michelle Obama for tea. The five presidents' wives before Melania Trump got along well and even posed for photos together.
Roslyn Carter, the late Barbara Bush, Hilary Clinton, Laura Bush, and Michelle Obama have all been able to get along. This comradery between the wives of US presidents is not being practiced by the wife of number 45. Now that she is the outgoing FLOTIS, however, Melania is not being gracious to her replacement. As of this writing, the wife of president Trump has not reached out to Jill Biden at all. There has not been a congratulatory phone call, an invitation to tea, or offers of advice. The news media is saying the FLOTUS is taking cues from her husband who refuses to concede to Joe Biden.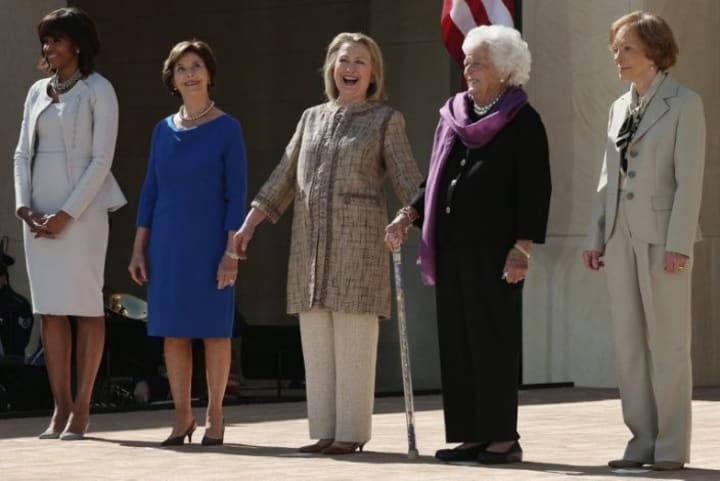 There is no protocol that indicates that presidents' wives have to have any contact with each other but it has always been done out of courtesy. Until now, each FLOTUS has reached out in kindness to the woman who would be taking her place. Melania Trump certainly the right to make her own choices but in the eyes of many Americans, she seems standoffish and not willing to be gracious. Jill Biden will become the new FLOTUS on January 20, with or without the consent of her predecessor. Things would roll along more smoothly, however, if everyone involved decided to do what is best for the nation.
It is the custom for First Ladies to invite their replacements to the White House and give them a tour. This is so the new FLOTUS and her team can acclimate themselves with their new work environment. Hilary Clinton has chimed in saying that there is much that should have already taken place by now such as coordinating schedules. It's understandable that Melania would not want to do anything that seems to undermind her husband. It would look pretty bad if she welcomed Jill Biden while the Donald ignores presiden- elect Joe. This situation puts Mrs. Trump in a no win situation.
Melania Trump is in the uncomfortable position of being married to Donald and her actions might not be her own choice. Many Americans noticed that the FLOTUS was very low key in comparison to First Ladies who came before her. Dating back to Jackie Kennedy, American First Ladies have been in the spotlight from day one. Melania did not even come to Washington until 5 months after her spouse was sworn in. It cost American taxpayers millions each day for her security detail. A White House source has said that there is very little being done in the White House as far as getting ready for the transition. The source said that the First Lady has decorating for the holidays on her mind.
Melania has on a few occasions said things that seem to go against her husband but this situation is more complex. Anita McBride, who was the chief of staff for Laura Bush said that the FLOTUS reaching out before her husband has conceded could be interpreted as going completely against the manner in which President Trump and his administration are handling things. This current situation truly is complicated and does not appear to be going to resolve itself anytime soon. Be on the lookout for updates to this story as January approaches.