Macron Tells Netanyahu "Enough"!
French Not Happy with Israel.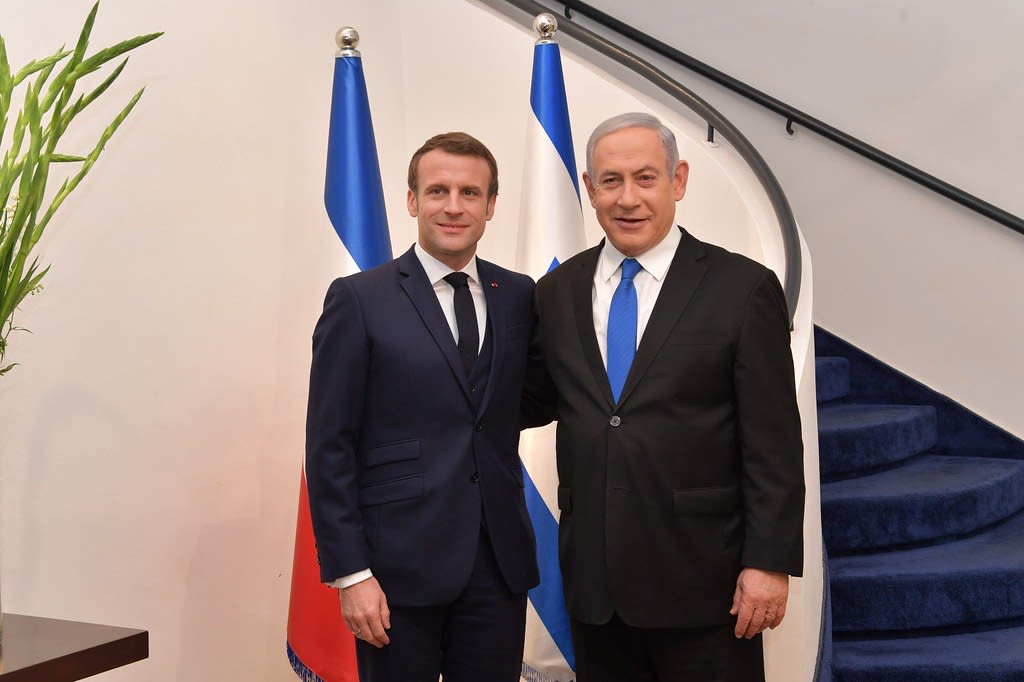 President Macron and Prime Minister Netanyahu.
France is preparing to send a plane carrying medical aid to Gaza. It is also contributing aid to an EU flight for Gaza. Macron is also sending a ship to the Med carrying aid and a helicopter carrier of the French Navy.
Mr. Macron spoke to Mr. Netanyahu via phone or video link. Telling the Israeli Prime Minister that there had been enough civilian casualties. Hamas killed 1,200 Israelis on Oct 7 and took dozens of them hostage.
Israel has taken action against Gaza killing 13,000 people. Gazan infrastructure has been reduced to ruins, whether that be, churches, mosques, hospitals, UN buildings, residential places, schools, etc. No target is off-limits for the Israelis. Israel says Hamas houses itself among the population. These can be command and control centres, munitions, government, etc.
Israel's excuse is civilians will get caught in the crossfire. Tunnels snake under Gaza too. The tunnels are for Hamas operatives but are also used for smuggling. Weapons and goods are brought along these tunnels. Israel has imposed a ban on certain things getting into Gaza. Certain things that could go towards Hamas assembling rockets, mortars, and drones.
Mr. Macron told Netanyahu, to "distinguish between civilians and Hamas operatives". However, while Macron is correct, given the amount of civilian deaths, it's probably too late for that. 70% of Gazan deaths have been women and children. The UN has condemned this loss in Gaza at the hands of the Israeli Defence Force (IDF).
Macron condemned Israel over the killing of 200 Palestinians in the West Bank since 7 October. Mr. Macron also spoke to the Palestinian Authority President Mahmoud Abbas. Mahmoud's party Fatah and Hamas remain at loggerheads over which direction the Palestinian struggle should go.
Netanyahu exploits the divisions for his ends between Hamas and Fatah. Netanyahu's goal has been to prevent any realization of a Palestinian state. Hence, Netanyahu, allowed Jews, to settle in the West Bank. Carving up the land and driving out Palestinians who have lived there for generations. Illegally annexing Palestinian land for far-right Jewish settlers.
Is Israel, using the Hamas attack, as an excuse to drive out Palestinians in Gaza? Does it have plans to annex all of Gaza or at least the northern part for Israeli settlers?
It seems Hamas's Allies like Iran, Syria, Hezbollah, and Turkey, are not prepared to come to Hamas's aid. Iran told Hamas, that it was, very much, on its own. Hezbollah has lobbed rockets over in northern Israel, but so far, has kept it low. It seems Hamas's would-be Allies, are not keen, to get into a major conflagration, with Israel.
The US has sent a massive aircraft carrier loaded with state-of-the-art fighters. The US and other nations like the UK, Netherlands, and Germany could do massive damage to Israel's enemies. China and Russia who are friends with Iran and Syria do not want a wider war either. Any war in the Middle East would be devastating. Even the US and other Western powers do not want a wider war either. Iran and the US have been talking via back channels to try and keep this war contained.
Israel has entered the Al-Shifa hospital looking for Hamas. The Israelis believe, Hamas, is using the hospital, as a place for storing weapons. It also believes there is an underground command and control centre under the hospital. Israel released a CGI video purporting to show what this underground facility was like. Israel states it has found weapons, body armour and a large underground facility under the hospital.
How true, these claims are, is open to question. Both sides use propaganda and should be treated with a pinch of salt.
About the Creator
I am a freelance writer currently writing for Blasting News and HubPages. I mainly write about politics. But have and will cover all subjects when the need arises.
Reader insights
Be the first to share your insights about this piece.
Add your insights