Justice is Color Blind
When skin color determines your existence/extinction!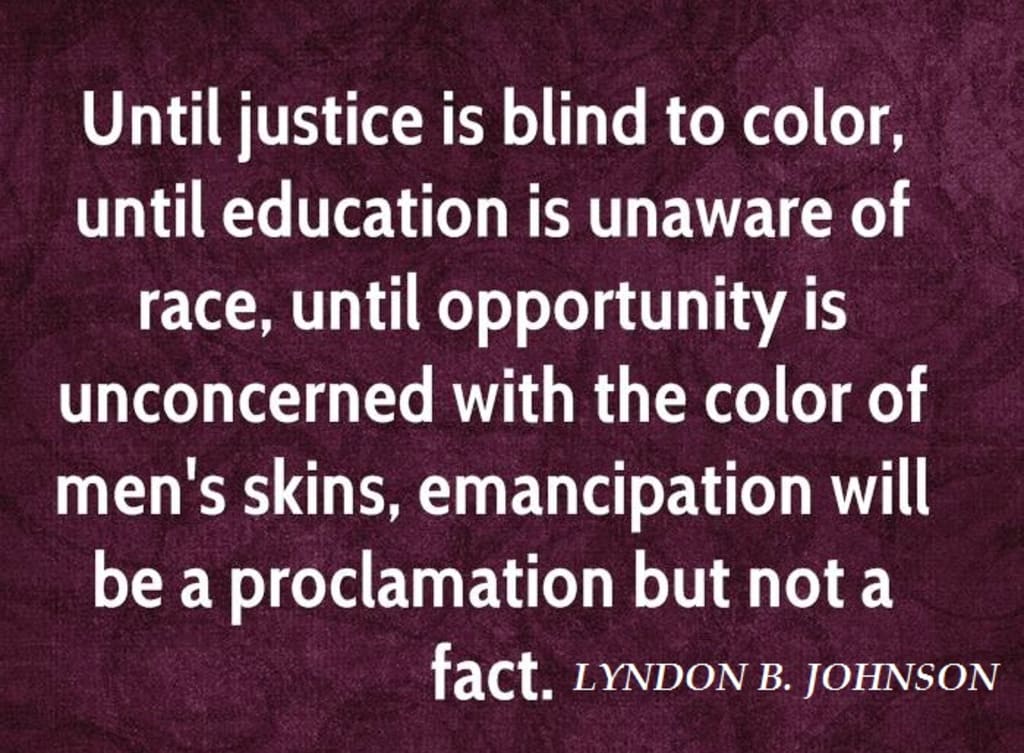 You know, I sit back emotionally drained as I watch the tolerance level for injustice, racism, police brutality and hate rise to an astounding level. The images of Black men and women laying in pools of blood in situations where you would expect them to live through situations like selling CDs or being a legal gun owner who informs an officer that you are a legal gun owner, or even walking home with a bag of skittles.
I look at all of these things and I think back to my childhood and realize how safe I felt in my own community. We didn't worry about being shot and killed for having a toy gun at the age of 12 like Tamir Rice. We weren't afraid of the police, we respected their badge and knew if we needed them they were there to protect us.
In today's society, all of that has changed. You have to have discussions with your kids and family members about how not to get killed if stopped by police. There is a real fear and psychological trauma associated with police officers in the Black community. When you fear those who are sworn to serve and protect you that is a problem.
The excuse of "Fearing for your Life" by supposed trained public servants is becoming the go-to excuse for murder. Don't get me wrong, I am not saying all police officers are bad officers, I know there are officers out there who leave their families on a daily basis and put their lives on the line to do exactly what they were sworn to do. But I also believe that there are those who are not doing what they were sworn to do and at some point, we have to deal with that in a fair and realistic way.
Until we can all treat each other as human beings and not divide by race there will never be the ability to see each other in the eyes of truth, right and wrong, equality and compassion. I am one of those people who empathizes with everyone, not by race but by situation and I know the difference between right and wrong. I don't judge a situation by the color of someone's skin... I have enough sense to realize that under that skin color is a human being, with emotions, a soul, and blood that is the same color as mine.
Some people can see something that they know is wrong and because they feel they have to choose sides they will not condemn the wrongdoing. Instead, they will stand on the ground of power and will side with the person who looks more like them. That is the part that I find dishonorable and disgusting.
I live in Louisiana where on July 5th, 2017 a young Black male by the name of Dejuan Guillory was shot in the back by Officer Lefleur with the Evangeline Parish Sheriffs Office in Louisiana, as he lay on the ground on per the officer's request. Dejuan's girlfriend DeQuince Brown was also at the scene of the fatal shooting.
Below is an image of Dejaun Guillory as celebrity "Common" used his influence to shine a light on this case that seemed to be marred by authorities.
Image and short post on Dejuan Guillory's case: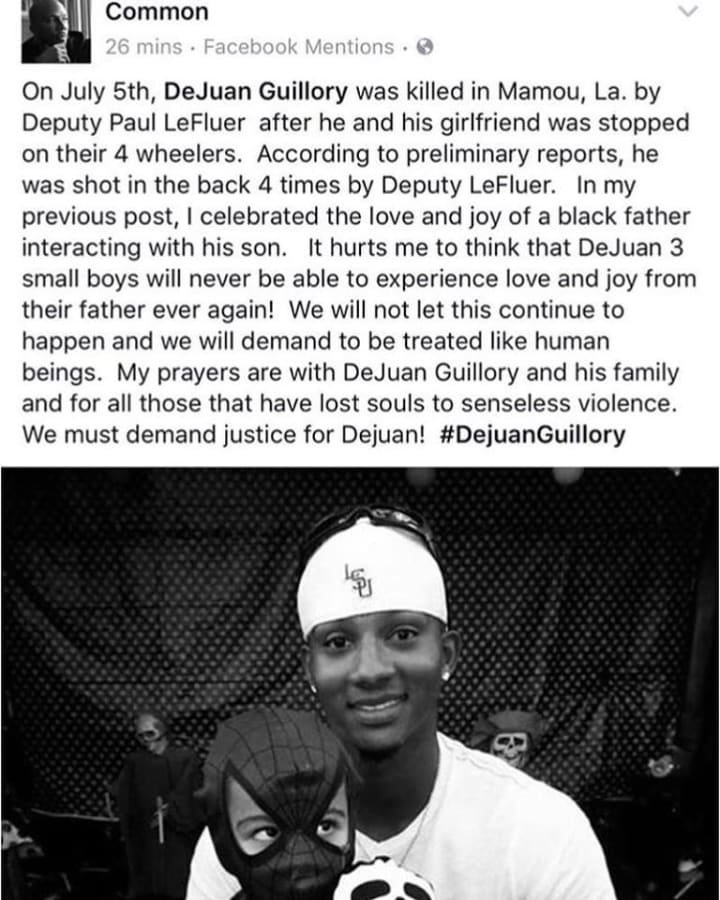 Doran & Cawthorne, P.L.L.C., Attorneys at Law, the firm representing Dejuan's family stated, "There are four words that a parent should never have to hear. 'Your child is dead.' Dejuan was only 27 years old. Dejuan was a loving son, father, brother, and friend to so many people in his community and beyond. He is most remembered by the love he had for his children, his humor, loving spirit and contagious smile. He was filled with life and his family wants answers as to why his life has ended."
Dequince Brown, the girlfriend of Dejuan Guillory, was at the scene of the fatal shooting and is currently incarcerated on charges of attempted first-degree murder. Brown has been unable to tell her side of the story because she has been in jail since the incident. According to Joe Long, attorney for Brown, she then jumped on the officer's back to prevent him from killing her boyfriend and bit LaFleur (hence the reported injuries to the officer). LaFleur then fired three more shots at Guillory.
DeQuince Brown, girlfriend of Dejuan Quillory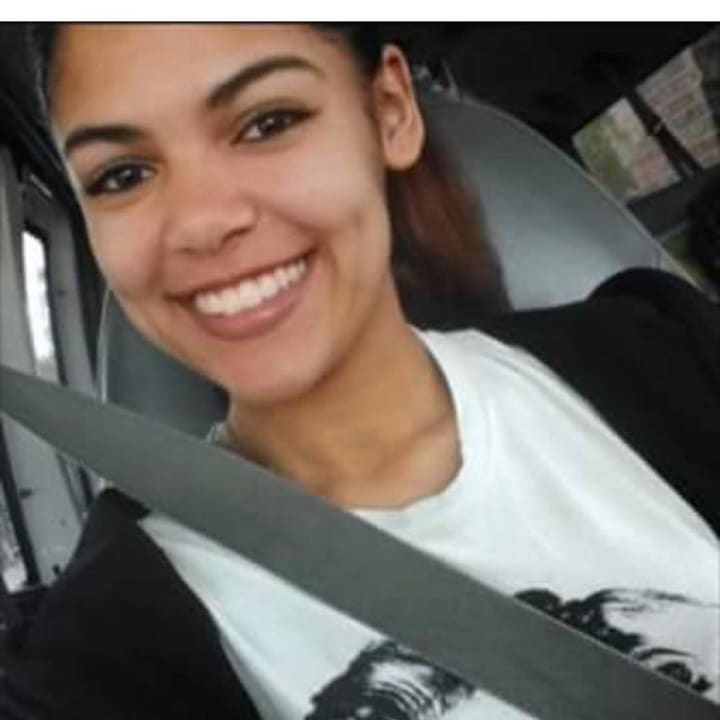 As this story is being investigated, I pray that justice prevails and is not colorblind in this case. A young man lost his life and an even younger DeQuince Brown is in jeopardy of losing her life to the Judicial system.
Because the family wants the truth to come out, because Dejuan Guillory should not be dead, because DeQuince Brown should be a free woman we must all do our part to ensure that justice is served.
Please do your part and share this article to bring attention to this tragic situation.