India pursues its strategic objectives, whether in Russia or the United States.
India strategic whether in Russia or the United States.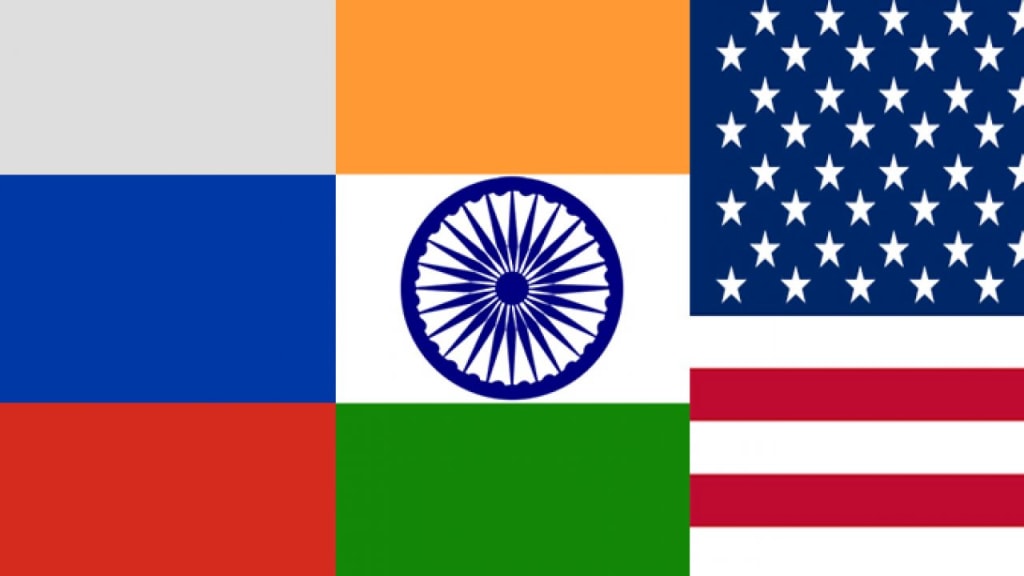 Since the Ukraine-Russia war, a number of analysts have argued that India's foreign policy should be shifted in favour of the United States and away from Russia. Their justifications range from moral precepts to India's need for US assistance in controlling China in the Indo-Pacific.
They further point out that while Russia has tight ties with China, the US opposes China and follows the philosophy of enemy's enemy is friend, implying that India needs to grow closer to the US. They chastised India for not criticising Russia and abstaining from voting at the United Nations.
However, their arguments ignore the facts on the ground, which force India, like all other countries, to pursue a balanced approach in its strategic interests.
First and first, India's near surroundings must be prioritised. Both China and Pakistan not only have border disputes with India, but they actively aim to annex Indian land whenever they can. They also have nuclear weapons. Despite multiple rounds of negotiations, China has demonstrated no genuine interest in de-escalation in the Depsang region. It is still building infrastructure in the contested area.
It has built not just dual-use villages along the border, but also a bridge across the Pangong Lake. To deal with India, China has developed the Sino-Pak axis and is openly supporting Pakistan on the Kashmir problem. The Chinese Foreign Minister is expected to visit Pakistan next week as the "Guest of Honour" at the OIC gathering.
He'll also attend the Pakistan Day parade to see the newly purchased Chinese J 10C fighter planes in action. The CPEC project, which goes through Indian territory, is also moving forward in China.
Their cooperation with India is concerning. When the world's attention is concentrated on the Russia-Ukraine war, Indian experts do not rule out combined action by these two neighbours in J&K. Furthermore, China continues to provoke Nepal to raise the border issue with India. China is requesting territories in Bhutan that would move the trijunction southwards along the crucial Siliguri Corridor.
Second, under Taliban administration, Afghanistan poses a security concern to India and the entire region. This, too, demands concentrated attention. Pakistan has openly praised the takeover of Afghanistan, believing it has gained the "much-desired strategic depth against India." This poses a security threat to India and Central Asian nations.
The US pullout was chaotic, but it also demonstrated its ease in leaving the situation in Pakistan's hands. It believes that siding with Pakistan will defend its interests. Russia engaged India and established a permanent framework to monitor developments in Afghanistan and prevent terrorism from spreading there.
India requires amicable relations with both countries, it must be acknowledged. In Central Asia, it needs Russian assistance, and now it needs Russian oil and gas to meet its needs. In the Indo-Pacific, India needs US assistance. India, on the other hand, opposes the Quad becoming a military pact. It aspires to achieve peace and stability in the region by focusing on economic development.
It refused to include the AUKUS in the Quad and opposed involving it in the Russia-Ukraine war. In foreign relations, India maintains its strategic autonomy.
The growing collaboration between the US and Russia over the Ukraine crisis has presented India with a slew of strategic challenges. However, the solution is not as simple as choosing one over the other. The situation must be viewed holistically, and our priorities must not be surrendered in favour of an emotional but unrealistic approach. Today's world is multipolar, giving India the ability to act deftly in order to achieve its strategic goals. Because it is not bound by military alliances, India has an advantage.
India is following a policy that appears to be a collection of contradicting policies at a time when the world is divided. That, however, is not the case. India, like Bismarck, is dealing with multiple poles in the national interest.
India has strengthened ties with the United States, managed China, strengthened ties with the European Union, reassured Russia, and is cooperating closely in vital sectors, as well as engaging with Japan and forging strategic ties with Australia.
India is currently working for peace and has requested that both Ukraine and Russia cease armed activities and allow diplomacy to end the conflict. It is assisting Ukraine with humanitarian aid. This is the correct strategy for saving Ukraine from further destruction. India's intimate ties with its adversaries allow it to play a vital role in peacemaking.