Global Demonstrations Erupt in Support of Jailed Russian Critic Alexei Navalny on His Birthday
Navalny believes that the day will come when speaking the truth and advocating for justice will become something commonplace and not at all dangerous in Russia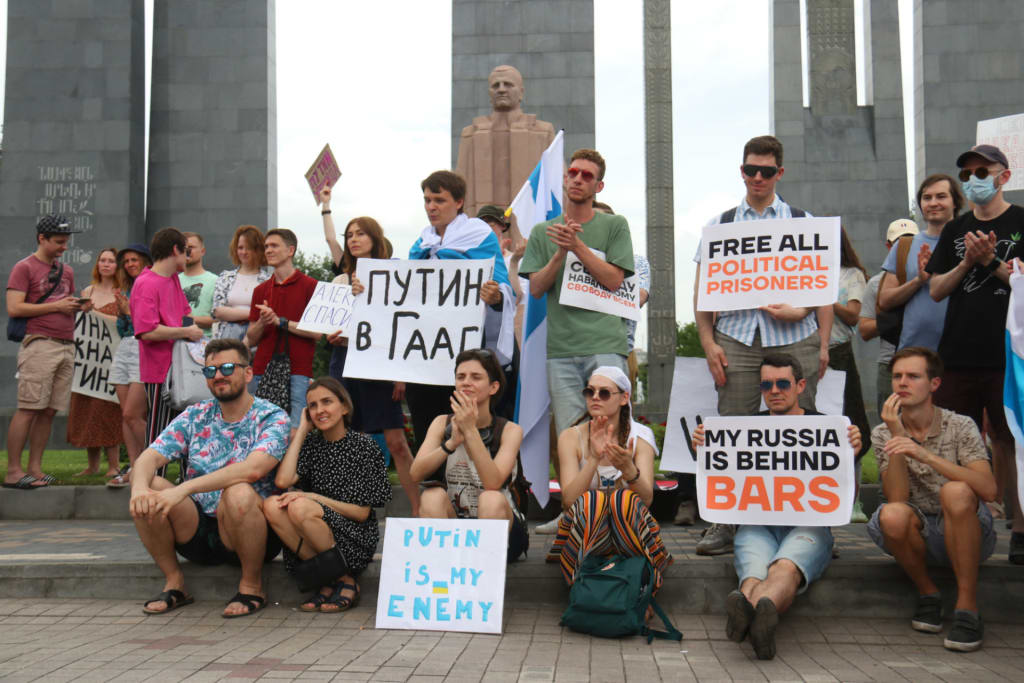 Thousands of people in over 100 cities worldwide rallied on Sunday to show their support for Alexei Navalny, a prominent Kremlin critic who remains imprisoned. This marked Navalny's third birthday celebration since his incarceration. The demonstrations, spanning from Tokyo to Sydney and Tel Aviv to Milan, aimed to express solidarity with Navalny and call for his release. While facing the possibility of an additional 30-year prison sentence, Navalny's supporters believe the charges against him are part of an attempt to silence Russia's most vocal opponent of President Vladimir Putin.
Amsterdam saw hundreds of activists gathering at Museumplein park, holding placards that condemned Putin as a "killer" and demanded Navalny's freedom. Similar rallies took place in London, Berlin, Brussels, as well as Yerevan in Armenia and Tbilisi in Georgia, which serve as havens for Russians who fled their homeland following the Ukrainian conflict. The Georgian capital witnessed demonstrators chanting slogans such as "Freedom to Navalny" and "No to war!" Navalny's team encouraged participation in the protests both inside and outside Russia, offering legal and financial support to those detained for their activism.
Protesters inside Russia faced significant legal and security risks due to the Kremlin's crackdown on dissent since the launch of the Ukrainian offensive over 15 months ago. Navalny's political and activist networks have been labeled "extremist" and "undesirable," with cooperation carrying the threat of criminal charges. Police monitoring group OVD-Info reported at least 113 detentions across Russia during the demonstrations, including 53 in Moscow and 12 in St. Petersburg. Protests and pickets also occurred in other cities, such as Yekaterinburg, Novosibirsk, Yoshkar-Ola, and Rostov-on-Don, where activists spray-painted slogans on buildings.
While the demonstrations primarily focused on Navalny, they also highlighted the plight of other Russian political prisoners and jailed opposition figures, including Ilya Yashin and Vladimir Kara-Murza. Protesters in Amsterdam dedicated the hour-long rally to these individuals, emphasizing the importance of their release. Russian activist Olga, participating in the protest, stressed that while such demonstrations might not immediately change the authorities' policies, they provide psychological support to those suffering in prison and held "hostage" on behalf of the people.
Navalny, who is currently serving a nine-year sentence for fraud charges deemed politically motivated by his supporters, was arrested upon his return to Moscow from Germany, where he received treatment following a near-fatal poisoning. Navalny and investigative journalists have blamed the Kremlin for the attack, which involved the banned Soviet-designed nerve agent Novichok. The Russian authorities have opened numerous additional criminal cases against Navalny, placing him at risk of extended imprisonment. Concerns have been raised about his deteriorating health due to harsh prison conditions and repeated periods of solitary confinement. The United Nations and Russian doctors have called on Putin and the government to stop mistreating Navalny and provide him with proper medical care.
Despite his incarceration, Navalny conveyed a message of gratitude and resilience to his supporters on his birthday. In a statement shared via his Telegram account, he expressed his belief that telling the truth and upholding justice should become ordinary and safe in Russia. Navalny also extended his thanks and greetings to political prisoners in Russia, Belarus, and other countries, acknowledging the hardships they endure and finding inspiration in their resilience.
Navalny believes that the "day will come when speaking the truth and advocating for justice will become something commonplace and not at all dangerous in Russia."
Putin's arch-nemesis, Navalny, is currently serving a nine-year prison sentence on embezzlement and other charges.
He shot to global prominence after barely surviving a poisoning with Novichok, a Soviet-designed nerve agent, which the opposition politician blames on the Kremlin.
Navalny is soon set to go on trial in a new "extremism" case and faces a further 35 years in prison.
Reader insights
Be the first to share your insights about this piece.
Add your insights