Ghana's Human Rights Violations 2022: Ghanians Angry at Report While Some are Fighting for Human Rights
Serious human rights abuses are taking place in Ghana but Ghanians want the world to ignore it because it makes them look bad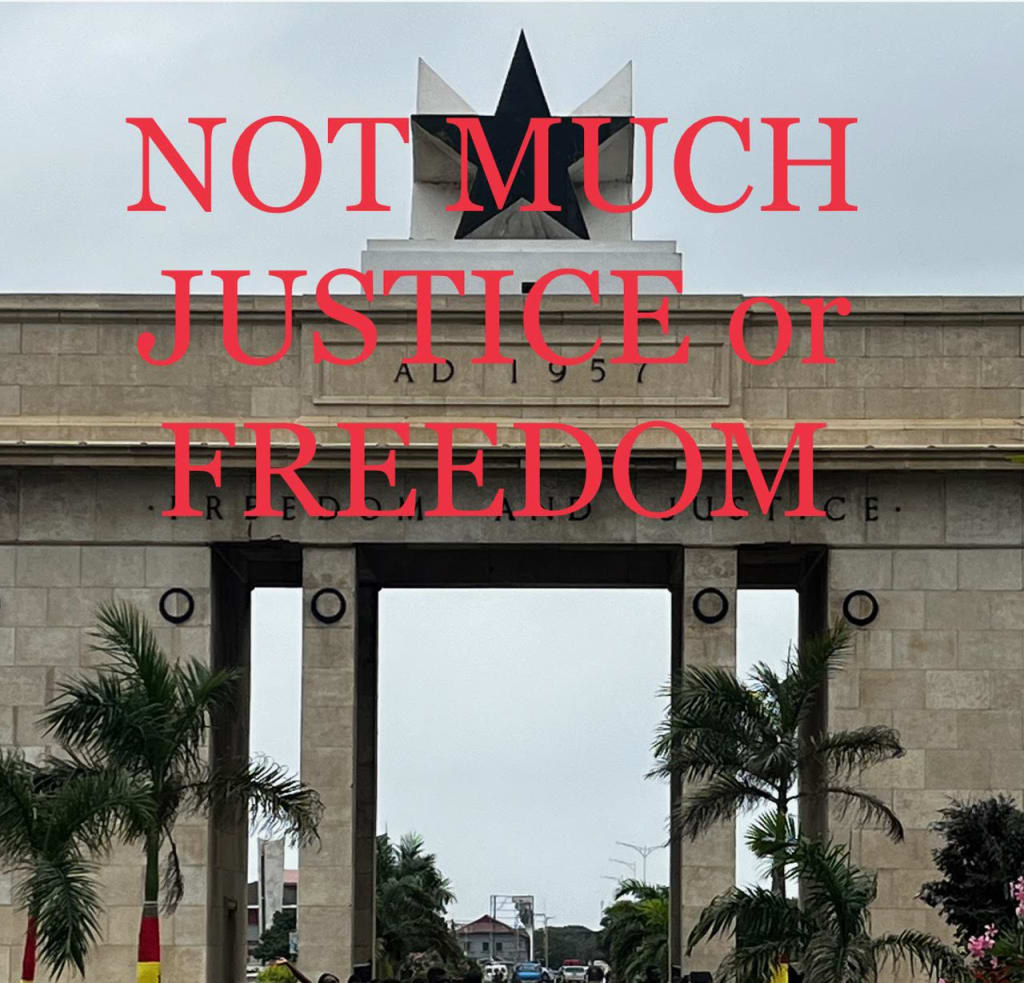 Authors Photo Edited by Author
Monday, 17 April 2023
The United States Department of State has released it's human rights report for 2022. As always Ghanians are screaming foul and racism, even though these are serious human rights violations. Truthful human rights issues.
Much include murder, torture and unlawful arrest of Ghanian citizens. These aren't made up offenses or speculation.
Africans would be angered if these abuses went ignored, then are angered because these abuses are being called out. Western countries can't win when dealing with the African continent.
These are more excerpts from the actual report: 
The Ghana Police Service, under the Ministry of the Interior, is responsible for maintaining law and order; however, the military, which reports to the Ministry of Defence, continued to participate in law enforcement activities in a support role, such as by protecting critical infrastructure. The National Intelligence Bureau handles cases considered critical to state security and answers to the Ministry of National Security. Civilian authorities maintained effective control over the security forces. There were reports that members of the security forces committed some abuses.
Here in a recent situation when Ghana military (Army) took place in beating over 200 men. While making them drink gutter water and eat cow shit.
Also recently (March 2023) Ghana Army and Ghana police engage in a public fight. In front of the public as Ghana soldiers tried to arrest a police officer on his motor bike heading to the police station. Soldiers claim he had committed a traffic violation, that is not the job of Ghana Army soldiers.
The officers and the soldiers cocked their guns, meaning they placed live ammunition into the chamber as they were going to start firing their weapons. The soldiers even called for backup as you can see in the above video soldiers can be seen running down the road. A busy public road in Ghana with hundreds of citizens and sellers outside.
Incidents from the report are below: 
On April 24, police in Nkoranza (Bono East Region) arrested Albert Donkor and brought him to the local police station, alleging he was involved in a series of armed robberies. Donkor died while in police custody hours later. In a departure from typical practice, police did not announce an operation or arrest had taken place until more than three weeks later. Protests erupted on May 18 in response to news of the death, with youths blocking roads and destroying property, including the police station. Police fired live ammunition into the crowd, killing a protester. As of November police had not concluded an internal investigation into both deaths.
Ghana 2020 Election Violence - President Akufo-Addo has ignored calls for investigations into the murders.
During the 2020 election period, authorities, media, and observers reported as many as eight killings, with at least two killed by the National Elections Security Task Force, composed of military and police units, and at least two deaths from civilian violence. Investigations into these deaths remained pending with little progress two years after the incidents (see section 3, Freedom to Participate in the Political Process).
Section 3. Freedom to Participate in the Political Process
The constitution and law provide citizens the ability to choose their government through free and fair periodic elections held by secret ballot and based on universal and equal suffrage.
---
Section 2. Respect for Civil Liberties
A. FREEDOM OF EXPRESSION, INCLUDING FOR MEMBERS OF THE PRESS AND OTHER MEDIA
The constitution and law provide for freedom of expression, including for the press and other media, and the government generally respected this right, although with some abuses.

Freedom of Expression: On February 11, police arrested Oliver Barker-Vormawor, an activist critical of the government, in response to a series of Facebook posts. After initially charging him with misdemeanor charges of making false statements, police upgraded the charges to felony treason and held him in prison for 35 days before a judge released him on bail.

Violence and Harassment: There were isolated attacks on and harassment and arrests of journalists by members of security forces. Authorities later dropped many of the cases. In February in Takoradi, five or more police in plain clothes attacked a producer with the privately-owned broadcaster Connect FM after he photographed the officers while they sat in a restaurant with their guns displayed and holding men in handcuffs. In the same month, police arrested the executive director of the Alliance for Social Equity and Public Accountability and a prominent morning show host for accusing the first lady of misappropriating public funds. Authorities charged the two with the publication of false news; the cases remained pending. In isolated incidents apparently condoned by authorities, some supporters of the ruling political party harassed and attacked journalists.
Source: US Department of State
Thank you for reading 🙏🏽 Please consider buying a coffee for Lacey's House efforts in Gender Equality & Children's Rights.
©️TB Obwoge 2023 All Rights Reserved
About the Creator
I'm the president of a nonprofit. I've lived in 3 countries, I love to travel, take photos and help children and women around the world! One day I pray an end to Child Marriages, Rape and a start to equal Education for ALL children 🙏🏽
Reader insights
Be the first to share your insights about this piece.
Add your insights