"Everything Has Gone up": Democratic Lawmaker Argues $15 Federal Minimum Wage Too Low
"By the way, when we started it, it should have been $15."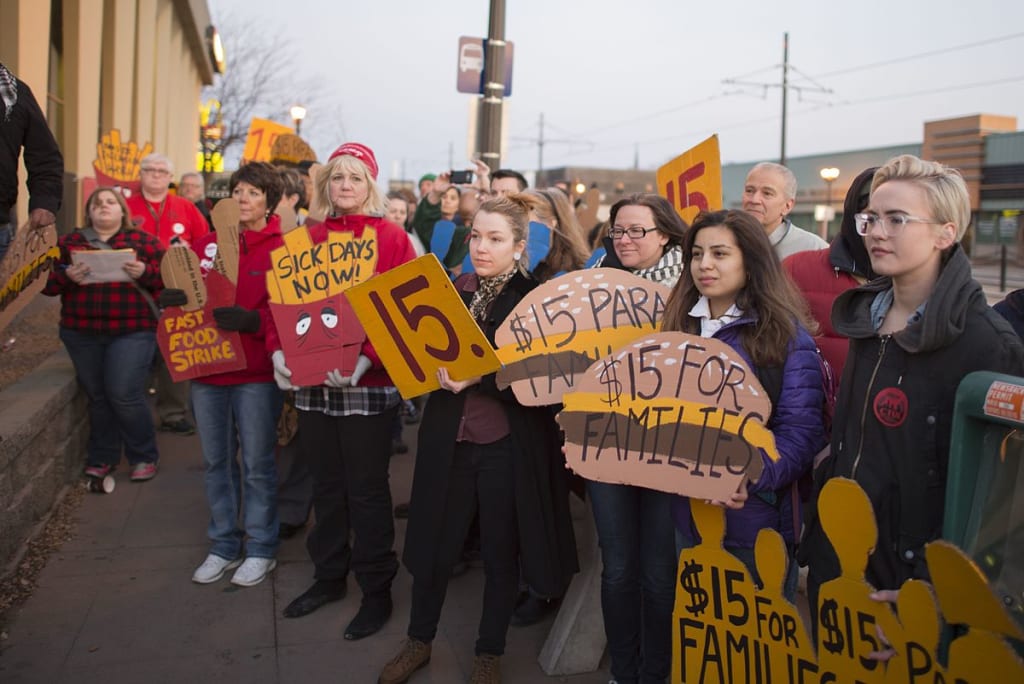 Wikimedia Commons
The US House of Representatives recently voted to approve a hike in the national minimum wage to $15 per hour over the next several years. For at least one freshman lawmaker, however, that increase is insufficient.
In remarks she made this week at an event in Detroit, US Rep. Rashida Tlaib, D-Mich. made it clear that she wanted minimum-wage workers to bring home at least $18 to $20 an hour.
She took an especially critical tone when referring to laws allowing some service-industry employees to earn as little as $2.13 per hour in addition to gratuities.
"Think about that for one minute," Tlaib said, "People cannot live on those kinds of wages. We can't allow people to be living off of tips and relying on tipped wages."
As for the federal minimum wage overall, she said the debate began from an unfair position.
"By the way, when we started it, it should have been $15," she added, "Now I think it should be $20."
Such a raise, she argued, would put American families in a better position to provide essentials.
"They say all of this is going to raise the costs, but I can tell you milk has gone up," she said, "Eggs have gone up. Everything has gone up. The cost of food has gone up. The cost of a lot of things that we need has gone up."
At one point, Tlaib directed her comments to a conservative group represented at the same event.
"Make sure America Rising hears that," she said of her proposal. "It should be $20 an hour. $18 to $20 an hour at this point."
As part of her outreach on the issue, Tlaib also took on the role of a service-industry worker in conjunction with One Fair Wage, a related organization.
"Fighting for our working families sometimes means walking in their shoes," she tweeted, sharing a photo of the experience. "It was only for an hour but it was hard work."
She ended with a call to the US Senate to follow the House in passing $15 per hour minimum-wage legislation.
"Thank you to [One Fair Wage] for inviting me into your movement," Tlaib added.
While the effort has gained momentum nationwide in recent years, plenty of critics argue the implementation of a $15—or higher—minimum wage would have a deleterious impact on the economy.
As Scope News previously reported, an upscale chain of West Coast restaurants blamed its recent bankruptcy on regional regulations on the hourly wages of employees.
"Over the last three years, the company's profitability has been significantly impacted by progressive wage laws along the Pacific coast," Restaurants Unlimited claimed, in its court filing. The document adds that the "result was to increase the company's annual wage expenses by an aggregate of $10.6 million."
A former Washington state representative, however, does not accept the argument.
Jessyn Farrell argued that Restaurants Unlimited "made some bad business decisions" leading up to its bankruptcy, adding that there "were a couple openings that didn't go well, and I think what's really telling is they aren't closing restaurants in Seattle.
The Congressional Budget Office weighed in with its nonpartisan take on the topic. According to its research, as many as 3.7 million people would lose their jobs as companies adjust to the higher labor costs. On the other hand, 17 million people would see immediate raises to the new minimum and about 10 million more could expect to see similar adjustments above the $15 per hour rate.
Taking all the factors into consideration, the CBO projected that 1.3 million people would rise from poverty as a direct result of a higher minimum wage.
legislation
About the author
Chris Agee is an American journalist with 20 years of experience in a variety of newsrooms.
In 2018, he founded Informed Media Group with the goal of providing "information without an agenda."
He lives in Phoenix with his wife and son.
Reader insights
Be the first to share your insights about this piece.
Add your insights