Dear Doug Ford And Stephen Lecce: I Have Had Enough
Stop vilifying educators and start negotiating with them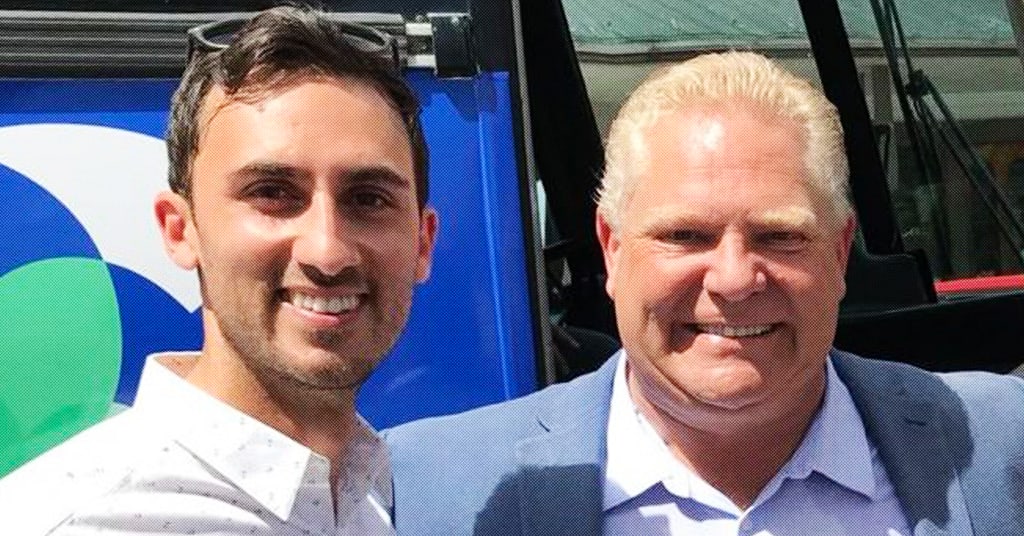 https://pressprogress.ca/wp-content/uploads/2019/11/thumb-2019-11-19-1024x536.png
To Ontario Premier Doug Ford and Education Minister Stephen Lecce:
I am a parent of two girls, ages 15 and a half and 11, and I have had enough with your lies and your threats when it comes to Ontario's education system.
At this point, my oldest has lost three days of her Grade 10 year due to strike action by the Ontario Secondary School Teachers Federation (OSSTF) while my youngest has lost four, due to strike action by OSSTF and the Ontario English Catholic Teachers Association (OECTA). Mr. Lecce, you took over the education portfolio in June 2019 as a 33-year-old, privately educated former parliamentary assistant. What, precisely, makes you uniquely qualified to handle this portfolio when you are overseeing public education and, from what anyone can tell, have no children of your own? How can you, Mr. Ford, also say that Mr. Lecce is one of your best ministers, when he has seemingly bungled this portfolio from Day One?
I am also a teacher, and I am not alone in being a teacher who has children in the school system. I am appalled that you have done everything in your power to convince the public that teachers are not striking for the benefit of the education system, but for compensation. You said on February 18, 2020 that the students need to return to a "safe learning environment," implying that strike action prevents them from being safe. You implied that because of teachers' job action, students needed their passion for learning reignited. You've succeeded, at least in some corners, in vilifying teachers to the point that even a pregnant teacher was blocked from entering a restaurant once the owner realized she was a teacher.
Let's examine the first issue that you have brought up time and again: that of compensation. At this point, after three strike days, I will not see that one percent increase that you have said teachers are stuck on until year three of the contract, and other teachers won't see it at all, as their unions have sent them out for more than three days. I do not care about that one percent, as I will basically lose that money through taxation. I care about my kids being safe and well-educated in their classrooms, which they currently are. They have teachers who are interested in their well being and their education. Why? Because their classrooms are not overloaded with students and have appropriate supports in place for those who need them, such as educational assistants or DECEs.
I also care about my oldest daughter, who will be entering Grade 11, having the ability to get into the classes she needs for whatever career path she chooses going forward. She has no desire for e-learning, and when she took Careers and Civics last summer at her own choosing, hated it. At 15 and a half years of age, she is still developing the executive functioning skills required to successfully manage such a challenge, and she is an academic student.
I am aware that as adults, we are often required to take e-learning courses in order to stay abreast of the latest trends in our workplaces and so forth, but teens, in spite of their knowledge of technology and their social media savvy, do not have the organizational skills or executive functioning yet that would be required to be successful - or at least, as successful as they could be. I teach a number of Locally Developed and Applied students who have said time and again that they don't want to take e-learning because they doubt their ability to be successful in such a program. In all likelihood, they wouldn't be, because e-learning courses are generally set up for academically-minded students and not those students for whom even getting to class and getting half the work done is a challenge.
There is also the notion of student safety, which you also brought up. In addition to being a classroom teacher who makes valuable connections with staff and students daily, I have taught several rounds of e-learning. I recall an incident in one round of summer school e-learning where a colleague of mine had students complete a Google Form in order that she might learn more about students. One student disclosed that she was struggling with suicidal ideation, which as I am sure you could imagine is extremely serious. It's made even more serious by the fact that my colleague was not certain who to contact to ensure that this student could get some much needed support and could not physically lay eyes on the student to truly see how she was doing because this was an e-learning environment. This, in turn, also created a great deal of turmoil for the teacher, who was incredibly concerned about the student's welfare in the days following this disclosure, as the student didn't always access her email. Fortunately, the student did get connected with the help she needed, but if my colleague had been a teacher who did not try to learn more about her students, this could have ended tragically. Not all teachers have students fill out Google Forms to learn more about them, and if this student had been in a regular classroom, the teacher could have discovered sooner there were issues with this student and could have potentially connected them with help quicker.
Classrooms are safe because of the teachers and other educational workers who make them so. Students being away for a couple of days due to strikes do not make schools unsafe. Students being forced into inappropriate learning environments - such as those with too many students in them or an e-learning environment - makes them unsafe.
Students are truly passionate individuals when they are confronted with something that they know is wrong. Students staged a walkout in June 2019 in Ontario because of the proposed cuts to education, and they continue to ask the individuals they spend more time with than their parents - that would be the educators they see for six to six and a half hours daily - why this government does not care. They ask why this government doesn't want them to be successful, even when these students will be voting for the next government. They also are the ones who walk with teachers, or help their parents bring coffee to the picket lines, or bake homemade cookies to support their teachers on strike days. Since you and Mr. Ford declared war on Ontario's education system, students have learned more about politics than they may have thought possible, and they are learning about the power of using their voice to speak out against something they know is wrong.
Finally, on the issue of vilifying teachers, that speaks more to the tactics you choose to use rather than honesty and truly being interested in negotiating with educators. Teenagers have learned better than to engage in that sort of behavior when they are trying to get what they want; why haven't you or your government?
The late educator Rita Pierson gave an incredible TED talk in 2013 about how "Every Child Needs A Champion." In it, she describes how children need someone in their lives who will not give up on them, even when confronted with terrible challenges. Mr. Lecce, Mr. Ford, you are the terrible challenge that our children are facing, and you are failing them. Educators in Ontario will be our children's champions.
education
About the author
I'm a high school English and French teacher who trains in the martial arts and works towards continuous self-improvement.
Reader insights
Be the first to share your insights about this piece.
Add your insights