Calling Moscow - 20
A nostalgic friend reaches out to the weary one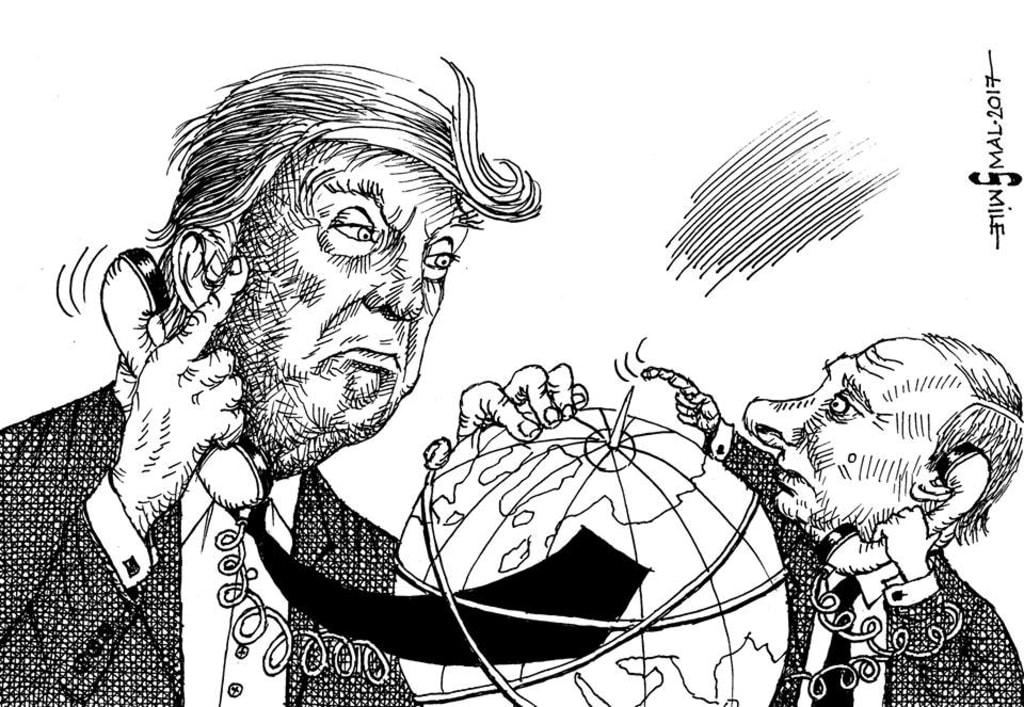 Ukrainian political cartoonist Oleh Smal, specifically for the author
This conversation happened on November 14, 2023, after Trump went through some of his records and stumbled upon a transcript of a 2019 call with Putin.
"Hello, Vlad?"
"Yes?"
"I just came across a transcript of our phone call, back when we talked often, remember when I was the president?"
"...?"
"The transcript was from exactly four years ago and I suddenly felt an urge to call you."
"Mm-hmm. Nostalgic, aren't you, Donald?"
"Donald? Again? What's wrong with you, Vlad?"
"Nothing, Donnie, just messing with you."
"Please don't. I have a lot on my plate to worry about. So much to worry about, you can't even imagine."
"Alright, I'm listening."
"Remember, how I offered that the US joins BRICS? And you said it was impossible?"
"It's even more impossible now, with Biden and Xi fighting over the global influence."
"Right? But humor me, Vlad. Imagine if I joined the BRICS with the US."
"Ok, and?"
"And then we got another country whose name starts with R? What country names start with R, Vlad, you are so good with that."
"Rwanda?"
"No, we don't want a shit-hole African country. Sorry, it's the truth, even though I got a lot of grief from the media when I said it the first time."
"Romania?"
"Well, they are a strong NATO ally, I don't think they'd swing for BRICS. Or, I know - Argentina!"
"That starts with A, not R, Donnie."
"That's even better! Hear me out, Vlad: then the name of our new alliance would be BRICS'AR'US." (Laughs heartily at his own joke while Putin is silent.) "Don't you get it, Vlad? BRICS'AR'US, like Toys'R'Us?"
"What's that?"
"Oh, I guess it's not that funny if you are not American. Toys'R'Us used to be a famous children's toys chain store."
"Ok, what happened to it?"
"Declared bankruptcy several years ago."
"Bankruptcy?? I guess you'd take it with you everywhere you go, Donnie, even to a political alliance!" (sinister) "Is that all you wanted to talk about?"
"C'mon, Vlad, it was just a joke."
"Not a good one, Donnie. I have to go now, bye!" After hanging up, "I really don't want to talk to this moron anymore. How long do I have to do this?"
*****
On November 13, 2019 The House Intelligence and Judicial Committees held the first joint open session in the impeachment hearings against Donald Trump. Trump had a meeting and a joint press conference with Turkey's President Recep Erdogan on the same day.
Call transcript of November 14, 2019
"Hello, Donnie?"
"Yes, Vlad! So glad to hear your voice!"
"I promised you I'd call, so I'm calling. I can't chat long, though."
"Aww," (disappointed) "Whyyyyy?"
"Well, it's been a long day, the flight to Brasilia was like 20 hours."
"You are in Brazil??? But why?"
"Donnie, I told you about the BRICS summit."
"No you didn't."
"Yes I did."
"Did not."
"Did too. You just forgot."
"I couldn't have forgotten something like this. Anyway, what's this brick summit?"
"It's an organization, BRICS, stands for Brazil, Russia, India, China, and South Africa."
"A-ha, why am I not in it?"
"Because it's not BRICSUS, it's BCICS. It was actually created to counterbalance America's influence in the world."
"Really???"
"Yes, Donnie, but it was before your time as president."
"Well, can I apply to join?"
"Uhmmm, that will be certainly novel," (laughing into his sleeve) "You can try, I guess, and we will have to look into it."
"Really?"
"I don't know, Donnie, I'll have to talk with the others about it. Your request is unusual, to put it mildly. It would be like if I wanted to join NATO."
"Yeah, why don't you?"
"Ask your generals, Donnie, they'll explain it to you. I'm so tired with the jetlag and meetings with Modi and Xi."
"You've met with Modi and Xi???"
"Of course. They represent the I and C parts of the BRICS."
"What parts???"
"India and China, Donnie, I and C in BRICS. We are all here for the summit."
"Oh, I see. Who else?"
"Bolsonaro is hosting, of course, and Ramaphosa."
"Who is that?"
"The president of South Africa."
"Really??? I thought they had that funny guy, Jacob what's his last name Zuma??"
"Yeah, Donnie, he served out his two terms. Ramaphosa started his term in February last year. You actually met him at G-20 and the UN meetings."
"Did I? He must have not been very memorable" (chuckles).
"That's not what he says, but anyway, I didn't call to talk about BRICS. Just wanted to check in with you about your day. How was the meeting with Erdogan?"
"Uh, as well as it could have been, I guess. We've signed some documents, talked about Syria and Kurds."
"A-ha, a-ha, and what else?"
"Nothing in particular. He had a chat with Lindsey and convinced him to stop the Armenian genocide Senate resolution…"
"A-ha, and how was the impeachment hearing?"
"Here you go with the i-word again, Vlad."
"But that's what I promised you to call you about, to support you while this circus is unfolding."
"Yeah, I was told it was a circus."
"Didn't you watch it?"
"Me??? Of course not. Why would I? I was too busy with Erdogan and other things."
"I see. So you don't know how it ended?"
"I was told with a big flop for the Democrats. Shitty Schiff has embarrassed himself again."
"Oh, all right then. I guess we have nothing to worry about."
"No, I'm not worried at all."
"OK then. I guess I'll bid you good night then."
"That's it? So soon?"
"I'm sorry Donnie, I'm really tired. And we have a full morning of meetings tomorrow and then I'll fly back to Moscow after lunch."
"Really? So quickly?"
"Yeah, it was just a low-key working meeting, we are all very busy people with big countries to run."
"Tell me about it. I have a big country to run too."
"Yeah, sure. Fun fact for you, Donnie: BRICS total area is over 15,333 square miles, four times bigger than the US and almost one-third of the entire Earth's land."
"Wow, Vlad, you always amaze me with your knowledge. I wish I could be there, at the summit too."
"Maybe one day."
"Seriously?"
"Well, didn't you just say you wanted to put in the application to join BRICS?"
"I thought you didn't take it seriously."
"You can always try, Donnie. As I said, it will depend on the others too, but you can try."
"All right then, I will."
"Deal, Donnie. Good night. Sleep well."
"Thank you, Vlad. You too."
Putin, after hanging up: "He is so fucked up with the impeachment he doesn't even know it."
About the Creator
Avid reader and occasional writer of satire and dystopia under a pen name of my favorite wild cat.
Reader insights
Be the first to share your insights about this piece.
Add your insights