The Fashion World
Vivienne Westwood
Vivienne Westwood is a name we associate with the punk world and New Wave Music. Her designs are unusual and 'out of the box' but they are interesting and very popular. Many of us know the name but just how did Vivienne Westwood make her name and how did her designs become so popular?
Vivienne was born on the 8th April, 1941, in the village of Tintwistle, Cheshire. Her father was Gordon Swire and her mother was Dora Swire, who had married two weeks after the outbreak of World War Two. When Vivienne was born, her father was employed as a storekeeper in an aircraft factory (he had previously been a greengrocer). The family moved to Harrow, Middlesex (1958), and here Vivienne took a course on jewellery and silversmith at the University of Westminster, which was then known as the Harrow Art School. She left after only one term saying: "I didn't know how a working-class girl like me could possibly make a living in the art world." She then took a job in a factory and studied at a teacher-training college (Vivienne definitely wanted to 'better herself'). Once Vivienne became a primary school teacher, she started to create her own jewellery, which Vivienne sold on a stall on Portobello Road.
Derek Westwood was an apprentice at a Hoover factory in Harrow. He met Vivienne in 1962 and the couple married on 21st July, 1962. Vivienne made her own wedding dress. The following year (1963) they had their son, Benjamin (Ben) Westwood.
Vivienne seemed to be having a 'normal' life until she met Malcolm McLaren, which ended her marriage to Derek. The two moved into a council flat in Clapham, where Vivienne gave birth to her second child, another son, Joseph Corre in 1967. Still teaching (until 1971), she also created clothes which McLaren had designed. Vivienne was now one of the architects of the "Punk Fashion" world of the 1970's. She said: "I was messianic about punk, seeing if one could put a spoke in the system is some way." With Malcolm, she managed a store "sex", which was a meeting place for the early members of the London Punk scene. Viv Albertine, who was inspired by Vivienne, is quoted as saying: "Vivienne and Malcolm use clothes to shock, irritate and provoke a reaction but also to inspire change. Mohair jumpers, knitted on big needles, so loosely that you can see all the way through them, T-shirts slashed and written on by hand, seams and labels on the outside, showing the construction of the piece; these attitudes are reflected in the music we make. It's OK to not be perfect, to show the workings of your life and your mind in your songs and your clothes."
This was such a different world to the Vivienne was born into and grew up in. She herself said: "I lived in a part of the country that had grown up in the Industrial Revolution. I didn't know about art galleries --- I'd never seen an art book, never been to the theatre."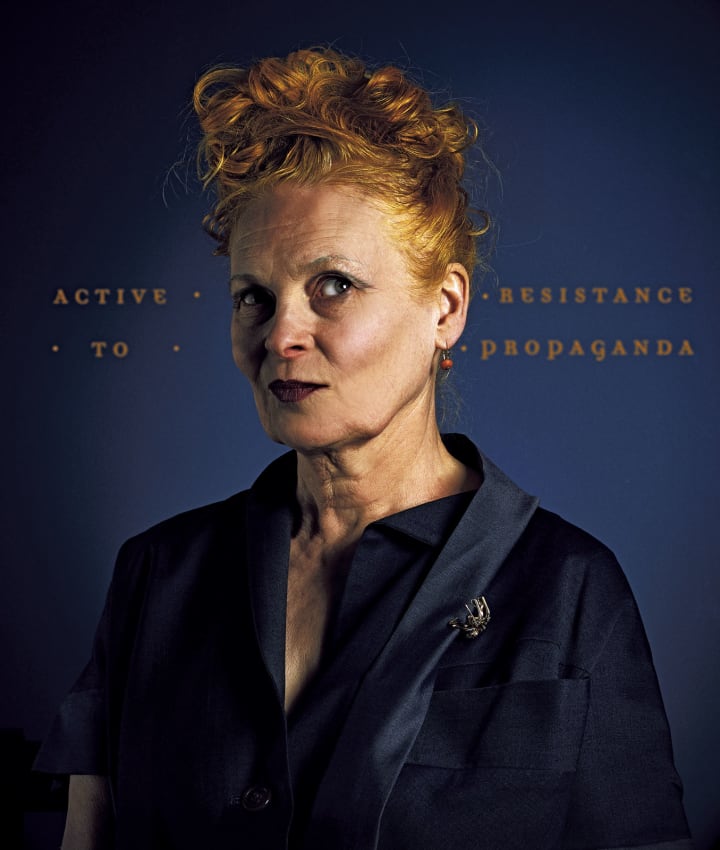 Malcolm McLaren became the manager of "The Sex Pistols" (a popular music band in the 1970's, for those of the younger generation who have never heard of them), and: "he opened doors for me. I mean, he seemed to know everything I needed at the time," said Vivienne.
In 1971, McLaren opened a boutique shop at 430, Kings Road in London – "Sex" = and this was filled also with Vivienne's designs. Her designs dressed The Sex Pistols, helping to carve out its identity. Her first collection was called "Pirate." Both the names McLaren and Westwood were on the labels and they produced collections in Paris and London with the titles = "Savages (1981), Buffalo / Nostalgia of Mud (1982), Punkature (1982), Witches (1983) and World's End 1984." The partnership with McLaren was dissolved, and Vivienne showed another collection = "Clint Eastwood 1984 / 1985."
The period of 1981-1985 Vivienne called the "New Romantic" and the period of 1988-1991 she called "The Pagan Years." Vivienne designed the "mini-crini" which is a combination of two-conflicting ideals --- the crinoline (which represents the myth of restriction) and the miniskirt (which represents an "equally dubious myth of liberation.")
One of Vivienne's proudest moments must have been when she was asked to design the academic gowns for King's College, London. In 2008, these gowns were unveiled and Vivienne commented: "Through my reworking of the traditional robe I tried to link the past, the present and the future. We are what we know." Another interesting fact is that Vivienne worked with Richard Branson to design the uniforms for the Virgin Atlantic crew. The women crew's uniform consisted of a red suit, which accentuated the female curves and hips, and had strategically placed darts around the bust area. The men's uniforms consisted of a grey and burgundy three-piece suit with details on the lapels and pockets. Both Vivienne and Richard were passionate about using sustainable materials and so used recycled polyester.
In 2015, Vivienne Westwood Ltd. Operated 12 retail outlets in the UK. There were 63 outlets worldwide --- nine in China, nine in Hong Kong, eighteen in South Korea, six in Taiwan, two in Thailand and two in the US. Latimo was set up (in Luxembourg) was set up in 2002, and it was set up for the right to use Vivienne Westwood's name on her own fashion label. In 2015, Vivienne said: "It is important to me that my business affairs are in line with my personal values. I am subject to UK tax on all of my income," and so she restructured her corporate tax arrangements to try to align them with the Green Party's Policy.
Famous clients include Marion Cotillard (Public Enemies), the Princess Eugenie (cousin to the Princes William and Harry) and Pharrell Williams who wore a Vivienne Westwood hat to the 2014 56th Annual Grammy Awards. Her designs were also featured in the 2008 film adaptation of "Sex and the City."
Unusually for a fashion designer, Vivienne joined forces with the British civil rights group Liberty and launched 'exclusive' limited designed T-shirts and baby wear bearing the slogan "I am not a terrorist, please don't arrest me." She was supporting the campaign and defending habeas corpus. Having been inspired by her school history teacher, Vivienne is quoted as saying: "When I was a school girl, my history teacher, Mr Scott, began to take classes in civic affairs. The first thing he explained to us was the fundamental rule of law embodied in habeas corpus. He spoke with pride of civilization and democracy. We can only take democracy for granted if we insist on our liberty." The T-shirts cost £50 each and this helped to raise funds for the organization. In 2008, she campaigned for Nuclear Disarmament in Berkshire. In 2014, Vivienne Westwood became ambassador for clean energy Trillion Fun. Vivienne announced her support of the Green Party of England and Wales and it was reported that she donated £300,000 to help fund the party's election campaign. She believed in the Green Party, it was as simple as that.
In 2014, Vivienne Westwood showed her spring / Summer 15 collection, in which she collaborated with the non-profit organization Farms Not Factories. At the Milan Fashion Week, she unveiled T-shirts and tote bags which were produced using ethically sourced organic cotton. Vivienne Westwood has also become an author, one of her books being: "Fashion in art; The Second Empire and Impressionism."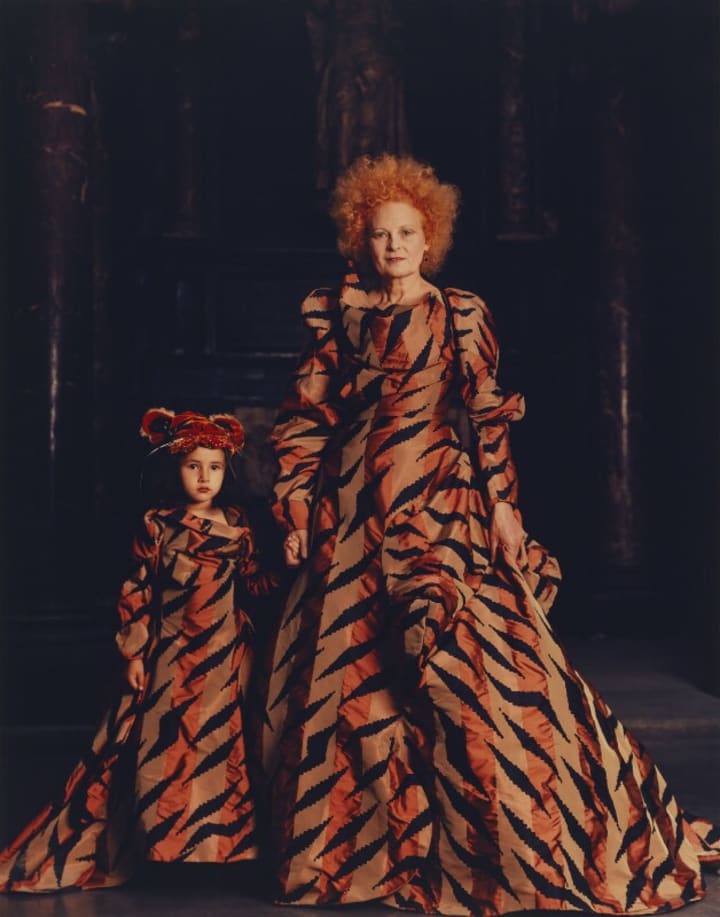 In 1992, she received an OBE which she collected from Buckingham Palace. Another proud moment in Vivienne Westwood's life.
Today, Vivienne Westwood is married to Andreas Kronthaler and lives in a Queen Anne style house which was built in 1703. Vivienne is a keen gardener and vegetarian and is 79 years of age.
I personally have found Vivienne Westwood an interesting fashion designer, someone who put her beliefs into her designs, and she definitely made her 'mark' in the history of Punk.
(My research comes from Wikipedia and Biography.com)